It's snowing on Mt. Hood this morning, and we're still looking good for a few inches of snow today, sunshine tomorrow, and more snow on Monday night. Today brings heavy snowfall in the morning and lighter snowfall in the afternoon with just-plain-flurries tonight. The snow level will be 2000′-2500′ today. Expect .3" water value (WV) during the day, for 3-4" of new snow. Wind today will be quite strong: WSW 40-50 early and W 35-40 after 11am. Continued after the chart…
Mt. Hood Snow Forecast – 5000′

4a-8a
8a-12p
12p-4p
4p-8p
8p-4a
Today
2000'–>2500'
Tomorrow
1500'-4000'
The day after
8000'–>1500'
Tomorrow may start with a few flurries, but we'll surely have sunshine by afternoon. The snow level will be around 1500′ early and 4500′ in the afternoon. Wind will be WNW 30 early, fading to W 20 mid-morning, and turning to WSW 35 in the afternoon.
Monday starts off sunny. Clouds move in midday and snow starts around 5pm. The snow level will be 8000′ in the morning, 5000′ in the afternoon, and 4000′ when the snow hits, falling to 1000′ by Tuesday morning. Brrr! We'll see .5" WV Monday night, for 5-6" of new snow by Tuesday morning. Wind will be SW 35 all day. Snow flurries continue on Tuesday with relatively strong NW wind.

Donate and keep the forecast going!
(contribute to Temira's grad school, bike repair and coffee fund)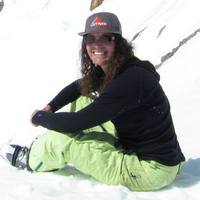 Thank you for using this forecast. Does it save you time, gas money, or help you have more fun in your life? Make a donation! Get your forecast here for free or donate and get on the mailing list for year-round wind forecasts and ski season snow forecasts. Just click on my photo to donate via PayPal or credit card. The email isn't $99/year. Not $50/year. No, just $12.34 or more gets you on the list for 12 months, and sometimes there are cool prizes. Don't PayPal? Send a check to Temira @ PO Box 841 in Hood River. Thank you for your support, and thank you for trusting my forecast.
---
Gorge Wind
We're still sitting under a weather system with westerlies just in the teens, but don't worry. That will change later today. Get a few tasks done this morning and get ready to drive. With the early gradients at .09 (pdx-dls) and .06 (dls-psc), we're sitting pretty to start the day. As high pressure builds off the coast and this pesky weather system moves through, the wind will pick up. Expect 28-32 after 2pm from (probably) Mosier or Lyle (definitely) eastward to Three Mile. Closer to home, expect gustier, possibly rainy, conditions with W 13-16.
Tomorrow starts with W 5-10 and fades to light and variable by the afternoon. Another weather system approaching Monday afternoon will kick the westerlies up into the 26-30 range after a light and variable start. Tuesday also looks like 26-30. To be perfectly transparent, I'm knocking a few mph's off the forecast for those two days. Models do show even stronger wind potential, but I don't want to get carried away this far out. The takeaway from this forecast is that three of the next four days will be very windy.

Random Morning Thoughts
Last night I was writing a paper for class. We write insight papers in this class – you know, the same stuff I write here every day. I thought about turning in my blog for class, but I'd rather write more. =) Anyway, last night I was writing about lack of congruence in stories. You know how we sometimes talk about horrible things that happened to us and laugh and joke about them? For example, my parents used to jokingly say "We regretted having kids."
That's not very funny, is it? We do the same things to ourselves. We joke about awful things to minimize our chance of rejection from others. Because here's the thing: stories contain words and they contain an emotional component. If those two don't match, the listener has to pick one to focus on, and we usually seem to pick the projected emotion, rather than the truth in the words. Maybe it's cuz emotional brain circuits are older than words?
Anyway, see if you can notice the next time someone does this. And name the truth: "Hey, that's not funny. That's awful. I'm sorry that happened to you." You might be surprised at the connection you create and the conversation that develops.

Gorge Weather Forecast
It's getting light enough early enough that all I had to do this morning to check the weather was open my blinds. It's mostly cloudy and showery. Expect that to continue today with the sky morphing to partly cloudy this afternoon. Temps will be in the mid 40's early and the mid 50's in the afternoon. Strong wind. 99% chance of rainbows.
Tomorrow starts off partly cloudy and turns sunny by afternoon. Temps will be in the upper 30's early and the low 60's in the afternoon. Light wind. No rainbows.
Monday starts off sunny. Clouds move in midday and rain starts early in the evening. Temps will be in the low 40's early and the upper 50's in the afternoon. Light wind early, strong wind late and a 63% chance of rainbows.

White Sprinter Van of the Day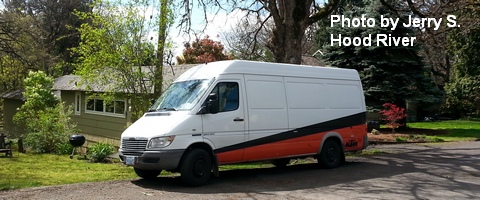 Road and Mountain Biking
We had about a tenth of an inch of rain last night, and that's probably not enough to make Post muddy, but it's enough to make it slick. You make your own decision there. Whoopdee should be great, Nestor too, Syncline and Hospital are fine. Columbia Hills will be too windy (as will Syncline this afternoon). The 44 Road trails will be receiving snow today, so you will be very cold if you go there. In road biking news, tomorrow is the day, and the Tri Club folks are riding Seven Mile Hill leaving from the Best Western at 9:30, which should put them at China Gorge around 9:40?


The Clymb: free membership. Cheap gear.
Temira approves. Click to join.
Upcoming Events
Coming up this morning, it's the Team Sophie breast cancer fundraiser run. Meet at 10 Speed at 9am for a 4 mile jog to benefit this lovely lady. Today is also the Hard Pressed Cider Festival in Hood River and the Ski to Defeat ALS fundraiser at Mt. Hood Meadows.
If you need a task tomorrow, choose from these: Community yoga at Yoga Samadhi at 9am. Ping pong at the armory at 3pm. Pickup touch rugby at the Mosier School at 3pm. Community yoga at Root Down at 6pm. Big Winds has a free standup paddle demo at the Waterfront Park from 1pm to 4pm, and there's a "Know your Soil" workshop at Grow Organic from 1pm to 3pm.
Have an awesome day today!
Temira