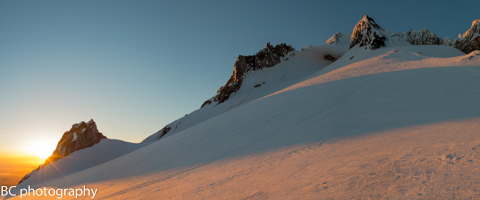 The pineapple-tinged weather continues on Mt. Hood today. Expect the snow level to be at 6500′ for much of the day, dropping to 5500-6000′ after 7pm. We'll see approximately 1" of rain by 4pm, heaviest in the morning and showery midday, followed by another 1-1.5" water value (WV) after 4pm into Sunday morning. That second round of moisture will likely fall as snow mixed with rain. Wind today will be SW 40-60 for much of the day, dropping to SW 40 after 4pm. Continued below the chart…
Mt. Hood Snow Forecast – 5000′

4a-8a
8a-12p
12p-4p
4p-8p
8p-4a
Today
6000-5500'
Tomorrow
6000'–>7000'
5500' late
The day after
6000'–>5000'
–>5500'
Sunday starts out partly cloudy, maybe event clear, possibly with a few sprinkles, but heavier rain moves in during the afternoon. The snow level will be 6000′ early, rising to 7000′ in the afternoon. We'll see sprinkles in the morning for less than .2" WV, followed by heavier rain after 4pm, for around .8" WV overnight.
Things get interesting on Monday, especially if the storm track stays exactly the way the models currently show it. The snow level will be 6000′ early, fluctuating a bit during the day, and then dropping to 5000′ after a big low pressure system moves east. Now, this is quite early to be making predictions, but… it looks like we'll see 2" or so of moisture with this system. Part of it will fall as snow mixed with rain, but a significant portion is currently forecast to fall as snow. There's potential for 8-12"+ of snow here. Fingers are crossed. Wind will this storm will be quite strong: SW 40-60 for much of the day and W 50 in the afternoon. Expect light snowfall Tuesday morning switching to bluebird sky by afternoon. Expect very warm and dry weather Wednesday and Thursday.

Thank you for using this forecast!
Click on my photo to support it with a donation.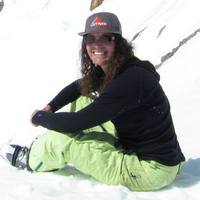 Thank you for using this forecast. Does it save you time, gas money, or help you find more wind, powder, or just plain fun stuff to do? Please make a donation to keep it going! Use it here for free or get on the mailing list for wind for the summer and Mt. Hood snow in the winter. Just click on my photo to donate. The email isn't $99/year. Not $50/year. No, just $12.34 or more gets you on the list for 12 months, and sometimes there are cool prizes. Donate via PayPal/CC by clicking on my happy photo below. Don't PayPal? You can send a check to Temira @ PO Box 841 in Hood River. Thank you for your support, and thank you for trusting my forecast. You guys mean the world to me.
---
Gorge Wind
There's a bit of an east gradient this morning, but that won't last long. Expect westerlies to pick up after 11am, rising to 13-16 in the western Gorge (possibly quite a bit stronger for short periods) with steadier 30+ at Arlington and Threemile between noon and 4pm. Tomorrow starts with gusty E 15-18, rising to gusty E 30-40 at Rooster as a big upper level low moves up the coast. Expect gusty east wind at Rooster at 30-40 on Monday morning, switching to W 28-32 in the afternoon, probably strongest east of Mosier with 15-18+ from Steven's Locks to Mosier.

Random Morning Thoughts
I'm sitting here in my office at Meadows with my coworker Anna, and we're looking out the window at the drizzle. I asked her for something profound to talk about, because I'm not feeling all that inspired today. She said, "I can't think of anything positive if I look out the window at the rain…"
And that got me thinking about the positive reframe. Sometimes when a situation sucks (like four straight days of rain on Mt. Hood), it's hard to find something positive to take away. But Anna's been doing it – she's been telling folks the snow is fast, soft and fun (it is), and that they'll have a private ski resort if they come up (also true), and that all they have to do is have good raingear and no expectations of powder (yep, that too).
So, if you can't change whatever situation you're in, can you find something positive in it? Even if it's something ridiculous and totally out there? You don't have to buck up or man up or pull yourself up by your bootstraps. You're allowed to be pissed at whatever the situation is. But if you can find one tiny little thing to make you smile, you'll feel disproportionately better.

Gorge Weather Forecast
It's raining again this morning, and the showery weather will continue all day. Temps will be in the upper 40's early an the low 50's in the afternoon. 99% chance of rainbows today. Tomorrow looks like Nothing in the morning, with rain starting after 10am and continuing for the rest of the day. Temps will be in the low 40's early and the low 50's in the afternoon. Rainbow chances are just 11% tomorrow. Monday looks showery all day. Temps will be in the low 40's early and the low 50's in the afternoon. 99% chance of rainbows on Monday.

White Sprinter Van of the Day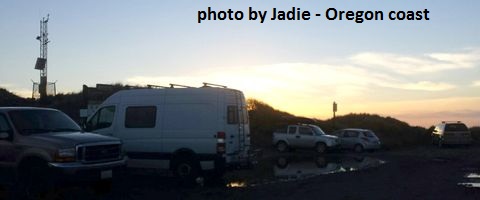 Road and Mountain Biking
It's still wet and muddy on the trails. The roads are also wet. That is all I have to say about that for now. It does look like we'll see dry weather in the middle of next week. We'll likely be stuck in the inversion, but maybe, just maybe, you can find some open roads or open trails above the gloom…


The Clymb: free membership. Cheap gear.
Temira approves. Click to join.
Upcoming Events
Today is Saturday. You can run with the Tri Club at 8am from the bottom of Post Canyon Road. You can do the Cold Lap cyclocross ride from Dirty Fingers at 3pm. Tomorrow morning, there's community yoga at 9am at Yoga Samadhi. At 3pm, there's pickup touch rugby at the Mosier School and ping pong at the Hood River Armory. At 4pm tomorrow, there's a community stretching/mobility class at Crossfit Hood River. And don't forget that you can bring your friend/lover with you to the gym for free all week.
Have an awesome day today!
Temira