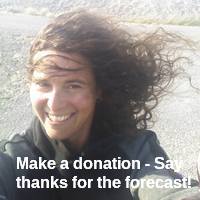 Get the email free through the end of January – try it out! Click here.

Thank you for using this forecast. I offer it freely so you can have more fun and plan your life. It does take significant time and energy to produce. If you find yourself using it often, or if you feel your life is enhanced by this information, please make a donation. I count on your support to pay my bills, and am deeply grateful to you for choosing to help support me. You can get this forecast via email by donation. The email subscription isn't $99/year. Not $50/year. Donating $12.34 or more gets you on the list for 12 months. Click on my photo to donate. Don't PayPal? Send a check to Temira @ PO Box 841 in Hood River. Thank you for your support and thank you for trusting my forecast.
Mt. Hood Snow Forecast – 5000′

4a-8a
8a-12p
12p-4p
4p-8p
8p-4a
Saturday
10000′->7500′
Sunday
7500′->9000′->5500′
Monday
6000′->3000′
Sunday
7500′->9000′->6000′
---
Mt. Hood Snow Forecast

There really isn't much snow in the Mt. Hood snow forecast, but the weather looks interesting. Last night, Friday night, that is, Mt. Hood Meadows was entirely shut down by strong NW wind. While the wind speed will back off a bit over the next several days, it will continue to blow out of the NW, an unusual situation for this time of year. Also unusual is the warmth accompanying this NW flow and the persistence of this setup. Read on…
For Saturday, the mountain will be warm, rainy, and windy, with sunbreaks and rainbows likely. The snow level will be 10,000′ for much of the day and 7500′ after midnight. About 1/3" rain falls during the day. Another 1/3" rain falls overnight. Wind will be NW 50 early (impacting lifts, probably), NW 40 in the afternoon, and WNW 30 after midnight.
Sunday also looks rainy and rainbowy with a chance of some mixed precip overnight. The snow level will be 7500′ early, 9000′ in the afternoon, and 5500′ overnight. 1/3-1/2" rain falls during the day. .3" water value (WV) falls overnight as as mix of rain and snow. It's possible T-Line could pick up an inch or two of snow, being higher in elevation than other resorts. Wind Sunday will be NWW 30 in the morning and WNW 40 in the afternoon and overnight hours.
Monday actually might see a little bit of snow. The snow level will be 6000′ early, 3000′ after 7am, and 2000′ after midnight. At that point, the sky will likely clear under N flow. About .3" WV falls during the day, for a trace of rain followed by a couple inches of snow. Another 1-2" snow falls overnight before the sky clears. Wind will be WNW 40 early, NW 25 in the afternoon, and N 20-30 after midnight. Strong N wind is pretty unusual, and it'll be interesting to see how that impacts lift ops.
Tuesday and Wednesday currently look dry, warm and windy. There's some disagreement between the GFS and ECMWF at the end of next week, so let's hold off on forecasting until we get closer.

Random Morning Thoughts
I'm sitting here typing while my cat runs around the house making bizarre noises. She's also attacking crumpled up pages from a Territorial Seed Catalog. I'm laughing… how can I not when there's a silly creature doing silly things?
They say that laughter is the best medicine. I don't quite agree with "best", but it's good medicine, especially if it's coupled with love. The two combined are a powerful elixir against emotional pain. This, of course, is why cat videos are so popular. Cats are funny. The love piece is why baby animal videos are so popular – little tiny furry faces are designed to fire up your oxytocin system, melting your heart.
You can leverage this knowledge if you're having a bad day. This can feel like pithy advice, but laughter works. Watch a cat video. Watch the "electric ear cleaner" scene from the movie Parenthood. Read those "Damn You Autocorrect" best-of lists. Doing this won't make your day 100% better, but it will give your system a break from whatever pain you're feeling. That's important. I hope your day is filled with laughter. Have an awesome day.

Disclaimer required by my grad school program: I am not your therapist, but I am seeing clients at this time at Comprehensive Healthcare in White Salmon. In the meantime, I am your weather forecaster. Take everything I say with a grain of salt, and consult with your actual therapist about your mental health issues. One other thing: I plan to keep doing this forecast indefinitely. Forecasting and counseling are both deeply meaningful and nourishing to me.

Gorge Wind Forecast
When I woke up this morning, my house (in Hood River) was creaking and shifting from the wind. At 4am, the pressure gradient was .20 from Portland to The Dalles. That's gigantic. While that's forecast to decrease, we'll still have a windy day. Expect gusty, rangy, punchy westerlies at 25-32+ (the iWindsurf sensor has been reading 42mph at Viento for the last couple hours) between Stevenson and Arlington pretty much all day long.
For the next several days, we'll be in a summer-like wind pattern. Strong offshore high pressure will combine with lower pressure in the desert for continued westerly flow. On Sunday, we'll have W 16-19 everywhere to start the day. By late morning, the wind will pick up to W 24-28 east of Mosier. Monday looks almost identical to Sunday. If you're headed out, remember that the river temp is 39 degrees. Don't go out alone, be prepared for a long, cold swim, and keep an eye on your buddies.

Gorge Weather Forecast
It's partly cloudy this morning with occasional sprinkles. That's the forecast for the next three days. For Saturday, temps will be in the low 50's early and mid 50's in the afternoon. Strong west wind. 99% chance of rainbows. On Sunday, temps will be in the upper 40's early and mid 50's in the afternoon. Partly cloudy with sprinkles. Moderate west wind. 99% chance of rainbows. Monday looks partly cloudy with sprinkles. Temps will be in the mid 40's early and low 50's in the afternoon. Moderate west wind. 99% chance of rainbows.
For weather specifically directed at travel through the Gorge, please visit Temira's Awesome Travel Advisory Service on Facebook.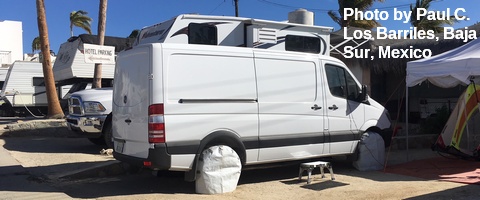 Road and Mountain Biking
Post Canyon is currently closed to all users to protect the trails from damage. Hospital Hill is too wet to ride, and someone with the initials H.S. saw two cougars fighting in a tree along Jewett Creek on Monday. Whoopdee is closed to bikes and horses for the same reason. Syncline remains mobbed. I'm not sure about the upper half of Nestor, but the Horse Camp section is in good shape with one tree down.

Upcoming Events
Today is Saturday. The Dirty Fingers Cold Lap ride is at 3pm. On Sunday, there's by-donation yoga at Samadhi at 9am, ping pong at the Armory at 10am, meditation at Flow at 11am, pickup touch rugby at the Hood River Waterfront Park at 11am, YogaFaith at Pure Yoga in The Dalles at 4pm, and restorative yoga at Pure Yoga in Hood River at 6pm.

Click here for the full events calendar.
Have an awesome day today!
Temira