Random Morning Thoughts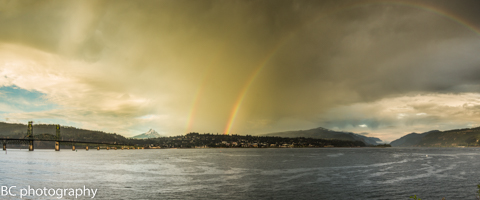 I woke up this morning at 5:30, same as I did yesterday. And I realized something: If I go to bed tonight at the same time I did last night, I'll be waking up at 4:30 tomorrow. And that's getting very close to the time I wake up for work during ski season. Maybe this transition won't be so bad this year… Or maybe we can all go out tonight and celebrate the incoming Dark. The Dark is the time when books, movies, and dinner parties become more important than bikes, wind gear, and bikinis. We're changing the clocks. We're losing the after work light. It's time to reconnect with your friends.
Thank you for using this forecast!
Please donate to support it!
Thank you to everyone for using this forecast. Does it save you time, gas money, or help you find more wind, powder, or just plain fun stuff to do? Please consider making a donation to keep it going! Use it here for free or make a donation and get on the mailing list for wind for the summer and Mt. Hood snow in the winter. It's not $99/year. Not $50/year. No, just $12.34 or more gets you on the list for 12 months. Do it via PayPal/CC by clicking on my happy photo below. Don't PayPal? You can send a check to Temira @ PO Box 841 in Hood River. Thank you for your support, and thank you for trusting my forecast. You guys mean the world to me.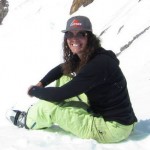 ---
Mt. Hood Snow Forecast – 5000′

4a-8a
8a-12p
12p-4p
4p-8p
8p-4a
Today
Tomorrow
The next day
Mt. Hood Snow
It's chilly up on Mt. Hood this morning, with temps in the upper 20's under mostly clear sky. Expect a sunny to partly cloudy day today with the free air freezing level (FAF) at 5000-6000′. Wind today will be N 15-20 early and NW 25-30 in the afternoon.
Sunday starts out clear on the mountain with the FAF at 3500-4000′. The freezing level will rise to 5500′ during the day, rising further to 6500-7000′ overnight. We'll see light mixed rain and snow overnight for a trace of new. Wind will be WNW 25-30 in the morning, holding for much of the day and swinging to W 20-25 overnight.
Monday starts off cloudy with rain showers. The snow level will be 7000′ early, rising to 9000′ in the evening. Morning rain showers transition to heavy rain after 4pm. That rain will continue overnight. Expect .3" rain between 4am and 4pm, followed by at least 1.5" more rain overnight. At this point, Tuesday and Wednesday also look warm and wet.
Gorge Wind
I have very exciting news to share: it's going to be windy today. Expect westerlies at 10-13 this morning, picking up to 24-28 (or maybe even more – I'm being conservative) this afternoon. The strongest, steadiest wind will likely be from Mosier to Maryhill, but it's possible we'll see mid-upper twenties at Swell and Hood River too. And if we don't, there will still be plenty of wind, 15-18, to break out the kite or the slalom gear right here in town. As for Stevenson, it tends to do well on this kind of setup, so expect 22-25 there. Because it's fall, and because this wind is partly driven by an incoming weather system, expect a fair bit of up-and-down and gustiness.
Tomorrow, Sunday, starts with W 8-12 from Steven's Locks to Hood River with 15-18 east of Mosier, all the way to Arlington. The wind will likely back off at the way out east beaches in the afternoon, leaving the strongest wind from Mosier to Maryhill.
On Monday, expect a light and variable start with light westerlies in the afternoon.
Gorge Weather
It's a partly cloudy start to the weekend here in the Gorge, and we should see a partly cloudy / partly sunny day today. Expect temps in the low 40's early and the mid 50's this afternoon. No rainbows.
Tomorrow starts off partly cloudy. As a warm front approaches in the late morning, the sky will cloud over. There's not a lot of moisture with this system, so we may or may not see a few sprinkles after 1pm. Temps will be in the low 40's early and the mid 50's in the afternoon. Rainbow chances are 4%.
Monday looks showery in the morning with a few sunbreaks possible. Heavy rain moves in Monday afternoon or evening and continues overnight. Temps will be in the low 40's early and the mid to upper 50's in the afternoon. Rainbow chances are 78%.
White Sprinter Van of the Day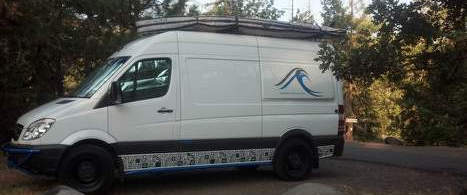 Road and Mountain Biking
I went and rode the Gorge 400 out of Wyeth yesterday with a friend, and it was in perfect shape. What a pretty trail. I suspect Syncline and (what's left of) Hospital were nothing short of epic either. As for Post, I did not get a report. I suspect wetness, but I also suspect it will be lovely by this afternoon. Lower 44 Road trails should be great (Oak-Surveyor's-Dog, for example), and I have a confirmed report that 15 Mile is not buried yet.
As for road biking, if you're doing it today, do it early, because the wind will come up this afternoon. Tomorrow looks less windy and dry, so you can definitely plan a road ride tomorrow!


The Clymb: free membership. Cheap gear.
Temira approves. Click to join.
Events – email me if I've missed any outdoor-related events
This is really last minute, but Hood River County has a work party on the 140 trail this morning. Meet at the junction of Post Canyon and Riorden Hill roads to do a few hours of work on a trail you may not have ridden yet. These volunteer hours go towards matching funds for grants, so your help is really appreciated.
Also today, the Hood River Running Club has a trail run at 8am, meeting at the bottom of Post. Coming up this evening from 6-9pm, it's the Helping Hands annual auction and gala, benefiting our local domestic violence shelter and crisis line. This is a great cause, so if you have time to swing by and make a donation, please do.
Coming up tomorrow, there's community yoga (free or by donation) at Yoga Samadhi in White Salmon at 9am. There's pickup rugby at 3pm at the Mosier School, and there's ping pong at the Hood River Armory at 3pm.
The latter half of next week is packed with events. On Thursday, head to Double Mountain for a fundraising party in support of Cascadia Wildlands, working to give rural communities a voice when public lands are used for development and other projects. Friday is the annual Fashion Show, benefiting the Hood River Christmas Project. The Gorge Gear Swap is next weekend at HRVHS (drop off gear on Friday, shop on Saturday). The Mt. Hood Independent Film Festival is next Friday through Sunday, Mt. Hood Meadows employee orientation is next weekend, and so is the Oregon Mediation Association annual conference.
Have an awesome day today!
Temira