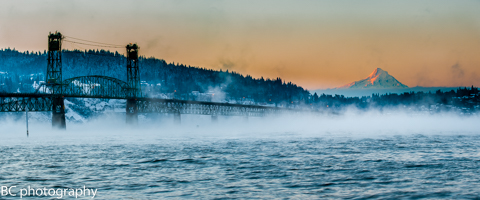 The day started off clear with an eclipse, but high clouds will move in pretty quickly today, and we'll see snow flurries after 2pm. The snow level will be 1000′ early and 4000′ in the afternoon. Expect less than .2" water value tonight for 2" or less (almost certainly less) of new snow by Sunday morning. Wind today will be light and variable all day and all night.
Mt. Hood Snow Forecast – 5000′

4a-8a
8a-12p
12p-4p
4p-8p
8p-4a
Today
1000'–>4000'
Tomorrow
3000'-5000'
The day after
1500'–>5000'
Tomorrow starts off cloudy with increasing snow flurries in the afternoon. The snow level will be 3000′ early, 5000′ midday, and 3000′ overnight. We'll see less than .2" water value overnight, for less than 2" of new snow. Given the showery nature of the Sunday afternoon precipitation (and the possibility of patchy heavy precip from thunderstorms), it's hard to predict how much or how little snow will fall on Mt. Hood. Wind on Sunday will be SW 15 early, light and variable midday, and SE 15 in the afternoon.
The snow flurries and uncertainty continue on Monday as an offshore low chooses a direction of motion, thereby solidifying the forecast. Between now and then, all I can say is that it looks like the snow level will be 1500′ early and 5000′ in the afternoon with flurries and light wind. The uncertainty increases on Tuesday, with models predicting widely differing storm tracks, making for an impossible forecast.

Donate and keep the forecast going!
(contribute to Temira's grad school, bike repair and coffee fund)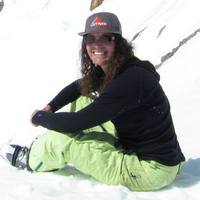 Thank you for using this forecast. Does it save you time, gas money, or help you have more fun in your life? Make a donation! Get your forecast here for free or donate and get on the mailing list for year-round wind forecasts and ski season snow forecasts. Just click on my photo to donate via PayPal or credit card. The email isn't $99/year. Not $50/year. No, just $12.34 or more gets you on the list for 12 months, and sometimes there are cool prizes. Don't PayPal? Send a check to Temira @ PO Box 841 in Hood River. Thank you for your support, and thank you for trusting my forecast.
---
Gorge Wind
There's a light westerly breeze this morning, and that shall continue today, with the breeze picking up to W 10-13 this afternoon from Steven's Locks to Mosier. Unfortunately, that increase in wind will likely be accompanied by clouds, if not a few showers. That'll make what wind there is gusty and unreliable.
Tomorrow starts off light and variable. A weather system, possibly accompanied by thunderstorms, moves in during the afternoon. That, obviously, is not an ideal setup for Gorge wind. We should see W 10-13 late in the day, maybe even a touch more wind, but it's going to be quite gusty, quite short-lived, and just-plain unreliable. Expect very light W on Monday morning and very light E on Monday afternoon.

Random Morning Thoughts
I got all excited this morning thinking about institutional attachment styles and how those interact with our personal attachment styles. I was all ready to write about that, and realized that it would take pages and pages. I think the takeaway from what I'm thinking about is this:
Different corporate cultures provide different things. Some provide a warm, caring, supportive environment that'll fulfill your needs for appreciation, affection, community and predictability. Other corporate cultures provide very little in the way of support, but also offer very little in the way of oversight and micromanagement, and you'll certainly get your needs for autonomy, space and self-reliance met there. And there are, obviously, lots of other corporate styles. But let's keep it simple for now.
Some people will love the first, and some will thrive in the second. And you gotta figure out what environment will make you thrive so your needs get met, or you're going to have some major emotional struggles about your job that will affect the rest of your life. One way to combat this is to make sure your needs are getting met outside of work, and to accept that your workplace just isn't going to give you what you need. Another option is to change jobs. Another option is to work for change in your workplace. But remember, you do have options. Your job is not your life, and there are things you can do to make it better, and there are other places you can get your needs met.

Gorge Weather Forecast
The sky was 100% clear outside my house at 4:30, perfect for watching the eclipse. By 5:30, there were some mid-level clouds to the west. Expect high clouds later today with a chance of sprinkles after 2pm. Light wind. 27% chance of rainbows. Temps will be in the low 40's early and the upper 50's in the afternoon. Tomorrow looks cloudy with showers after 5pm. Temps will be in the upper 30's early and the upper 50's in the afternoon. Light wind, 71% chance of rainbows. Monday starts off showery and becomes partly cloudy in the afternoon. Temps will be in the upper 30's early and the upper 50's in the afternoon. Light wind, 89% chance of rainbows.

White Sprinter Van of the Day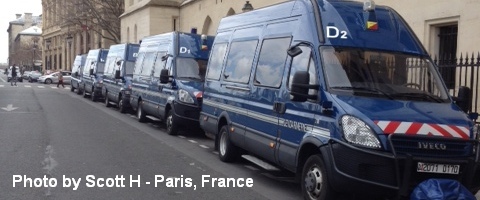 Road and Mountain Biking
I took a couple of short laps on Syncline yesterday and the dirt was pretty good over there. I haven't heard a report from the 44 Road since the snow last week, but the trees have been cleared off 8 Mile and Knebal. As far as I've heard, there are still lots of trees on Surveyor's and Dog River. Post? Not sure, but I suspect there will be a million people riding in there today. Maybe skip 12 Bridges to be safe?
In road biking news, we'll have light wind and partly cloudy conditions with a chance of sprinkles for the next three days. Looks pretty good to me if you give it a few hours to warm up. I'd pick Monday for the least wind.


The Clymb: free membership. Cheap gear.
Temira approves. Click to join.
Upcoming Events
If you're looking for something to do this morning, there's a trail run at 8am with the Tri Club at Post. There's a work party on the 140 trail at 9am where 140 crosses Riorden Hill Road (below the intersection with Post Canyon Road). Hood River County has opened the gates on Riorden Hill and Post Canyon roads, in case you were wondering.
If you want eggs, there's a community Easter egg hung at Jackson Park at 11am and one in Rufus at noon. The annual electric car race happens today at 9:30am in downtown Hood River, with the festivities coalescing around the entrance to Full Sail.
Coming up tomorrow, there's community yoga at Yoga Samadhi at 9am. There's ping pong at the Hood River armory at 3pm, there's pickup touch rugby at the Mosier School at 3pm, and there's community yoga at Root Down at 6pm. If you'd like to get a little more spiritual, there's lovingkindness meditation at Trinity in Hood River at 6pm.
Have an awesome day today!
Temira