Random Morning Thoughts
Sorry for the lack of a forecast yesterday. It was going to be tough to make it happen, as I was headed to the Oregon Mediation Association conference in Portland, but I thought I could pull it off. Until I dumped tea on my laptop. And that was the end of me writing a forecast yesterday. I'm using an old laptop now, one that's missing a 5 key (try writing a snow forecast for 5000' without a 5 key, or writing a wind forecast without one). I'm set up with an external keyboard and an external mouse, and I can't tell you how impatient I am for my new laptop to arrive next week. At this point, I'm just hoping I can dry the other one out enough to use it as a backup again. Moral of the story: Even travel cups can spill.
Thank you for using this forecast!
Please donate to support it!
Thank you to everyone for using this forecast. Does it save you time, gas money, or help you find more wind, powder, or just plain fun stuff to do? Please consider making a donation to keep it going! Use it here for free or make a donation and get on the mailing list for wind for the summer and Mt. Hood snow in the winter. It's not $99/year. Not $50/year. No, just $12.34 or more gets you on the list for 12 months. Do it via PayPal/CC by clicking on my happy photo below. Don't PayPal? You can send a check to Temira @ PO Box 841 in Hood River. Thank you for your support, and thank you for trusting my forecast. You guys mean the world to me.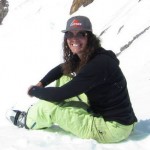 ---
Mt. Hood Snow Forecast – 5000′

4a-8a
8a-12p
12p-4p
4p-8p
8p-4a
Today
Tomorrow
The next day
Mt. Hood Snow
There's still no snow in the forecast. Sorry. I wish there was! Expect a warm and dry and sunny day on Mt. Hood today with the free air freezing level (FAF) at 12,000. Wind will be W 20 or so all day.
Sunday starts off clear or partly cloudy, quickly becoming cloudy and rainy as a cold front moves in. The snow level will be 12,000 early, 10,000 when the weather hits, and 6000' after the front moves through. Unfortunately, most of the moisture, .4-.7" worth, will fall as rain, with just a few snowflakes at the tail end. Wind will be nuking: W 40 in the morning and WNW 50 in the afternoon.
Expect sunshine on the mountain on Monday. The FAF will be 5000' early and 1000' by late morning as arctic air filters in. Expect sub-freezing temps on Tuesday as well. The next weather system is penciled in for Thursday, but as of right now, it looks warm and rainy on the mountain with snow/sleet/freezing rain possible in the valleys.
Gorge Wind
Ah yes. We have interesting things to talk about in the wind forecast today. We started the weekend with an east gradient of .06. That'll be enough for 21-24 today at Rooster Rock and 15-18 at Steven's Locks, but the wind will fade pretty quickly. A better option might be tomorrow, Sunday, when a cold front combines with offshore high pressure for westerlies at 26-30 or maybe even 30-35+. It's hard to say what we'll see near Hood River (probably gusty 21-24) but east of the low clouds, perhaps at the Rowena stretch, and perhaps from Avery east to Arlington, we'll get a minimum of 26-30, with 30+ likely between 10am and 2pm.
Monday starts with leftover westerlies at 10-13 and switches to east 25-29 in the afternoon as super-low-pressure remnants of Hurricane Nuri float about in the Pacific and cold, high-pressure arctic air filters in across the Rockies. Expect easterlies at 40-50 on Tuesday and 50-60 on Wednesday.
Gorge Weather
It was 100% clear when I woke up this morning and now there's a Nothing cloud hanging over the river outside my window. Hopefully it will go away soon. If not, head north, south, west or up to escape it. But I suspect we'll see a sunny day today. Expect temps in the upper 30's early and the low 60's this afternoon. Something worth noting: it was 38 in Hood River this morning and 53 at Mt. Hood Meadows.
Tomorrow starts out partly cloudy, quickly becoming cloudy and showery and very west-windy. Temps will be in the upper 40's early and the mid 50's in the afternoon with rain in the morning ending by mid afternoon. Rainbow chances are 99%.
On Monday, expect a partly cloudy start to the day with temps in the mid 40's early and the low 50's in the afternoon, assuming cold air from the arctic takes a while to get here. Yes, I did say "arctic air". If the 12k surface temp model is correct, the Gorge will see lows in the 20's, maybe even the teens, in the middle of next week. It is possible that we will see our first snow/sleet/freezing rain of the year on Thursday. Don't hold your breath. Just be aware.
White Sprinter Van of the Day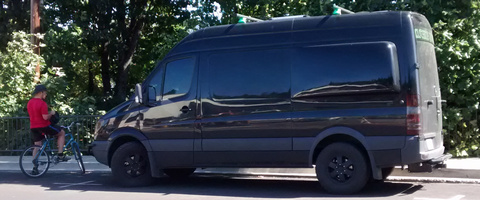 Road and Mountain Biking
I went for a walk in Post yesterday evening. It was a bit on the slick side, especially with all the leaves on the trail. There were muddy patches too, but it's probably okay to ride. Same, I suspect goes for Syncline and everywhere else. I am going to suggest you get your fill of Syncline and Whoopdee now, because we're going to head into a freeze-thaw cycle during the middle of next week, and those trails will be off the list once that happens.


The Clymb: free membership. Cheap gear.
Temira approves. Click to join.
Events – email me if I've missed any outdoor-related events
Something's up with Google Calendar this morning, so I'm having trouble pulling up my list of events. Or maybe it's just the fact that this is a really old computer and doesn't communicate with the rest of the world all that well. Anyway, I can't remember what's happening today, but I know there's ping pong at 3pm at the Hood River Armory tomorrow, pickup touch rugby at the Mosier School at 3pm tomorrow, and the Death Café at 2pm at the Hood River Library at 2pm today. What is a death café? It's a place people can get together and talk about death and discuss how to live a full and meaningful life while living with the knowledge that life is limited.
Oh yeah. Today is the HRVHS ski team gear swap at the Hood River Valley High School! And the Mt. Hood Indy Film Festival is happening all weekend all over Hood River.
Have an awesome day today!
Temira