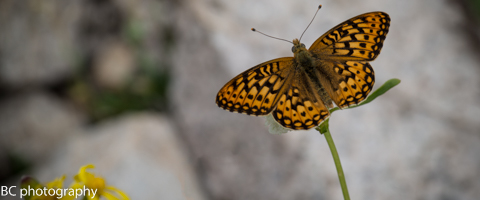 I am so sorry, but I have nothing to offer you in the Mt. Hood snow forecast other than sunshine. Expect a few high clouds this morning and clear sky this afternoon. The free air freezing level (FAF) will be 8000′ or so early this morning and 7500′ this afternoon. Wind will be SW 20 early, swinging to NW 15 this afternoon. Continued below the chart…
Mt. Hood Snow Forecast – 5000′

4a-8a
8a-12p
12p-4p
4p-8p
8p-4a
Today
8000–>7500'
Tomorrow
8000—>10,000'
The day after
11,000'
Tomorrow looks sunny on Mt. Hood. The FAF will be 8000′ early and 10,000′ in the afternoon with WNW wind at 15mph. Monday looks like another sunny day. The FAF will rise to 11,000′, but temps will be relatively similar at all elevations, maxing out in the upper 30's. Wind on Monday will be northerly, making it difficult to predict strength. My best guess is 20-30 early and 10-15 in the afternoon. Tuesday looks sunny and warmer, with 5000′ temps maxing out in the upper 40's. No snow in the forecast, unless something changes with the (already weak) Wednesday/Thursday system.

Thank you for using this forecast!
Click on my photo to support it with a donation.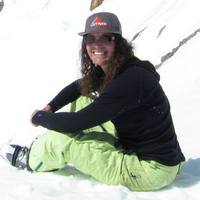 Thank you for using this forecast. Does it save you time, gas money, or help you find more wind, powder, or just plain fun stuff to do? Please make a donation to keep it going! Use it here for free or get on the mailing list for wind for the summer and Mt. Hood snow in the winter. Just click on my photo to donate. The email isn't $99/year. Not $50/year. No, just $12.34 or more gets you on the list for 12 months, and sometimes there are cool prizes. Donate via PayPal/CC by clicking on my happy photo below. Don't PayPal? You can send a check to Temira @ PO Box 841 in Hood River. Thank you for your support, and thank you for trusting my forecast. You guys mean the world to me.
---
Gorge Wind
The west gradient is promising this morning, at .09 from pdx-dls. Early morning wind was hanging in the 10-15 range east of Hood River. Expect 13-16 this morning from Mosier eastward, transitioning to a western Gorge (Steven's Locks – Doug's) event at 13-16, possibly a touch stronger midday, in the afternoon. East wind returns at 20-23 at Rooster early tomorrow and picks up to 30-35 at Rooster by late morning. Expect east wind at 40-45 at Rooster on Monday.
Your coast forecast for today is (north/central/south): 15-20/20-25/30-40 with 7′ at 12 seconds.

Random Morning Thoughts
I was riding on the bus this morning asking myself some questions about what I really want. It's Valentine's Day, you know. And I think all of us want love. But what do we really want when we say, "I want love"?
Most of us are driven by a bunch of unconscious or semi-conscious needs and desires. Before you scoff, hear me out. And sorry, I'm gonna be a bit ham-fisted about this, because I'm tired and haven't put the mental effort into clarifying my thoughts. When you say "I want to be loved", are you saying "I don't want to feel this loneliness," "I want to be seen", "I want to feel validated", "I want to be supported", "I want someone to take care of me," "I want to have more fun," "I don't want to feel this pain anymore," or something totally different? And what part of you wants each of those things?
Cuz here's the thing. When we work through our shit (aka "issues"), we fulfill the above list of desires all by ourselves. Another person doesn't complete us or take away our pain. They just add to our joy, stability, and self-love. That raises an obvious question: Can you find love without first loving yourself? I think the answer is yes, especially if you and your partner are both working on healing your hurting parts. If you're not, and you don't love yourself, you're setting yourself up for a lot of drama.
That's all I have to say for Valentine's day. May you love yourself, first and foremost, today. May the light of who you are shine into the world. Happy VD. (sorry… couldn't resist that one)

Gorge Weather Forecast
We have some thin high overcast clouds this morning with plenty of moon shining through. We'll see clearing today and sunshine. Expect temps in the upper 40's early and the mid 50's in the afternoon. Tomorrow will probably start with Nothing, but the sky will clear by afternoon. Temps will be in the mid 30's early and the mid 50's in the afternoon. Monday looks like a carbon copy of Sunday with slightly earlier sunshine. No rain in the forecast, with the exception of a very slight chance on Wednesday night.

White Sprinter Van of the Day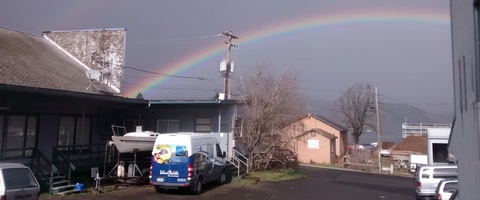 Road and Mountain Biking
After I left Meadows (where the snow was super fun) yesterday, I went for a short lap in Post Canyon. I think there was some sort of multiverse scenario happening; there were only 3 or 4 cars at the bottom, but I ran into 10 to 15 people coming down. Perhaps they were shuttling or perhaps they were riding from home, but there sure were a lot of people for so few cars.
Anyway, the dirt was just a touch wet down low and perfect up high, and I ran into Heather and Kim who were freaking out about the dirt on BMS and GP. So, it's a full-on tack alert for Post Canyon. You might as well add every other snow-free trail to that tack alert.
In road biking news, we'll see light to moderate westerlies all day, so it's not the best day to ride to Rowena. Try a valley loop or maybe the Glenwood loop or up-Klickitat, up Appleton today. Tomorrow and Monday look like east wind days, so expect an east breeeze on your ride and perhaps consider heading to The Dalles and back so you can enjoy the Rowena TT with a tailwind.
One last thing: There is snow and ice on the 88 road above Trout Lake according to both Lora and Janice, so the Forest Loop, sadly, is not open.


The Clymb: free membership. Cheap gear.
Temira approves. Click to join.
Upcoming Events
Today is the Kleeway "love your trails" work party – meet at 10am at Family Man with trail tools, wheelbarrows, shovels, and buckets. If you'd like a workout before or after the work party, the Tri Club folks run from the bottom of Post at 8am and the Cold Lap cyclocross ride leaves Dirty Fingers at 3pm. Coming up Friday, the 20th , there are two things happening: Helping Hands' annual bacon-themed fundraiser ($20 at Springhouse, and well worth it), and the HRATS Lumberyard bike night in Portland.
Have an awesome day today!
Temira