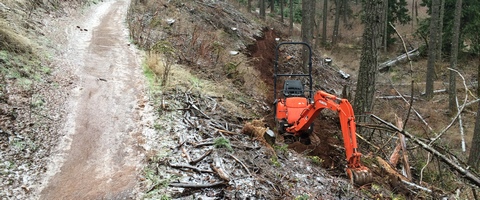 Random Morning Thoughts
I thought this video of a jerry can sliding down Seven Streams was so funny that I'm sharing it again.
I used to be a skeptic. Comes from the family I was raised in, I guess. We made fun of everything that was the least bit spiritual, which strikes me as a little odd because we went to the synagogue until I was 10 or so. Anyway, we made fun of meditation. We made fun of feelings. We made fun of people who cried at movies. And we made fun of anything that was the least bit "out there". I took up meditation last year, after several previous unsuccessful attempts at sticking with it. There are really good apps out there, you know, and they teach you without haranguing you.
Anyway, that app changed my life, as has trying out some feelings (yeah, go figure), crying at movies, talking to a therapist, Reiki, shamanistic soul retrieval, and … don't forget riding bikes. That too. Anyway, if there's one thing I've learned in the last year, it's "don't knock it 'til you try it". So go out there and push your boundaries and try something new. As long as it doesn't hurt other people, what's the harm? You might be pleasantly surprised. Or not. But you'll have tried something new and stimulated your brain, and that'll keep you young and vibrant. Have an awesome day. =)

Thank you for using this forecast!
Click on my photo to support it with a donation.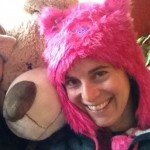 Thank you for using this forecast. Does it save you time, gas money, or help you find more wind, powder, or just plain fun stuff to do? Please make a donation to keep it going! Use it here for free or get on the mailing list for wind for the summer and Mt. Hood snow in the winter. Just click on my photo to donate. The email isn't $99/year. Not $50/year. No, just $12.34 or more gets you on the list for 12 months, and sometimes there are cool prizes. Donate via PayPal/CC by clicking on my happy photo below. Don't PayPal? You can send a check to Temira @ PO Box 841 in Hood River. Thank you for your support, and thank you for trusting my forecast. You guys mean the world to me.
---
Mt. Hood Snow Forecast – 5000′

4a-8a
8a-12p
12p-4p
4p-8p
8p-4a
Today
Tomorrow
The day after
Mt. Hood Snow – snow at 5000', wind at treeline
Ok, everyone sing along with me: I'm dreaming of a Pineapple, Express that brings warm rain. Well, it might not be that bad. California is going to get the bulk of the moisture, most likely, but there's definitely going to be a scent of the tropics in the air this week. Predicting the exact timing of these systems will be difficult – the more active the weather pattern, the more off the timing can be. But let's call it mostly warm and wet.
This morning, though, it's cold and snowy on Mt. Hood. The snow level will drop briefly to 4500′ this morning before rising to 5500′ this afternoon. We'll see flurries this morning for .2" water value (WV) and a couple inches of wet snow. The flurries end this afternoon, leaving Mt. Hood under partly cloudy to clear sky. Wind today will be SW 30 in the morning and W 40 starting late morning, dropping to W 30 in the afternoon.
Sunday looks dry and sunny in the morning becoming high overcast in the afternoon. The free air freezing level will be 6000′ early and 9000′ in the afternoon. Wind will be S 5-10.
Monday starts off with light showers with the snow level around 8000′. the snow level will drop to 6500′ late morning and hold there through the night. As of right now, models show the bulk of the moisture missing Mt. Hood, leaving us with .3" rain in the 24 hour period from 4am Monday to 4am Tuesday. Wind on Monday will be S 20 early and SW 30 after noon.
Tuesday sees the snow level rise to 8000′-10,000′ with heavy rain. Long-range models indicate the possibility (unlikely, but possible) of some snow on Thursday afternoon, and longer-range models indicate more snow possible (more likely) Friday. But that's a long ways out to call it anything more than speculation.

Gorge Wind
I drove to Gresham for a training yesterday, and it was positively nuking at Rooster Rock. When I drove home at 4:30pm, there was smoke across the entire river, and the sensor was reading 50-70 or so. I need a heavier car, because mine was getting blown all over the road. Good thing I don't drive a White Sprinter Van.
The wind is much weaker this morning: iWind/iKite is reporting 31 at Rooster and 12 at Steven's Locks. You can expect the wind to become light and variable by late this afternoon. The easterlies return tomorrow morning at 30-35, picking up to 40-50 in the afternoon. Expect easterlies at 30-35 Monday morning and 20-25 Monday afternoon.

Gorge Weather
There's not much interesting in the Gorge weather forecast today. We should see Parkdale, Mt. Hood, and the other sub-freezing spots warm up above freezing today. I bet they'll be stoked on that! Temps in Hood River today will be in the mid 30's early and the upper 30's this afternoon with clouds and light sprinkles, with the sprinkles ending after noon. Chance of rainbows is 27%.
Tomorrow looks dry. Temps will be in the mid 30's early and the upper 30's in the afternoon. Given the amount of moisture on the ground and in the air, I suspect we'll see an inversion cloud. If that's the case, escape it by heading up in elevation. No rainbows.
Monday brings temps in the mid to upper 30's with clouds and light rain showers. Rainbow chances are 23%. Tuesday looks wet. So does the rest of the week. Hey, at least it's above freezing!

White Sprinter Van of the Day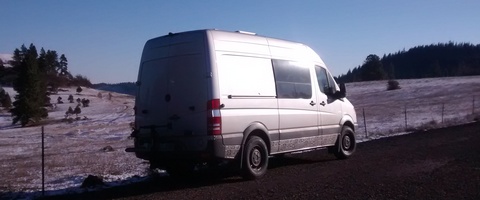 Road and Mountain Biking
Jason Wells and I had a chat yesterday morning while he was walking to work on the Kleeway. He said there was about an inch of ice up at Family Man, which leads me to believe that the trails will either be skating rinks or mudbogs today. I'm wondering about Syncline. Maybe that or the Deschutes River trail or the Klickitat trail might be okay?


The Clymb: free membership. Cheap gear.
Temira approves. Click to join.
Upcoming Events
It's Saturday, and that means you can go jogging (or running) with a group of nice folks who meet at the bottom of Post at 8am. However, I'm not sure what they're planning on doing, since it sounds like Seven Streams has temporarily been renamed Seven (ice) Skates. Perhaps they are running in crampons? You can head to White Salmon today for pancakes and a parade and all things holiday-y at "I'm Dreaming of a White Salmon". There's ping pong tomorrow at 3 at the armory in Hood River and there's pickup touch rugby at 3 at the Mosier School tomorrow. Speaking of the Mosier School, if you'd like to support their art program by buying a t-shirt (in memory of Ellen), you can do so here, or you can buy a kids T here.
Have an awesome day today!
Temira