Random Morning Thoughts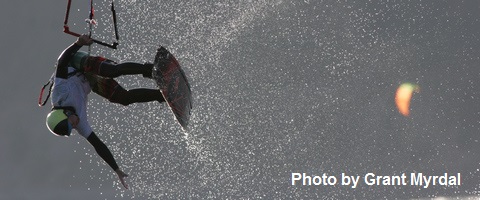 I try my best to stay out of politics in this report, because it's about the outdoors, not about politics. I am, however, reconsidering my position about endorsing local politicians. But that's not my point today. My point is that Oregon has a $50 refundable political donation tax credit. Tonight in Hood River, there's a small fundraiser with Senator Jeff Merkley. It costs $50 to get in. I went to the last one, because it was essentially free due to the tax credit, and it was just me, 20 people, and the Senator. Pretty cool. I highly recommend using your $50 credit to gain access to your national representatives in this way. If anyone knows of other essentially free, local fundraisers with other national reps of any party, I am happy to mention those as well.
Also tonight in Hood River, and more appealing to more of you, there's a CGWA/CGKA windsports slideshow featuring the work of Grant Myrdal and photos of you peeps. Slideshow is 7-10pm at the Hood River Hostel.
Thank you for your donations during the Summer 2014 Pledge Drive!!!
Thanks to all of you for your support over the last month. You guys have shown me an incredible amount of support and love and appreciation, and I'm humbled and grateful, and my bikes will stay repaired for the rest of the year. And I'll stay caffeinated and able to forecast almost every day. You guys rock. New to this forecast? Use it here for free or make a donation and get on the mailing list for wind for the summer and Mt. Hood snow in the winter. It's not $99/year. Not $50/year. No, just $12.34 or more gets you on the list for 12 months. Do it via PayPal/CC by clicking on my photo. Don't PayPal? You can send a check to Temira @ PO Box 841 in Hood River. Thank you for your support, and thank you for trusting my forecast. You guys mean the world to me.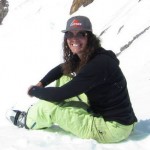 ---
Gorge Wind
There's plenty of gradient for wind out there this morning, but it appears the instability in the atmosphere at 6am was keeping the wind from sticking to the surface of the river. Or maybe someone coated the river with Teflon or BAM or another solid film lubricant. Anyway, we'll see a slow build to gusty 20-23 by late morning near Hood River. Then we'll see the wind pick up to 24-28 this afternoon from Stevenson to Doug's. There's some major model disagreement today over the eastern Gorge: the 12k says that Rufus and Arlington will also be in the mid twenties, and the 4/3k says the wind will be light or easterly out there. I'm going to hedge and suggest you stay between Stevenson and Doug's today, just in case.
Looks like we'll see a bit more marine push tomorrow, hopefully all the way to Portland. Models predict less gradient tomorrow, but if those clouds do make it to Portland, we'll see more wind than today. That said, let's call it 17-21 from Swell to Rufus early (leftovers from a weak weather system tonight), pulling back to the Corridor and giving us 20-23 from Stevenson to Mosier in the morning and 22-25 from Stevenson to Doug's in the afternoon.
Monday looks like 15-18 early and 24-27 in the afternoon. Long range (and of course nearly entirely unreliable) models suggest a bit of a cooldown on Tuesday, giving us stronger wind and a Classic Gorge Setup Tuesday-Friday.
Out on the coast you will find… (north/central/south)… Today: light/10-15/25-30, NW 4-6@8. Tomorrow: 15-20/20-25/30-40, NW 4-6@7. Monday: 10-15/15-20/25-30, NW 4-6@8.

Today's Gorge Wind – these are ranges for the average speed, not a predicted wind range. =)

Your favorite beach
Dawn
Patrol
9am-
11:30a
11:30a-
3pm
3pm-
dusk
Rooster's Rocks
pretty
sunrise
for
naked
early
birds
Steven's Locks
light
8-11
17-21
22-25
Hatchery/White Salmon Sandbar (minus a few for Hood River)
10-15
17-21
gusty
23-26
gusty
23-26
Doug's, etc.
10-15
15-18
24-27
24-27
Rufus, etc.
10-15
5-10
8-11
22-25
late
Roosevelt, etc.
8-11
5-10
5-10
5-10
Temira's sail: 35-40: 2.9 / 30-35: 3.2 / 26-30: 3.5
23-26: 4.0 / 20-23: 4.5 less than 20: something bigger!
Tonia's kite: 35-40: 4m / 30-35: 4-6m / 26-30: 5-7m
23-26: 7-9m / 20-23: 8-10 / 15-20: 10-12 / 10-15: 13-15.
Advertising Worth Reading
Hood River U-Pick Organic Farm

Hood River U-Pick Organic is a certified organic family farm located at 4320 Royal Anne Drive. Wind not blowing? Trails too dusty? Maybe you just want to do something fun and relaxing for you (and the kids too!). Come on up and pick Dahlias, roses, raspberries, kale, heirloom tomatoes, basil and garlic. Other seasons have other fantastic organic crops. Self-Serve: cash and checks.
Gorge Weather
Know what I love about thunderstorms? Convective debris clouds in the morning. They make for a lovely sunrise. We'll see a few clouds today from atmospheric instability with a very slight chance of thunder. Temps will be in the upper 60's (with 70% humidity) early, rising to the upper 80's this afternoon. Expect a colorful sunset tonight.
Tomorrow, depending on the marine layer's penetration, may start off cooler, with temps in the low 60's, but the afternoon will be just as hot, with temps in the upper 80's. Looks like we might see a cooldown by the middle of next week.

White Sprinter Van of the Day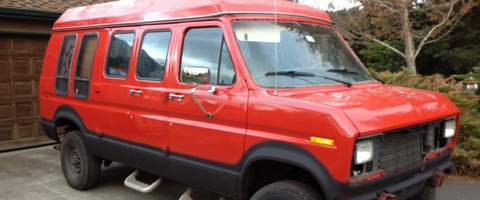 Road and Mountain Biking
It's dusty out there. And it's muggy: I saw a Strava ride yesterday titled "Post Canyon Sauna". I did a ride two days ago titled "Lollipop, lollipop – SCREW THE THIRD LOLLIPOP, I SEE SPRINKLERS". And what you should take from that rambling is that it would be best, given the forecast of heat and humidity today, if you ride early in the day. Unless you're going for Bikram-style riding and the opportunity to experience heatstroke, in which case 3pm would be perfect.

The Clymb: free membership. Cheap gear.
Temira approves. Click to join.
River Levels / Cheezburger update
The White Salmon is at 2.2′, and Cave Wave was surfing great last night as the last bits of sun turned the spray off Joe and Brian's kayaks golden. Cheezburger liked my post about gear yesterday because, as an outdoors professional, his play gear is also his work gear. The John Day dam is putting out 121-159kcfs and The Dalles dam is reading 146kcfs. Columbia river temp is 68.9 degrees at The Dalles Dam.
Events – email me if I've missed any outdoor-related events
The Hood River running club has their weekly Post Canyon trail run every Saturday at 8am, and the local windsports advocacy groups have a windsurifng and kiteboarding and Whtie Sprinter Van slideshow at the Hood River Hostel tonight.
There's a swap meet tomorrow morning at the Luhr Jense parking lot, free community yoga at Yoga Samadhi in White Salmon at 9am, and rugby in mosier at 3, ping pong at the Hood River armory at 3, and a casual bike ride leaving Mountain View Cycles at 5:30.
The far west Gorge owns next weekend. There's the (sold out) Bridge of the Gods Run, the Double-Damned sailboat race on Saturday, the Wildside Relay on either Saturday or Sunday, and the Bridge of the Gods Blowout race (bother windsurfers and kiters) on Sunday. Strange that there would be three downwind races scheduled on one weekend, but that's the way it is!
Have an awesome day today!
Temira