Random Morning Thoughts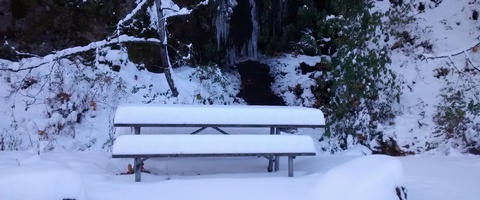 I woke up this morning to do the snow report and snow phones for Meadows. It was 8 degrees when I woke up. That's nuts. The bald eagle sitting in the snag across the freeway thinks so too: he/she is all fluffed up like a happy ball of protected national treasure. I have decided that bald eagles like snow. Yesterday morning there were three of them in the trees outside my window. That is all for today.

Thank you for using this forecast!
Please donate to support it!
Thank you to everyone for using this forecast. Does it save you time, gas money, or help you find more wind, powder, or just plain fun stuff to do? Please consider making a donation to keep it going! Use it here for free or make a donation and get on the mailing list for wind for the summer and Mt. Hood snow in the winter. It's not $99/year. Not $50/year. No, just $12.34 or more gets you on the list for 12 months. Do it via PayPal/CC by clicking on my happy photo below. Don't PayPal? You can send a check to Temira @ PO Box 841 in Hood River. Thank you for your support, and thank you for trusting my forecast. You guys mean the world to me.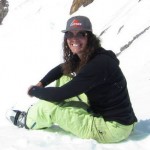 ---
Mt. Hood Snow Forecast – 5000′

4a-8a
8a-12p
12p-4p
4p-8p
8p-4a
Today
Tomorrow
The next day
Mt. Hood Snow
Sorry I didn't tell you yesterday that Meadows was going to open Buttercup and a jib park today and tomorrow. I didn't know until 1pm or so. But now we all know. Go shred, if you want. It's sunny there.
Today will be sunny all day on Mt. Hood. The free air freezing level will be at the surface, with temps at 5000' rising to the mid to upper teens. Wind will be E 10-20.
Tomorrow also looks sunny on the mountain, but it will be much warmer. Temps at 5000' start out in the upper 20's, rising to the upper 30's in the afternoon. The free air freezing level will be at the surface early and will rise to 9000' in the afternoon. Wind will be S 5-10.
Expect another sunny day on Monday with the free air freezing level at 10,000' and temps at 5000' in the low 40's. Wind will be W 10mph.
The next precipitation is predicted for Wednesday and/or Thursday. Predicted temps and precipitation amounts have been swinging wildly, so I'm hesitant to make any predictions at this point, other than to say there's something coming.
Gorge Wind
We do of course need a sub-freezing Gorge wind forecast, because I'm sure that dozens of you are going windsurfing today. Expect easterlies at 30-40 at Rooster today with 30-35 in Stevenson. Expect E 35-45 at Rooster tomorrow and 30-35 on Monday. Take off 10 for Steven's Locks. River temp is 53 degrees. Interestingly, in the windless Hood River Valley, temps are in the single digits. On the river, where the air is mixed better, it's in the 20's and 30's. Still cold. But not quite as cold.
Gorge Weather
Snow covered ground and clear sky (like we had last night until this dumb cloud formed), result in really cold temperatures. Curious why? It was 8 degrees at Larry's house this morning. I just stepped outside, and I don't know exactly how cold it is here, but it's (insert swear word) freezing.
Anyway, expect the sun to burn through this cloud layer today, leaving us with temps in the mid 30's. Tomorrow starts off cold, with temps in the teens or less. We'll probably see another morning inversion cloud, and it'll probably last longer, but eventually we'll see sun and temps in the upper 30's. Monday morning looks a little warmer (in the upper teens), with the rest of the day mirroring Sunday.
White Sprinter Van of the Day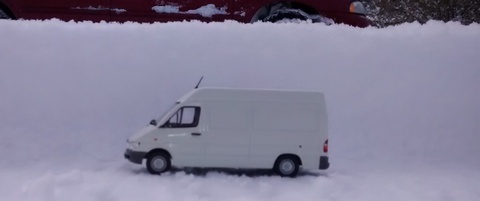 Road and Mountain Biking
I had a lovely time XC skiing the Twin Tunnels trail yesterday. That's like biking, only different. I heard that Manny was going to do a Westside loop on his road bike yesterday. There's a little too much black ice out there now. If it were deeper, you could ice skate in places where you'd normally ride. Fat bikes, anyone?


The Clymb: free membership. Cheap gear.
Temira approves. Click to join.
It's cold out, and you still want to ride your bike, don't you? Me too. Bikes are fun! But cold weather makes for cold hands. What's a cyclist to do? Get some Bar Mitts! These neoprene handlebar covers keep your hands way, way warmer than the outside air. This isn't hype. This is Temira's personal testimonial. I begged these guys to let me advertise for them, because I have the coldest hands on the planet. Not anymore. Bar Mitts. Making it possible for me (and you) to have happy hands all winter long.

Upcoming Events
In events this morning, the Columbia Gorge Tri Club has their weekly run at 8am. They meet at the bottom of Post Canyon Road. I am assuming they don't mind single-digit temps. The Cold Creek trail work party is on today – apparently there's a lot of work to do after the strong east winds. On Sunday, there's community yoga, free or by donation, at Yoga Samadhi in White Salmon at 9am. Then there's ping pong at the HR armory at 3pm. I have no idea if rugby people will be playing rugby in the snow at the Mosier School at 3pm. Probably. They're rugby people.
Have an awesome day today!
Temira