The best snow forecast for Mt. Hood. The best wind forecast for the Gorge.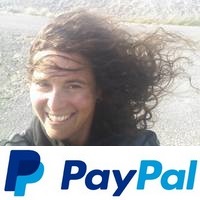 Thank you for using this forecast. Like it? Find it useful? Support it (and me!) by sending some cash my way. What's it cost to support me and get the email version? Not $99 a year. Nope. Not $49. Just $19.99 or more gets you a year. People are added to this list on Thursday and Sunday. My day job is crisis mental health, and I don't have time on other days. Thanks for your patience! Click below to contribute. Thank you!!
Credit card payments use this button
Click here to use your PayPal
Venmo: @theGorgeismyGym
Snail Mail: PO Box 841, Hood River, Oregon 97031
(note: I am not a non-profit entity. The only way to accept credit cards with a user-defined amount is to use the 'donate' button. Thanks for understanding!)

Auto-renewing subscription. New! Awesome!
The Forecast
Today's Gorge Wind – these are ranges for the average speed, not a predicted wind range. =)

Your favorite beach
Dawn
Patrol
9am-
11:30a
11:30a-
3pm
3pm-
dusk
Rooster Rock
overcast
sky
buns go
bye bye!
Steven's Locks
5-10
13-16
21-24
24-27??
Swell-Hood River
20-23
20-23
21-24
24-27??
Lyle to Doug's
10-13
13-16
16-20+
24-27??
Rufus, etc.
10-13
13-16
16-20+
24-27??
Roosevelt & Arlington
13-16
10-13
5-10
5-10
Gorge Wind Forecast
Complicated weather today and tomorrow sets the stage for a tricky wind forecast. Instability leads to potential thunderstorms both days, but especially Saturday. Looking longer-term, additional rounds of offshore low pressure stymie the ability of the wind to reach "nuking" levels. Positive news: river flow is way down today, which puts Rufus back on the "probably okay" list.
Let's look at Saturday's details. Weak high pressure offshore combines with a trough of low pressure moving inland and significant atmospheric instability, moisture, and upper-level SW flow. A low-level capping inversion is forecast to keep the wind somewhat reliable through early afternoon. Gradients started at 0.10 (pdx-dls) and 0.03 (dls-psc). Early westerlies (not that early, cuz I slept in a bit) were 20-23 from Viento to The Hook, 13-16 east to Arlington, and 5-10 at Stevenson. By mid to late morning, we'll have 21-24 from Stevenson to Mosier with 13-16 from Lyle to Doug's, perhaps Avery, 10-13mph near Rufus, and lighter westerlies to the east. Things get complicated after 2pm or so when the low-level cap breaks, an impulse destabilizes the atmosphere, and more moisture moves in. Models suggest the wind will rise to 24-27 between Stevenson and Rufus, but they also hint at thunderstorms popping up. So, who knows?! Elevated thunderstorms can be compatible with wind, but it's never safe to be on the river when lightning is around! Thunderstorm potential increases overnight. River flow is 157-280kcfs, river temp is 62.5F, and high temp forecast is 81F.
A low moves inland on Sunday and drags deeper marine clouds inland. Models hint at continued rain/thunder in the morning, but they are far from unanimous about this. Don't forget the CGW2 swap meet at Lot 1 in the morning. The wind tomorrow morning really depends on what the rain and instability do; models suggest 21-25 from Viento to Arlington to start with 10-13 at Stevenson. No guarantees. The strongest wind quickly shifts east of The Dalles. Afternoon predictions are 24-27 from Avery to Boardman with 11-14 west of The Dalles. That said, there's a LOT of range in the ensemble predictions; some max the gusts in the 20's, and some max the gusts near 40mph. So… lots of uncertainty about Sunday.
Low pressure wanders closer to the Oregon Coast on Monday. Westerlies are forecast to languish. Max speeds will be in the 11-14 range between Stevenson and The Dalles, and only in the afternoon. Generally speaking, offshore low pressure will dominate the picture next week. There will be days where that will drive a significant cross-Cascade temperature gradient and give us moderate to strong westerlies, but it's certainly not an ideal setup. So, enjoy whatever this weekend brings!
Jones, Sauvie's, Coast
Coast forecast (north/central/south, waves). Swell forecast provided by NWS. Wind direction northerly unless otherwise noted. Saturday: NW10-15/NNW10-15/NNW15-20, SW swell 2′ at 15 seconds. Sunday: W5-10/LTNW/N10-15, SW 2′ @ 14. Monday: W5/N10-15/N10-15, W 2′ at 14. Jones Saturday: 21-24. Sunday: 7-10. Monday: 7-10. Sauvie's Saturday: 11-14. Sunday: 5-10. Monday: LTN.
Mt. Hood Snow Forecast – Back on vacation until next fall
Hood River Weather Forecast
Increasing high clouds today with a chance of sprinkles/thunder in the evening and thunderstorms and rain (potentially heavy) overnight. Temps will be in the upper 05's early and low 80's later. Moderate to strong westerlies. 10% chance of rainbows. Sunday will be cloudy all day with a chance of rain in the morning and dry weather in the afternoon. Temps will be in the mid 50s' early and low 70's later. Moderate westerlies. 18% chance of rainbows. Monday will be mostly cloudy then clear. Temps will be in the mid 50's early and mid 70's later. Light westerlies. No rainbows.
Looking for a complete Columbia Gorge forecast? Looking for more humor in your weather? Obscenities? You're looking for my TATAS: Temira's Awesome Travel Advisory Service on Facebook.
Local-ish Events
Please let me know of outdoor-related local-ish events. If you don't tell me, I don't know!
Coming up this weekend, it's the CGW2 swap meet at Lot 1 on Sunday. On Saturday, Pacific Hermitage has a garden party and potluck.
Ferment's Tuesday night 4-mile walk/run is at 6pm. At 7:15am on Wednesdays, there's a run from the White Salmon Bakery. At 7am on Friday morning, you can get a donut and coffee for going for a run at Kickstand Coffee. The Small Boat paddlers have a group paddle at 6pm on Thursday at the Hatchery. Post and Pint happens Thursday evenings at 5:30 when Post is not too wet to ride. The women's Post-and-Pinot ride is Wednesday evening at 5:30.
Cycling
Lots of perfect dirt out there right now! Falls Creek sis open. All the 44 Road trails are open with a couple of caveats: Lookout Mountain and Cooks Meadow still have some blowdown and a few patches of snow. Plains of Abraham is open, but Ape Canyon trail has received no maintenance this year. It is rideable. Also, the road connecting Plains of Abraham to Smith Creek closes at noon Monday-Friday and will not be open to bikers during that time. Courtney Road (the road that goes up above Syncline) is closed until October. Do not attempt to use it to access trails. Starting now, you will need a parking pass to park at Post Canyon. This money will support trails. Hospital Hill: cows are out – no dogs allowed. Underwood: do not enter areas that are closed due to logging operations.
Sprinter Van of the Week!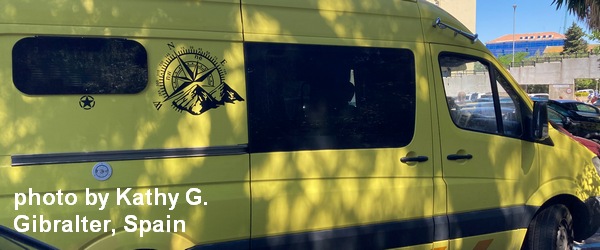 Click here for the Sprinter Van map of the world!!!
Have an awesome day!