Random Morning Thoughts
Every time I'm at the beach on a super-nuker day like yesterday, I hear people saying they don't have a small enough sail or kite. I pose this question to you: How much is enjoying a day like yesterday worth to you? Sure, you're only going to use that tiny sail/kite a few times a year, but it's going to last you for the rest of your life. Consider the cost as an investment in future fun. Pay the money now, and it will reward you in thousands of dollars of fun in the future! My 2.9 Hot Sails Superfreak gave me thousands of dollars of fun yesterday. Now, go buy yourself a smaller kite or sail, because you're going to want it again today! (no, the local shops did not pay me to write this)

Do you find this forecast useful? Hooray! It's pledge drive month!
Thanks for coming here for your forecast. It's time for the annual pledge drive! "WHAT?", you say, "I thought this was free!" It is, but it takes lots of time. It's my job, and you're my employers! Here's the deal: Every day someone has to pledge. If not, no website forecast the next day: only the people on the email list get their forecast. Want on that list? Make a donation. Do I save you gas? Find you more fun? Entertain you? The email list is not $99/year. Not $50/year. No, just $12.34 or more gets you on the list for the next year. Anything over the minimum feeds my coffee and bicycle addictions and makes me feel loved, and god knows we all need to feel loved. Do it via PayPal/CC by clicking on my photo. And thank you so much for your support. Don't PayPal? You can send a check to PO Box 841 in Hood River. Thank you for your support. It means the world to me.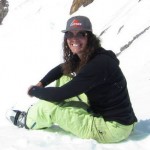 Tomorrow's forecast status:

Thank you Torey L. for tomorrow's forecast!
Thank you all for using this forecast!
Today's Gorge Wind – these are ranges for the average speed, not a predicted wind range. =)

Your favorite beach
Dawn
Patrol
9am-
11:30a
11:30a-
3pm
3pm-
dusk
Rooster's Rocks
better
things
to do
today
Steven's Locks
light
8-11
15-18
18-23
Hatchery/White Salmon Sandbar (minus a few for Hood River)
28-32
28-32+
28-32+
gusty
23-27
Doug's, etc.
16-19
19-23
26-30
28-32
Rufus, etc.
16-19
19-23
28-32+
28-32+
Roosevelt, etc.
16-19
19-23
26-30
28-32
Temira's sail: 35-40: 2.9 / 30-35: 3.2 / 26-30: 3.5
23-26: 4.0 / 20-23: 4.5 less than 20: something bigger!
Tonia's kite: 35-40: 4m / 30-35: 4-6m / 26-30: 5-7m
23-26: 7-9m / 20-23: 8-10 / 15-20: 10-12 / 10-15: 13-15.
Gorge Wind
Just a reminder to everyone today: there are windsurfing races at the Event Site both today and tomorrow. Please stay out of the race course, and if you find yourself in the race course by accident, please yield the right of way to the racers. Thank you!
Another thing: Grant was out shooting photos at the middle Hatchery until the wind backed off yesterday.
There will be plenty of wind for those races today. And for Big Winds' "Kite with the Pros" day at the Sandbar. The 6am gradients were .15 (pdx-dls), .05 (dls-psc), and .43 (EPH-dls). In addition, the deep marine layer was all the way to Stevenson, with patchy marine clouds as far as Underwood Mountain. As an interesting note, models are way off this morning, forecasting a gradient of .09 and wind in the low twenties. So, I'm forecasting by looking out the window instead. Very scientific, and good use of skills I learned in Kindergarten.
The gradient-marine layer combo started us off with Dawn Patrol at 26-30 at Swell. Expect 28-32 this morning from Swell to Mosier with 16-19 further east. With that much cloud layer in Portland, I suspect we'll see some 30-35 this morning from Swell to Mosier. By early afternoon, we should have 28-32 from Swell to Arlington (maybe late afternoon there, but Rufus, etc should be good today), with periods of 30-35, and 13-16 in Stevenson (more if the clouds burn off). One tricky thing today is a front moving toward us from the north. That could mess with the afternoon wind.
That front moves through tomorrow, for 22-25 east of Hood River in the morning, with 15-18 in the western Gorge. Models think the wind will back off a few mph midday and pick back up in the evening as another system moves through.
Monday starts off light as an upper level low (ULL) takes up residence off the Oregon coast. The wind should pick up to gusty 21-24 Monday afternoon. That ULL is going to mess with us for a few days before we head back into a Classic Gorge Setup later next week.


Advertising Worth Reading
Cascade Acupuncture Center

Cascade Acupuncture Center is open 6 days per week (Saturdays in Hood River) between their three Gorge locations: Hood River, The Dalles and Stevenson. They work as a team of Licensed Acupuncturists, Licensed Massage Therapists and Office Staff, offering Acupuncture, custom Chinese herbs, allergy elimination, and massage. You can get a free 15 minute consultation and stress reduction treatment and insurance check. Heal faster from sports injuries. Have less pain. Go visit CAC.
Gorge Weather
Today will be sunny for much of the day, but we'll see some high clouds move in this afternoon as a frontal boundary drops into the PNW. Temps will be in the mid 60's early and low 80's this afternoon with increasing humidity. Tomorrow starts off with some high clouds, and maybe even some lower clouds, probably becoming clear midday with more clouds moving in late in the afternoon. There's a 1% chance of rainbows (and light sprinkles) tomorrow morning, and there's a 79% chance of a colorful sunrise and a 43% chance of a colorful sunset. Temps will be in the low 60's early and mid 70's in the afternoon. Monday sees some high clouds in the area with temps in the upper 50's early and mid 70's in the afternoon.
White Sprinter Van of the Day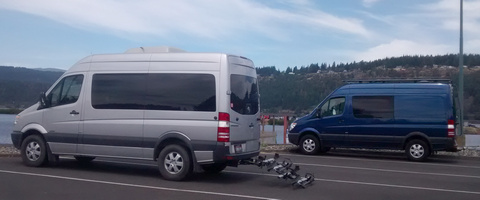 Road and Mountain Biking
I cruised the Twin Tunnels trail last night with some friends, and it was so windy that we had to pedal downhill when we came back to Hood River. Today, much like yesterday, will be too windy for pleasant road biking, although you'll find less windy conditions if you head to Parkdale, Lost Lake, Trout Lake, or other upper-elevation places this morning. But not Glenwood, that will get windy today.

The Clymb: free membership. Cheap gear.
Temira approves. Click to join.
River Levels / Cheezburger update
The White Salmon is at 2.5′. Cheezburger (a guide at Wet Planet – request him) is planning on having sushi on August 5th. The Klickitat is at 1000cfs. The John Day dam is putting out 151-172cfs and The Dalles dam is reading 154kcfs. Columbia river temp is 68.9 degrees at The Dalles Dam.
Events – email me if I've missed any outdoor-related events
The most exciting event today is the showing of the film ET at Movies in the Park at Jackson Park tonight. That's followed by rodeo in The Dalles.
Everything else ties for equally important. And those everything elses include: Windsurfing racing at the Event Site, kiteboarding clinics and demonstrations at the Sandbar (brought to you by Big Winds), the Race Across Oregon Bike Race (at 520 miles, too far for me to ride solo) starting at the Shilo Inn The Dalles this morning, Outrigger Canoe races in Stevenson (go Hood River folks!), the Wild Woman trail marathon in Trout Lake, a 3k/5k/10k run in The Dalles benefiting Wonderworks Children's Museum, and the Hood River Running Club's trail run at 8am at Post Canyon.
Tomorrow brings more windsurfing races, more outrigger canoe races, and the Oregon Enduro Series race at Cold Creek / Camas (go Dirty Harlots). There's free community yoga at 9am tomorrow at Yoga Samadhi in White Salmon, pickup touch rugby at 3pm in Mosier, ping pong at 3pm at the Hood River Armory, and the Alternative Ride, from Mt. View Cycles to Mosier, at 5:30pm.
Have an awesome day today!
Temira