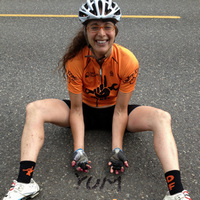 This is Temira!
Thank you all for your donations and kind words during last month's pledge drive. Whew. Glad that's over. I always feel a little weird asking for donations. That said, should you like to get on the daily email list (where you can occasionally win cool stuff), please take the time to click on the sun below and make a donation of $12 or more. That gets you a year's subscription, and it makes me smile, because I know then that the hard work I put into this is worth a lot to you. Thank you for reading my work, and thank you for donating. Have a wonderful day!

Random Thoughts you may or may not regret reading…
Really, Mother Nature. We're much more interested in summer weather during summer than we are in fall weather during summer. Safe the offshore lows for ski season, and give us the North Pacific High.
Wind forecast guess paragraphs
Although it's not yet fall (you can tell by the traffic in downtown Hood River), we're stuck in a fall-like weather pattern, with a seemingly endless series of low pressure systems forming off the coast. Even before I started forecasting the wind, I heard this setup referred to as the "dreaded upper level low". We want high pressure off the coast.
That said, we have .07 gradient from pdx-dls this morning, and that's going to be enough to give us west wind at 15-18 today, strongest near Hood River and Mosier this morning and filling in from Stevenson to Arlington this afternoon. As the offshore low moves closer to Vancouver Island late in the day, we may see the wind pick up to 20-23, most likely at Stevenson and Arlington.
Tomorrow starts out with light west wind (actually, the models all show light east wind, but I'm not sure I agree). That said, the light and variable wind holds through mid-afternoon when a shortwave moves inland. With this wave, we'll see a very fast jump from zero wind to 25-30 for a short period of time. If you're in the right place at the right time, you'll catch some wind. Or maybe you'll just get rained on, because that's a distinct possibility.
On Monday, another low pressure system develops off the coast, and we see west wind at 15-18.
Don't forget: It's time to nominate folks for the Gorge Windsurfing Awards.
You can do that at CGWA's website through the 28th. Your award choices are: Dale Cook (big air), Grom of the Year, Windsurfer of the Year, Most Selfless Windsurfer, and Most Stoked. Also, don't forget that new windsurfing windows are 15% off this month at Northwave.
Today's Gorge Wind

Your favorite beach
Dawn
Patrol
9am-
11:30a
11:30a-
3pm
3pm-
dusk
Steven's Locks
light
10-13
15-18
20-23
Hatch (subtract a few mph for Event Site)
14-17
16-19
16-19
16-19
Doug's / Rowena / Lyle
5-10
10-15
15-18
17-21
Maryhill / Rufus / The Wall
10-15
15-18
15-18
17-21
Arlington / Roosevelt
13-15
15-18
17-21
17-21
The Clymb: free membership. Cheap gear. Temira approves. Click to join.
Sports, activities, and other stuff
Off the water, there's plenty going on today and tonight. Home Valley hosts the annual Bigfoot Bash and Bounty celebration of all things Sasquatch. White Salmon has the summer concert series, with poker during the day, followed by a pig roast and salmon feed starting at 4, music after five and fire dancers at 9pm.
If you're on the Hood River side tonight, it's the last movie in the park, with the movie Herbie Goes to Monte Carlo starting at Dusk. And if all that's not enough, CGWA has the King of the Hook windsurfing competition tonight at the Hook, starting at 5:30.
Fire Information
The Mt. Hood National Forest has closed the following trails: Surveyor's, Oak Ridge, 8 Mile, Zig Zag, Da Kine, Knebal, Bottle Prairie, Dog River… basically, anything north of the 44 Road is closed. The 17 Road between Surveyor's and the 44 Road is closed, and they'll be conducting back burns along that road today. The not-yet-open SuperConnector trail is also closed. Closure map is here.
Have an awesome day today!
Temira