Please support this forecast by clicking on the photo of the forecaster!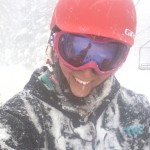 Your forecaster. Click on her to donate. Thank you!
Thank you for using this forecast. Please tell your friends about it! And if you or your friends think this service is awesome/useful/saves you gas money/makes your life more fun, make a donation by clicking on my photo above. Is more fun worth $50/year? $20/year? Donate what it's worth to you (and thank you!), but $12 minimum gets you on the email list (with occasional giveaways) for a year. Thank you for your support, and have fun today!
Random Morning Thoughts
Ok. So I guess I should link to the New York Times article about Hood River, since they indulged me and linked to me. They do need to do some fact checking. For example, they claim that the phrase "The Gorge is my Gym" inspired my blog. But that is not true. I created that phrase and then created the blog.
Mt. Hood Snow Forecast – 5000′

4a-8a
8a-12p
12p-4p
4p-8p
8p-4a
Saturday
Sunday
Monday
Mt. Hood Snow Forecast
This is that funny time of year when snow falls at temps far above freezing. Yesterday, for example. It was snowing at 35 degrees. That makes tonight's forecast difficult. Today is easier.
We'll see snow flurries and sun this morning, clouds this afternoon, and heavier precip after 5pm. The snow level will be 3500′ early, 5500′ around 2pm, 6000′ when the precip hits and 6500′ overnight. Minimal accumulation happens during the day, and .8-1.2" water value (WV) come in tonight. What's it going to do? I suspect we'll see a mix of rain and snow, or at best, very wet snow that doesn't really accumulate more than 1-3". Wind today will be NW 20-30 early, W 25-30 midday, WSW 30 in the late afternoon and WNW 40-45 overnight.
Tomorrow starts with sunbreaks and showers or sunbreaks and very wet snow, becoming clear mid-morning. The free air freezing level will be 6500′ early, rising to 8000′ in the afternoon and 9000′ overnight as a ridge of high pressure builds. Wind will be WNW 35-45 early, fading to NW 25-35 mid-morning and NW 15-25 in the afternoon.
Monday looks clear and warm, with the FAF at 9000′ early and 12,000′ in the afternoon. Wind will be WSW 15-20 early and SW 25 in the afternoon. Temps at 5000′ will be 50-55 degrees.
Gorge Wind
Today doesn't look windy until late tonight. We'll start with light west wind that picks up to gusty W 15-18 from Stevenson to Arlington this afternoon. As a system moves through tonight, the wind picks way up, waking people up. Sunday sees the leftovers from that system combine with building high pressure for some decent water time. Wind will be gusty 10-14 in the western Gorge with 22-25 near Lyle and 27-30 at Maryhill. Less further east. Monday brings light wind.
Gorge Weather
We'll see a few sprinkles today under partly cloudy sky. Heavier rain moves in after 4pm. Temps will be in the mid-40's early and upper 50's late with light west wind. Sunday starts off partly cloudy, becoming clear. Temps will be in the upper 40's early and upper 50's in the afternoon with moderate west wind. Monday starts off chilly, with temps in the low 40's, but the afternoon looks warm, with temps nearing 70 degrees. Light wind Monday.
Road and Mountain Biking
Reports have Whoopdee as a muddy mess. That means Post is a muddy mess. And that means you're riding Syncline or your road bike.
River Levels
The Hood is at 5.1′, the Klickitat is at 2120 cfs, and the White Salmon is around 4′.
The Clymb: free membership. Cheap gear. Temira approves. Click to join.
Events – email me if I've missed any outdoor-related events
The Hood River Running Club has a trail run this morning at 8am. Meet at the bottom of Post Canyon road. At Skibowl today, it's the super-rad King and Queen of the Mountain race. Meadows has the Full Sail Banked Slalom. Tomorrow is Hood River Appreciation Day, at the main lodge. Yeah. Also tomorrow, the folks at Dirty Fingers are having a BBQ at 3pm while they watch the Tour de Flanders bike race.
Have an awesome day today!
Temira