Please support this forecast by clicking on the photo of the forecaster!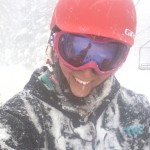 Your forecaster. Click on her to donate. Thank you!
Thank you for using this forecast. Please tell your friends about it! And if you or your friends think this service is awesome/useful/saves you gas money/makes your life more fun, make a donation by clicking on my photo above. Is more fun worth $50/year? $20/year? Donate what it's worth to you (and thank you!), but $12 minimum gets you on the email list (with occasional giveaways) for a year. Thank you for your support, and have fun today!
Random Morning Thoughts
I would give just about anything right now to have a day when I had nothing to do other than lie in my hammock in the sun and read a book and maybe go for a long road ride.
Mt. Hood Snow Forecast – 5000′

4a-8a
8a-12p
12p-4p
4p-8p
8p-4a
Saturday
Sunday
Monday
Mt. Hood Snow Forecast
Wow. I cannot believe we stayed snow all day on Mt. Hood yesterday, but we did. 32 degrees and snowing for most of the day. Awesome. NOAA, NWAC and I all blew the forecast. At least I'm in good company! We'll see another snowy day today. The snow level will be 3500′ early and 5000′ in the afternoon. We'll see .3-.4" water value (WV) between 5am and 5pm, heavier after 2pm, for 3-4" of new. We'll see another .2-.3" tonight, for another 2-3" of snow. Wind will be SW 30-40 for much of the day, becoming WSW 40 in the evening. There is a slight chance of thunder and lightning this afternoon.
Sunday starts off mostly clear with the snow level around 2000′. We'll see a few orographic snow flurries in the afternoon, with the snow level around 3500′. No real accumulation. Wind will be W 30 early, W 20 in the afternoon, SW 15 in the evening and S 15 overnight.
Monday looks very similar to Saturday: clear in the morning with a few flurries/clouds in the afternoon. The snow level will be 4000′ early and 5500′ in the afternoon. Wind will be S 20 early and SE 15 in the afternoon.
Long-range models suggest drier weather Tues/Wed followed by wetter, colder, snowier weather starting up again on Thursday.
Gorge Wind
We're stuck in a stormy pattern here in the PNW this week, and that doesn't bode well for wind in the Gorge. Seattleites will probably have more wind this week than we will. Expect a light start in the Gorge today with gusty, up-and-down west wind at 10-13 in the western Gorge and 24-28 in the eastern Gorge this afternoon. Tomorrow brings W 10-13 in the western Gorge and 15-18 east of The Dalles. Expect east wind at 15-18 on Monday.
Gorge Weather
It's partly cloudy this morning, and partly cloudy, showery weather continues all day, with a chance of a few thunderclaps or lightning strikes this afternoon. Expect rainbows, a pretty sunrise, and a pretty sunset. Temps will be in the mid-40's early and low 50's late.
Sunday looks less cloudy with a few showers possible in the afternoon. A pretty sunset is likely. A pretty sunrise is possible. Rainbows are unlikely, except in the evening in the upper valley where they are possible. Temps will be in the low 40's early and low 50's in the afternoon. Monday looks like a repeat of Sunday, but warmer, with temps in the upper 30's early and upper 50's in the afternoon.
Road and Mountain Biking
It's a bit wet out there for mountain biking. And the roads are wet too. I guess you're going to spin class today, unless you're doing the Gorge Roubaix, in which case you're riding in wet, windy conditions. I do not envy you, although I'd rather be riding in wet, windy conditions than working! Have fun!!!
The Clymb: free membership. Cheap gear. Temira approves. Click to join.
Events – email me if I've missed any outdoor-related events
Today and tomorrow bring you the Gorge Roubaix cycling race out in The Dalles. Also today, out at Petersburg School, it's the Wheatfield half marathon and 3k/8k race, benefiting local cross country teams. It's green and lovely out where that race is happening, so it's worth participating. On Sunday, also in The Dalles, there's a Geocache Race at The Dalles Dam (as best I could tell from the Chamber website). Today at Skibowl, it's the Red Bull Schlittentag, where enthusiastic do-it-yourselfers bomb down the hill on home-built sleds. Sunday is Brewfest at Meadows. Beer. Yuck.
Have an awesome day today!
Temira