Please support this forecast by clicking on the photo of the forecaster!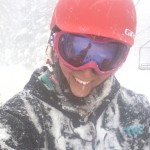 Your forecaster. Click on her to donate. Thank you!
Thank you for using this forecast. Please tell your friends about it! And if you or your friends think this service is awesome/useful/saves you gas money/makes your life more fun, make a donation by clicking on my photo above. Is more fun worth $50/year? $20/year? Donate what it's worth to you (and thank you!), but $12 minimum gets you on the email list (with occasional giveaways) for a year. Thank you for your support, and have fun today!
Random Morning Thoughts
Someone was asking yesterday why NWS doesn't forecast rainbows. That's a fine question. We forecast weather so people know what to expect, and who doesn't want to know if there's a rainbow in their future?
Mt. Hood Snow Forecast – 5000′

4a-8a
8a-12p
12p-4p
4p-8p
8p-4a
Saturday
Sunday
Monday
Mt. Hood Snow Forecast
There is actually a good shot of snow coming in this forecast period. Nice to see. Today, however, will be partly cloudy on Mt. Hood. The freezing level will be 8000′ early, rising to 9000′ in the afternoon. Wind will be WSW 30 early becoming SW 35-40 in the afternoon. Given the change of direction, there probably won't be any real change in the winds on the ski hill.
Tomorrow looks cloudy until late at night, when a blizzard hits. Although models show the precip staying to the north of Mt. Hood for much of the day, some daytime sprinkles or snow flurries aren't out of the question if orographics kick in. That said, expect a mostly dry day with some precip possible, switching to heavy snow after 10pm. The snow level will be around 8000′ for much of the day, dropping to 6500′ at 8pm and crashing to around 2500′ by 11pm, and possibly falling as low as 1000′ overnight. Between late Sunday night and 5am Monday, we'll see 1" water value (WV) or more, for 8-12" of new snow. Wind Sunday will be WSW 50 for much of the day, swinging to W 35 when the front hits in the evening and going to NW 40 as we're in the throes of snowfall in the wee hours of Monday morning.
Monday starts with heavy snow, quickly switching to orographic snow flurries and then clear sky by afternoon. Most of the snow will fall before 5am, so we'll only see an inch or two at most during the day Monday. The snow level will be 1000′ early, rising some during the day as the March sun beats the model's predictions of a cold day. Wind will be a brutal NW 40 for much of the day, dropping to NW 25 in the afternoon.
Tuesday looks mostly clear with light wind and above-freezing temps on Mt. Hood.
Gorge Wind
There's a bit of an east gradient this morning. .04 to be exact, and that's enough for easterlies in the mid-teens at Rooster. By afternoon, we'll see either glassy conditions or light west wind ahead of an approaching front. Sunday starts with west wind at gusty 15-18, picking up to gusty 23-26 in the afternoon and increasing overnight. Monday starts with west wind at 26-29 in the eastern Gorge in the morning, fading to 17-20 in the eastern Gorge in the afternoon. The western Gorge will see gusty 12-15.
Gorge Weather
Today looks partly cloudy with plenty of sunbreaks as clouds from a distant system dirty the blue sky above the Gorge. Expect temps in the upper 30's early, rising to the mid to upper 50's in the afternoon with light wind. No rainbows today, sorry. Tomorrow starts off partly cloudy, becoming increasingly cloudy. Rain will start late tomorrow night, but don't be surprised if we see a few sprinkles during the day too. Temps on Sunday will be in the low 40's early and mid 50's in the afternoon.
Monday starts with the remnants of Sunday night's rain, and that should give us some really nice rainbows early in the day along with a pretty sunrise. Expect clearing sky by mid-morning, becoming sunny in the afternoon. Temps Monday will be in the upper 30's early and mid 40's in the afternoon.
River Levels
The Hood River is at 6.2′, and I've seen a ton of cars at the takeout. The Klickitat is at 3690cfs, and the White Salmon, as of yesterday, was at 4.8′.
Road and Mountain Biking
With light wind in the forecast today, it should be a lovely day for road riding throughout the Gorge. And I suspect you'll find brown pow on the trails too. Go riding!
The Clymb: free membership. Cheap gear. Temira approves. Click to join.
Events – email me if I've missed any outdoor-related events
Today is Double Mountain's 7th anniversary party, always a good time. Good music, beer (if that's your thing), and lots and lots and lots of people (if that's your thing – definitely not my thing). $5. 11:30am to sometime late this evening.
Have an awesome day today!
Temira