Please support this forecast by clicking on the photo of the forecaster!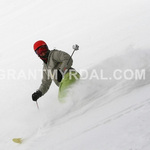 Your forecaster. Click on her to donate. Thank you!
Thank you for using this forecast. Please tell your friends about it! And if you or your friends think this service is awesome/useful/saves you gas money/makes your life more fun, make a donation by clicking on my photo above. Is more fun worth $50/year? $20/year? Donate what it's worth to you (and thank you!), but $12 minimum gets you on the email list (with occasional giveaways) for a year. Thank you for your support, and have fun today!
Random Morning Thoughts
There was more new snow at my house this morning than there was at Meadows. Take that, ski resorts!
Mt. Hood Snow Forecast – 5000′

4a-8a
8a-12p
12p-4p
4p-8p
8p-4a
Saturday
Sunday
Monday
Mt. Hood Snow Forecast
Good morning to Liam and his friends. I love you too, even though I don't know you. Thanks for using my forecast. =)
Just a couple of weeks ago we were bemoaning the lack of snow and horrendous, crappy, falling-apart frozen granular snowpack. Now we're buried in fresh pow. And next week brings lots and lots of water our way. See, it's all going to be all right!
It's definitely all right this morning with lots of fresh snow on the ground (although I think I got more fresh at my house than the resorts did). So, I thought for sure we'd see it stay snow up here, but there's currently light freezing mist and sleet and snow mixed. I guess that means we'll see a light mix today. Oh wait. It's back to all snow. We'll see another .6-1" water value (WV) tonight. Some models suggest a bit of warm air between 7pm and 10pm tonight, for mixed snow and freezing rain. Grr…. this is so hard. So, expect 4-6" of new overnight. Wind today will be W 20 early and SW 20 in the afternoon.
By Sunday morning, temps on Mt. Hood will be much warmer – in the upper 20's to low 30's. This is where the storm track is going to make a big difference. First things first: we're looking at .2-.4" WV between 4am and 4pm. Then more light, but not significant, precip overnight. I think it's going to be mixed sleet and snow and freezing rain on Sunday to 4am Monday. Wind Sunday will be WSW 45 early becoming W 35 midday and holding
On Monday morning, the snow level will be around 5500′ (with sub-freezing air still trapped in the Gorge). The snow level will drop to 5000′ at 7am, 4000′ at 1pm and 3000′ into Tuesday. We'll see ~.3" WV during the day, for 2-3" of snow. Wind will be SW 40 early, becoming W 40 by mid-morning.
As for next week, the models are predicting a LOT of water value. Snow levels are going to fluctuate a bit, so we'll probably see some rain mixed in. But whatevs. It's going to snow a lot too.
Gorge Weather
Definitely the Snowpocalypse or Snowmageddon. I'm not sure how you tell them apart, but I have about 16" of snow at my house. Wishing I was going skiing on 7th Street today instead of going to work! Expect a cloudy day today with temps in the low 20's. Snowfall picks up again after 1pm. Expect another .4-.6" water value tonight, for another 4-6" of (heavier) snow.
Snow flurries continue tomorrow morning in the Gorge, but at some point, warmer air moves in above us, and we're going to see a switch to freezing rain. Temps in the Gorge will be in the mid-20's. It's hard to say what time, as we'll see a transition from sleet to freezing rain, but since I have to guess, I'll say noon. Expect .1-3" of frozen mixed stuff between 10am and 4pm, and more light accumulation overnight into Monday. If you're driving the Gorge, know that this will be accompanied by east wind at 30-35 in the morning and 20-30 in the afternoon for near-whiteout conditions in the western Gorge. Chain the fuck up, folks, if you're driving I-84, and turn on your hazard blinkers so people can see you.
Monday starts with temps in the upper 20's and light freezing rain. We'll see a transition to rain and above-freezing temps mid-morning. The rest of the week looks rather wet and warmer.
Gorge Wind Forecast
Here we go again with another round of nuking easterlies. It was 43mph this morning at Rooster with an E .17 gradient. That gradient will increase today in response to a couple of offshore low pressure systems, and the wind will increase to 50-60mph. Do not try and drive the Gorge tonight. The wind backs off a bit tonight as the low pressure systems move inland. Expect easterlies at 30-35 tomorrow, decreasing to 20-30 in the afternoon. We'll have light east wind Monday morning, followed by a switch to west wind late in the day.
Road and Mountain Biking
Maybe if you have a fat bike. Or better yet, take your XC skis to the Twin Tunnels trail or Post Canyon. I had a nice ski up to the TT overlook yesterday. If we get another foot of snow, maybe we can all ski the hills around town?
The Clymb: free membership. Cheap gear. Temira approves. Click to join.
Events – email me if I've missed any outdoor-related events
Snowmaggedon.
Have an awesome day today!
Temira