Please support this forecast by clicking on the photo of the forecaster!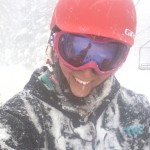 Your forecaster. Click on her to donate. Thank you!
Thank you for using this forecast. Please tell your friends about it! And if you or your friends think this service is awesome/useful/saves you gas money/makes your life more fun, make a donation by clicking on my photo above. Is more fun worth $50/year? $20/year? Donate what it's worth to you (and thank you!), but $12 minimum gets you on the email list (with occasional giveaways) for a year. Thank you for your support, and have fun today!
Random Morning Thoughts
Could be worse. At least I'm at work, getting paid to be sick today.
Cool Local Business – Please Support It
The Best Western Plus Hood River Inn has great ski and stay packages for Mt. Hood, starting at $209 for a one-day ski & ride package for two people. Multi-day ski packages are crazy good deals. Save yourself the snowy, stressful drive home and stay in the Hood! For all you visitors and locals, show this add and Buy one entrée, get second entrée HALF PRICE for lunch or dinner, Sunday-Thursday through February 28th. And don't forget about the awesome M-F 4-6pm Happy Hour and Tuesday $12 Prime Rib!
Mt. Hood Snow Forecast – 5000′

4a-8a
8a-12p
12p-4p
4p-8p
8p-4a
Saturday
Sunday
Monday
Mt. Hood Snow Forecast
It looks like the dumping snow is over for a while. We'll see mostly clear sky this morning with the sky becoming progressively more cloudy during the day. We may see a few flurries overnight, but no real accumulation. The free air freezing level will be 500′ early, rising to 3000′ this afternoon. Wind will be NW 25 early, NW 30 in the afternoon and WNW 30 overnight.
Sunday starts off clear, becoming cloudy in the afternoon with precip starting around 7pm. The snow level will be 2000′ early, rising to 4500′ in the afternoon. We'll see warmer air move in overnight, but temps will likely stay below freezing at all elevations, for .3-.5" water value (WV) that falls as heavy, dense snow with a chance for some freezing rain mixed in. Wind will be WNW 25-30 early, W 20 midday and WSW 25 in the evening, becoming W 30 overnight.
Monday starts off partly cloudy with a major inversion: Temps will be just above freezing in the 4000′-7000′ range and well below freezing down low. Clouds increase during the day and precip starts around 4pm, for minimal accumulation of mixed frozen and not-frozen wintry stuff. Wind Monday will be WNW 25 for much of the day, becoming W 15 in the evening.
Tuesday sees the inversion continue, with mostly cloudy sky and light wind. Temps will be above freezing at ski area elevations (except Skibowl, which will mostly be below the warm air). Wind will be light. No precip, most likely.
Gorge Wind
Your weekend is starting off with a W .06 gradient, enough for westerlies in the teens. We'll see the west wind pick up to 21-24 from Hood River to Maryhill this afternoon. Sunday starts with light west wind, becoming easterly late in the day. By Monday morning, we'll see east wind at 40-50 at Rooster. The strong east wind continues on Tuesday.
Gorge Weather
Today looks lovely in the Gorge, with temps in the mid 30's early and mid 40's in the afternoon under increasingly cloudy sky. Sunday starts with partly cloudy sky and temps in the mid 30's. We'll see more clouds in the afternoon with a high near 50 degrees.
Things get a bit complicated on Sunday night as cold air filters into eastern Oregon and Washington. If the cold air moves in quickly enough (models suggest it'll happen around 10pm), we'll see a couple inches of snow on Sunday night. If the cold air is slow to arrive, we'll see rain, followed by a hard snap on Monday morning for very icy roads. Monday looks clear and cold to start, with temps in the low 20's in the morning and upper 20's in the afternoon. We'll see light flurries or maybe freezing sprinkles Monday night into Tuesday.
Road and Mountain Biking
I saw a bike racer, not Marcroft, riding his bike yesterday. What a glorious day it was to ride a bike – warm and sunny. I'm too sick to ride a bike right now. I turned my compost pile and baked a cake for lift maintenance and chicken soup for my friend Woody. Then I went to bed. Early.
The Clymb: free membership. Cheap gear. Temira approves. Click to join.
Events – email me if I've missed any outdoor-related events
The Cold Lap cross ride leaves Dirty Fingers at 3pm today.
Have an awesome day today!
Temira