Mileage: 23.5+
Elevation Gain: 1299+
Starting Point: China Gorge Parking Lot, Hood River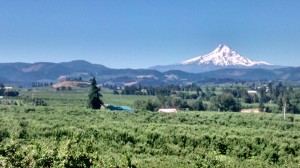 Get the gps file
Get the Garmin tcx file
See it on MapMyRide
This beautiful loop runs through Hood River and Odell's orchards. It's absolutely amazing in spring when the blossoms are out (mid to late April) or in the fall when the trees are changing colors. Heck, this ride is beautiful pretty much any time of year!
You'll have to put up with a couple of miles of traffic (well, Hood River traffic, anyway), for the first or last mile, but it's well worth it.
I prefer riding this counterclockwise, because it saves you from climbing what's affectionately known as "Peggy's Roost Hill" or "Pickup Truck Hill" at the end of the ride. But if you're seeing an east wind, do it clockwise or you'll be suffering a headwind most of the ride.
As with most local rides, the most convenient place to park is the parking lot across from the China Gorge restaurant on the corner of Highway 35 and the Old Columbia River Highway, aka Highway 30. Or State Street. It's all the same.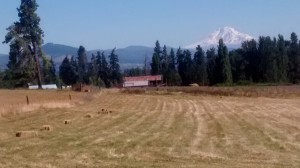 Directions are approximate and come from MapMyRide.
Park at the parking lot across from China Gorge restaurant
0.15mi – Take U.S. 30 W/E State St towards Hood River
1.16mi – Head left on 13th St toward Sherman Ave 
1.17mi – Turn right onto Sherman Ave
1.36mi – Turn left onto 17th St 
1.47mi – Turn right onto May St
2.83mi – Turn left onto Frankton Rd 
3.69mi – Continue onto Multnomah Rd
4.32mi – Turn left onto Methodist Rd 
4.82mi – Turn right onto Barrett Dr 
5.08mi – Turn left onto Markham Rd
6.08mi – Turn left onto Portland Dr 
7.08mi – Turn right onto OR-281 S, aka Tucker Road
7.27mi – Turn right to stay on OR-281, aka Dee Highway
9.51mi – Turn left onto Wheeler Rd (or skip this and stay on Dee Highway)
10.18mi – Slight left onto OR-281 S
10.64mi – Sharp left onto Summit Dr
11.29mi – Turn right onto Lippman Rd
12.55mi – Continue onto Davis Dr 
14.3mi – Turn left toward Neal mill Rd
14.68mi – Turn right on Sunday Dr toward OR-35 S
15.12mi – Cross OR-35. Head east on Sunday Dr
16.05mi – Turn right on Neal Creek Rd
17.19mi – Turn left on Thomsen Rd
18.04mi – Turn right on Fir Mountain Rd
18.72mi – Turn left on Eastside Rd
19.64mi – Go right to get on Highline.
22.40mi – Turn left onto Old Columbia River Drive