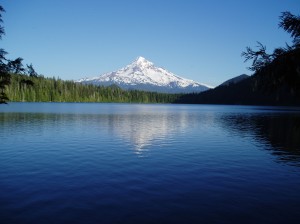 Distance: 27.4 miles round-trip (version 1), 53.4 (version 2)
Climbing: 2755 feet or so (version 1), 3410 (version 2)
Time: 1:30ish up, 30 minutes down (version 1). Twice that (version 2)
Special Note: The road to Lost Lake is typically clear by Memorial Day, but give the resort a call to confirm if it's a big snow year: 541-386-6366
You like to climb hills, right? This is a big hill with excellent pavement and a gorgeous reward at the end. The descent's amazing too, as long as you don't try it on a weekend day, when the road is full of not-so-bike-savvy tourists headed to the lake.
Version 1: Drive west on Oak Street. Turn left onto 13th. Follow 13th out of town (it becomes Tucker Road). At the Odell/Dee intersection, veer right. Go 6.1 miles at the Dee turnoff. Park somewhere not marked "no trespassing." Get on your bike and follow the signs to Lost Lake. 2755 feet of climbing is only broken up by 295 feet descending. Your legs will burn. Your spirit may be broken. Just remember that you can buy a little snack up at the resort. Ice cream, maybe?
A second, much nicer option is to go the back way to Lost Lake and descend on Lost Lake Road (or do it as an out and back, 34.5 miles, 3000′ climbing, approx 3 hours). Start up Lost Lake Road, but turn right onto Lake Branch road after a few miles. The road isn't marked "Lake Branch," but follow the brown sign to Wahtum Lake. Further up the road, you'll veer left, following the sign to Lost Lake. This is a less grinding, slightly (2 miles or so) longer ride.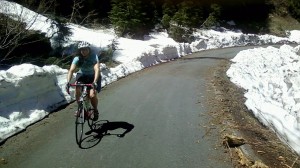 It has very little traffic, is basically a paved, one-lane forest road, and has almost no cars on it. The road winds past waterfalls and streams and through the forest, ending in a 2-mile curving climb that, early in the season, climbs through the natural air conditioning of snowbanks.
Version 2: Start in Downtown Hood River. Ride east on Oak street through town, past everything. Before you cross I-84, turn left on Country Club. Head up Country Club until it T's into Barret Drive at 2.97 miles. Turn left. Take a right on Markham Drive at 3.2 miles. Go one mile and take a left on Portland Drive. Portland ends at Tucker Road (5.25 miles). Turn right. At 6.25 miles, veer right towards Dee. Go 6.1 miles along beautiful Dee Flats. Veer right towards Dee. Take a left at the T-intersection onto Lost Lake road. Climb.
Version 3 (semi-loop). Start from Hood River or Dee, as above. At 5.0 miles from Dee, turn right towards Wahtum Lake. Follow Lake Branch Road up and up and up. Do not take the right turn to Wahtum Lake. Intead, veer left, and follow Lake Branch all the way to Lost Lake. Descend Lost Lake road for a fun, fast downhill.