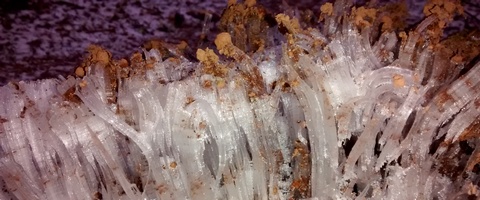 Random Morning Thoughts
At the very end of yesterday's Seahawks-Eagles football game (I promise this isn't about football), a FOX cameraperson caught a shot of Pete Carroll (the coach) and Russell Wilson (the quarterback) having a moment. Pete was looking at Russell with radiant love and pride. I wish someone had filmed the encounter from the other side so we could have seen the quarterback's face too. Anyway, I was deeply touched by this moment. Sure, coaches can have pride in their athletes, but Pete obviously cares deeply about his players as people, maybe even as deeply as he'd care for sons. No wonder this team works so hard for him. No wonder they (most of the time) work so well together.
I think we need more moments like that in the world, where people show how deeply they care about each other. Parents-kids. Coaches-athletes. Teachers-students. Coworkers. Friends. Family. Even strangers. We're wired for connection and love, people, and most of us aren't getting enough. Take the risk of looking at someone in your life and letting them know you care. You might just win the Superbowl…

Thank you for using this forecast!
Click on my photo to support it with a donation.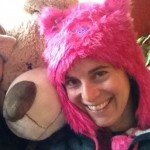 Thank you for using this forecast. Does it save you time, gas money, or help you find more wind, powder, or just plain fun stuff to do? Please make a donation to keep it going! Use it here for free or get on the mailing list for wind for the summer and Mt. Hood snow in the winter. Just click on my photo to donate. The email isn't $99/year. Not $50/year. No, just $12.34 or more gets you on the list for 12 months, and sometimes there are cool prizes. Donate via PayPal/CC by clicking on my happy photo below. Don't PayPal? You can send a check to Temira @ PO Box 841 in Hood River. Thank you for your support, and thank you for trusting my forecast. You guys mean the world to me.
---
Mt. Hood Snow Forecast – 5000′

4a-8a
8a-12p
12p-4p
4p-8p
8p-4a
Today
Tomorrow
The day after
Mt. Hood Snow – snow at 5000', wind at treeline
The most interesting things in this week's forecast are going to happen to the north of us in the Olympic Peninsula and the North Cascades, where inches and inches and inches of rain will fall. Model runs for Tuesday and Wednesday currently show 5-8" for the Olympics each of those days. Wow. Good thing we're just going to get a glancing blow from the Pineapple Express Freight Train!
Today brings pre-pineapple weather, with partly cloudy sky this morning and overcast sky this afternoon. The free air freezing level (FAF) will be 6500′ early, 8000′ this afternoon, and 10,000′ in the evening. We'll see a chance of light showers after 4pm. Wind today will be SW 20 early and SW 30 after noon.
Heavier rain kicks in early Tuesday morning, with the snow level at 10,000 early and 8000′ in the afternoon. There will be a bit of a showery downpour break mid to late afternoon, followed by more rain overnight. Or maybe not. The heaviest rain could slip by just to the north. Suffice it to say that what falls, however much it will be, will fall as rain, not snow. Total precip will be 1.5-2.0" between 4am and 4pm and an indeterminate amount overnight (at least .5"). Wind on Tuesday will be SW 35 early, 45 midday, WSW 40 in the afternoon, and SW 30 overnight.
Wednesday starts out partly cloudy with the free air freezing level around 9000. Clouds cover the sun pretty quickly, and sprinkles start by noon. Heavier rain moves in after 4pm, for a total of 2" of rain with the snow level around 8000′. Wind on Wednesday will be SW 35 early and SSW 40 after noon.
Model runs are all over the map for Thursday with the location and strength and path of a low pressure system that may or may not develop. The most interesting run sends a 977mb low just west of Mt. Hood, for lots of rain, 80mph wind, and the potential for 4-6" of snow at 5000′. We're going to have to wait a couple of days to see what will really happen.
Models now suggest colder, drier weather Friday-Sunday.

Gorge Wind
It's nuking windy. Again. Iwind/iKite was reporting 51 at Rooster and 26 at Steven's Locks at 6am. Expect 50-something at Rooster this morning and 30-something at Steven's Locks. The wind will drop to 30-40 at Rooster this afternoon with a corresponding drop at Steven's Locks. Tomorrow starts with E 26-30 at Rooster. The wind will fade to light and variable in the afternoon. Expect LTV wind again on Wednesday.

Gorge Weather
Looks like our friend the Nothing, aka The Thing that Lives in the Gorge, aka the Inversion Cloud, is back, promising another gloomy day in the Gorge with some sunshine, or at least filtered sunshine, above the clouds. We might see a few light sprinkles this morning, and then we'll see a dry day, followed by a few more light sprinkles after 7pm. Temps will be in the upper 30's early and the mid 40's in the afternoon. Rainbow chances are near zero.
Tuesday starts with rain and finishes with rain. Lots of rain. Best chance for a break in the rain will be after sunset. Temps will be in the low 40's early and the upper 40's in the afternoon. Rainbow chances are 82%, but you may have to drive east of Hood River to find them.
Wednesday looks dry to start with rain picking up after noon, becoming torrential during the afternoon. Temps will be in the low 40's early and the low 50's in the afternoon. Rainbow chances are 73%. Things get tricky Wednesday night into Thursday as models struggle with the exact track of a low pressure system that may or may not develop. If the current GFS model run pans out, expect torrential rain and nuking south wind in the Willamette Valley Thursday afternoon. Just rain for Hood River, as the south wind skips over the top of the Gorge and nukes the ski resorts.

White Sprinter Van of the Day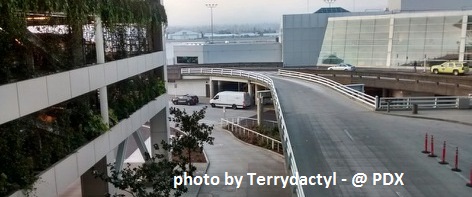 Road and Mountain Biking
I was riding up the double-track at Syncline a couple of days ago, when I saw four guys in full moto outfits (pants, pads, full-face helmets) coming down the trail at me. The first guy ran me off the trail and screamed at me, "Get out of the way of downhill riders!" I was flabbergasted. The next two guys ran my riding partner off the trail. I stopped the fourth guy and said, "Hey, can you let your friends know that uphill traffic has the right of way." Peeps, uphill traffic has the right of way. Pedestrians have the right of way over you uphill and downhill. So do horses. You share the right of way with motorized users (as best I can tell from interwebs research). Downhill bikers do NOT have the right of way over uphill riders.
I talked to someone yesterday who spent two hours pushing his bike on Millennium and Sidehill Dodger (front side Hospital Hill), because the freeeze-thaw mud was so bad. I went jogging in Post yesterday, and it was WAY too muddy to be riding, as evidenced by deep bike tracks through much of the trail. I suspect Whoopdee is the same. Syncline is rideable. My friend Nick was out at Columbia Hills yesterday and said that it was a bit on the boggy side, but that the Klickitat River Trail is in good shape. But hey, at least it's above freezing now, and you can ride your road bike on the pavement or your cross bike on the gravel. Or vice-versa.


The Clymb: free membership. Cheap gear.
Temira approves. Click to join.
Upcoming Events
It is Monday, and that means you can do Community Yoga, free or by donation, at Yoga Samadhi in White Salmon at 6:30. There's Aikido at Trinity Arts Studio on Belmont in Hood River at 5:30 tonight and Wednesday. Tomorrow night there's pickup touch rugby at the Hood River Marina at 5:30, a headlamp trail run in Post Canyon with the Tri Club at 6:15, and there's $12 Prime Rib at Cebu from 5pm to 9pm.
Have an awesome day today!
Temira