Random Morning Thoughts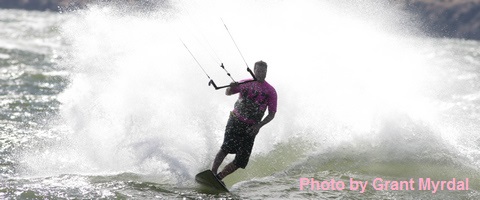 I ride my road bike a fair bit, and I do one particular ride a lot. This ride goes through a busy intersection. One day, about a month ago, I noticed a small, colorful glass jar sitting in plain view in this intersection. I don't know what you think when you see small, colorful glass jars, but I think "pot stash". So I picked up the jar, which happens to say "Dad" on it, opened it, and what do you know? Pot stash. Not much, but still, marijuana, legal in Washington, endorsed by the New York Times, but not legal here, yet.
I don't want any weed, so I just giggled, closed the jar, and put it back where I found it. So, if you are "Dad", and you are missing your cute 420 jar, I know where it is. And I'm totally baffled by the fact that it's been sitting there for over a month and nobody has picked it up.

Thank you for your donations during the Summer 2014 Pledge Drive!!!
Thanks to all of you for your support over the last month. You guys have shown me an incredible amount of support and love and appreciation, and I'm humbled and grateful, and my bikes will stay repaired for the rest of the year. And I'll stay caffeinated and able to forecast almost every day. You guys rock. New to this forecast? Use it here for free or make a donation and get on the mailing list for wind for the summer and Mt. Hood snow in the winter. It's not $99/year. Not $50/year. No, just $12.34 or more gets you on the list for 12 months. Do it via PayPal/CC by clicking on my photo. Don't PayPal? You can send a check to Temira @ PO Box 841 in Hood River. Thank you for your support, and thank you for trusting my forecast. You guys mean the world to me.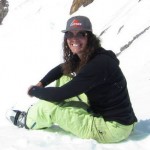 ---
Gorge Wind
There wasn't much wind on the river at 7am, despite the .08 (pdx-dls) gradient. I suspect we're still suffering from a bit of atmospheric instability, which has been making the wind less strong than the gradients should support. This silliness will be over soon, I promise. Anyway, expect light wind this morning, slowly picking up to 13-16 early this afternoon from Stevenson to Mosier. Models suggest that we'll see 21-24 late in the day from Stevenson to Doug's, but I'm a bit skeptical. It's more likely we'll see 18-22 from Stevenson to Mosier. Anyway, we'll see enough wind to get you on the water if you have big enough gear. =)
Tomorrow starts with more gradient, and models suggest Dawn Patrol at 23-26. I suspect we may still suffer from the same instability disease as today, so let's call it Dawn Patrol at 15-18 to be safe. My point is that you should be able to sneak in a pre-work session. As a weak front approaches the coast, the wind will ramp up during the day to gusty 26-30, probably strongest at Stevenson, for a few hours near Swell/Hood River before getting gusty, and then filling in at Rufus with 15-18 or so at Roosevelt. It's not a perfect setup, but I suspect some pre-emptive driving will get you a few good hours on the water before the front's influence makes things gusty.
Wednesday still looks awesome. After that front slides through, Portland will be drowning in marine air, we'll be in the sunshine, and with a stable atmosphere above us, the wind will be pressed down on the Columbia. Yay. Dawn Patrol at 24-28. 28-32 midday from Swell to Rufus with Steven's Locks dependent on the clouds burning off.

Today's Gorge Wind – these are ranges for the average speed, not a predicted wind range. =)

Your favorite beach
Dawn
Patrol
9am-
11:30a
11:30a-
3pm
3pm-
dusk
Rooster's Rocks
what
a great
day for
tanning!
Steven's Locks
light
5-10
15-18
20-23
Hatchery/White Salmon Sandbar (minus a few for Hood River)
light
10-13
15-18
20-23
Doug's, etc.
10-15
5-10
10-13
17-20
Rufus, etc.
light
light
10-13
10-13
Roosevelt, etc.
light
light
light
light
Temira's sail: 35-40: 2.9 / 30-35: 3.2 / 26-30: 3.5
23-26: 4.0 / 20-23: 4.5 less than 20: something bigger!
Tonia's kite: 35-40: 4m / 30-35: 4-6m / 26-30: 5-7m
23-26: 7-9m / 20-23: 8-10 / 15-20: 10-12 / 10-15: 13-15.
Advertising Worth Reading
Stoked Roasters Coffeeshop – on the Waterfront

Stoked Roasters is all about premium coffee to kick start your day in a positive way. Our roasts are packed with good vibes by awesome people who love to be outside as much as you. So go ahead and send it…we got your back from down at the Hood River Waterfront. Meet the day and be STOKED! #getstoked #stokedroasters
Gorge Weather
I woke up late this morning because it was so hot and muggy in my house last night that I had trouble falling asleep. It was still hot and muggy in my house this morning, even with the AC on, but it was less hot and muggy than the great outdoors: 70 degrees and 77% humidity at 7:20am is just NOT OK. I feel bad for the folks sleeping in White Sprinter Vans all over town.
Anyway, it's going to be muggy for another 36 hours or so, and then things will improve. Expect temps in the low 90's this afternoon with a slight chance of some convective clouds and a 100% chance of smoky air from the fires to the south of us (this will likely be the worst fire season ever).
Smoky, muggy weather will continue tomorrow morning with temps in the upper 60's. By afternoon, as a weak weather front approaches the coast, we'll see the flow become more westerly, and by evening, the temps and humidity should begin to drop, compared to today. High temps will be in the mid to upper 80's.
Wednesday looks blissfully cooler and less muggy, with a solid morning marine push giving us temps in the low 60's in the morning. Temps will be in the low 80's in the afternoon.

White Sprinter Van of the Day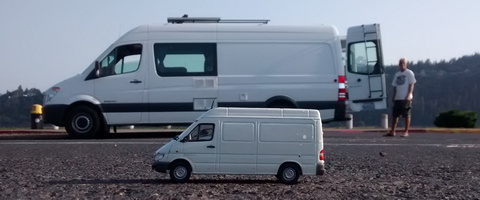 Road and Mountain Biking
See "Random Morning Thoughts".

The Clymb: free membership. Cheap gear.
Temira approves. Click to join.
River Levels / Cheezburger update
The White Salmon is at 2.2′. Please be very careful if you run it, as there is a riverwide log about 150 yards below Cave Wave. Cheezburger's success rate at Husum is getting much better! The John Day dam is putting out 138-145kcfs and The Dalles dam is reading 139kcfs. Columbia river temp is 70 degrees at The Dalles Dam.
Events – email me if I've missed any outdoor-related events
If you're looking for some company on a bike ride tonight, the Ride Around the Gorge folks are meeting at the China Gorge parking lot at 5:30 for a short ride. At 6:30 tonight, there's community yoga at Yoga Samadhi in White Salmon – that's either free or by donation.
Next weekend is a really busy weekend on the Columbia The Double Damned sailboat race is scheduled on Saturday, from Cascade Locks to The Dalles. The best wind day on the weekend determines the Wildside Relay surfski and outrigger canoe race from Stevenson to Bingen. And the Bridge of the Gods kiteboarding and windsurfing blowout is scheduled for Sunday from Stevenson to Hood River.
If that's not enough , Cascade Locks is hosting the inaugural Bridge of the Gods 10k and half marathon, already sold out.
Have an awesome day today!
Temira