The best snow forecast for Mt. Hood. The best wind forecast for the Gorge.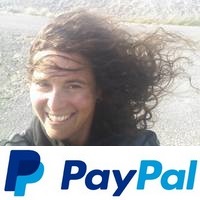 Thank you for using this forecast. Like it? Find it useful? Support it (and me!) by sending some cash my way. What's it cost to support me and get the email version? Not $99 a year. Nope. Not $49. Just $19.99 or more gets you a year. People are added to this list on Thursday and Sunday. My day job is crisis mental health, and I don't have time on other days. Thanks for your patience! Click below to contribute. Thank you!!
Credit card payments use this button
Click here to use your PayPal
Venmo: @theGorgeismyGym
Snail Mail: PO Box 841, Hood River, Oregon 97031
(note: I am not a non-profit entity. The only way to accept credit cards with a user-defined amount is to use the 'donate' button. Thanks for understanding!)

Auto-renewing subscription. New! Awesome!
The Forecast
Mt. Hood Snow Forecast – 5000′

4a-8a
8a-12p
12p-4p
4p-8p
8p-4a
Monday
6000′->4000′
Tuesday
4000′->10,000′
Wednesday
10,000′-13,000′
Mt. Hood Forecast
Naturally the day that I decide to switch to highlighting the Gorge wind forecast the mountain throws some snow into the long-range forecast. Not yet, though! Expect Clouds and dry weather this morning and clouds and drizzle turning to flurries from early afternoon on. Trace of new. Snow level 6000′ falling to 4000′. Wind: NW 20-25 all day and NW 15-20 overnight.
Tuesday looks sunny. The freezing level slowly rises from 4000′ to 10,000′. Wind: NW 15-20 early, W 5-10 after noon, SE 15-20 after midnight. Clear sky gives way to high clouds (maybe) on Wednesday with mountain temps rising into the upper 50's. Freezing level: 10,000′ rising to 13,000′. Wind: SE 15-20.
Rain or mixed precip starts up Thursday afternoon and transitions to snow in the evening with the snow level falling to 3000′. About 2-3" are forecast. Wind: SW 10-20 in the morning rising to WSW 30-35 in the evening. Snow continues on and off through the weekend.
Note on wind speeds. Different wind directions are experienced in different ways on Mt. Hood. For example, west wind at 50mph will hit the slopes and exposed ridges at W 50. SW 50 may hit the ridges at SW 50, but will likely only be SW 20 below tree line. Hence the ranges for wind. Depends where you are on the mountain. Hopefully that helps clarify.
Gorge Wind Forecast
Another windy day is on tap today. If you can't get t his one, Thursday and Friday also have strong westerlies in the forecast. Driving the wind on Monday is an offshore low at 1030mb, and inland low at 1017mb, and an incoming weak cold front. As you can see by the lenticulars above, it's windy at all elevations. This setup isn't ideal, but the combo will be enough to get you on the river. Expect 10-13 all through the Gorge to start the day. Gradients: .07 and .04. By mid to late morning, the wind picks up to gusty 18-22 from Swell to Rufus, or perhaps just form Lyle to Rufus. Afternoon westerlies hold in the low double-digits west of Mosier and climb to gusty 27-31 from Lyle to Arlington. River flow is 191kcfs, river temp is 53F, and high temp forecast is 65F.
Tuesday sees high pressure build inland. Morning wind will be W 5-10 all through the Gorge. In the afternoon, the wind picks up to 10-13 from Stevenson to The Dalles and fades to nearly calm east of there. High temp: 71F. The wind turns completely around on Wednesday thanks to a strong offshore low and high pressure based in inland Canada. Easterlies at 20-25 start the day from Rooster to Viento. The wind holds there and build to gusty E 15-25 from Hood River to Arlington. High temp: 80F. As of this morning, Thursday's forecast is 30-35 for the eastern Gorge and Friday's forecast is 24-28. See you on the river!
Coast, Jones, Sauvie's
On vacation until the end of snowsports season. Will return in April or May.
Hood River Weather Forecast
Overcast sky this morning picks up lower clouds later and maybe a few sprinkles in the evening. Temps will be in the upper 40's early and mid 60's later. Moderate westerlies. 11% chance of rainbows. Tuesday starts cloudy with a sprinkle or two. Temps will be near 50 early and near 70 later. Light westerlies. 4% chance of rainbows. Wednesday starts clear and maybe picks up high clouds. Temps will be in the low 40's early and near 80 later. Moderate easterlies. No rainbows. Rain is forecast on and off from Friday on through the weekend.
Looking for a complete Columbia Gorge forecast? Looking for more humor in your weather? Obscenities? You're looking for my TATAS: Temira's Awesome Travel Advisory Service on Facebook.
Cycling
Cows are out on Hospital Hill. No parking at the corral. No dogs on the trails. No exceptions. Please respect the wishes of the landowners – they let us use their land, and in return, we respect their rules! Post Canyon: clear of snow to the top of Eldorado, perhaps to top of 140. New Whoopdee: open. Other news: Mountain View Cycles women's ride is every Thursday, bottom of Post at 5:30pm. Dirty Fingers has Sunday gravel rides. Contact the shops for details.
Sprinter Van of the Week!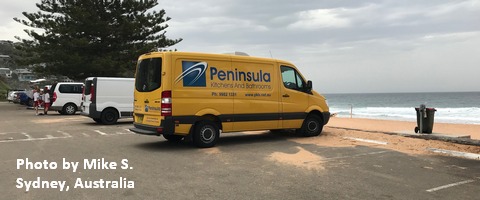 Click here for the Sprinter Van map of the world!!!
Local Events
Not much happening thanks to the pandemic… Have an awesome day!