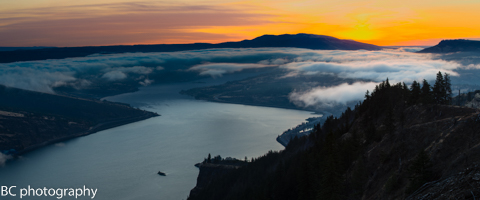 There is plenty of cross-Cascade gradient this morning, but not all that much wind on the water. As of 6am, gradients were .13 (pdx-dls) and .08 (dls-psc) and the wind speeds were hovering in the upper teens from Swell all the way to Arlington. Today's weather picture is complicated, and that complicates the forecast; we have an upper low pushing inland and a cold front expected to join it this afternoon. Continued after the chart.
Today's Gorge Wind – these are ranges for the average speed, not a predicted wind range. =)

Your favorite beach
Dawn
Patrol
9am-
11:30a
11:30a-
3pm
3pm-
dusk
Rooster's Rocks
gray
sky
no
tan
Steven's Locks
5-10
5-10
10-13
13-16
Hatchery/White Salmon Sandbar (minus a few for Hood River)
17-20
17-20
20-23
20-23
Doug's, Lyle, Rowena
17-20
17-20
30-35
30-35
Rufus, etc.
17-20
17-20
30-35
26-30
Roosevelt, etc.
17-20
17-20
22-25
26-30
Gorge Wind forecast, continued…
Models suggest the wind will hover in the upper teens to low twenties (gusty-style) through early afternoon when we'll see a quick build to 30-35 from Mosier (maybe) to Rowena (more likely), Avery, Celilo, Maryhill grain elevators and Rufus. Arlington will join at 26-30… if the models are correct. I'm concerned about predicted afternoon thunderstorms east of the Cascades, and I'm concerned about the incoming cold front displacing the wind from the majority of the beaches. Anyway, your best chance for decent wind today is from about 1pm to about 6pm east of Mosier, but watch the radar for thunderstorms.
The upper low sits inland tomorrow, contributing to gusty, up-and-down conditions on the river. We'll see westerlies at 14-17 in the morning through the whole Gorge, picking up to gusty 21-24 after 2pm from Rowena to Maryhill.
That upper level low shifts a little further east on Wednesday, for gusty westerlies in the mid 20's in the eastern Gorge with less wind near Hood River. As of this morning, it looks like offshore high pressure (and a more reliable wind setup) will return on Friday.

Thank you for using this forecast. Support it by subscribing!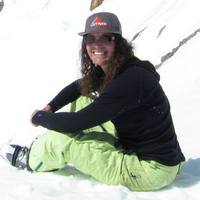 Thank you for using this forecast. Does it save you time, gas money, or help you have more fun in your life? Make a donation! Get your forecast here for free or donate and get on the mailing list for year-round wind forecasts and ski season snow forecasts. Just click on my photo to donate via PayPal or credit card. The email isn't $99/year. Not $50/year. No, just $12.34 or more gets you on the list for 12 months, and sometimes there are cool prizes. Don't PayPal? Send a check to Temira @ PO Box 841 in Hood River. Thank you for your support, and thank you for trusting my forecast.
---
Mt. Hood Snow Forecast
Nothing to say here today.

Random Morning Thoughts
It's raining at my house this morning, and I'm so excited about that. Well, to be 100% truthful, I have mixed feelings; I really want to go for a bike ride today, and my trail is now wet. But I also don't want to drag the hose across the parking lot to water my garden every day this week. So, I'm excited about the rain doing my watering for me.
Plus, my garden prefers rain to city water. I'm convinced it has to do with the chlorine in the city water. Sure, the plants grow on tap water, but they grow bigger, faster, and greener when they get watered by Ma Nature.
There's really no point to my rambling this morning. I just spent a lot of time in my garden yesterday (my strawberries are turning red already), and it's on my mind. I love gardening. I hope you have access to a garden too, and if you don't, perhaps there's a community garden nearby so you can play in the dirt too.

Gorge Weather Forecast
It's a cloudy start to the day in the Gorge, and there's a band of thunderstorms just to the west of us, headed north. So, if you're desperate to take a rain shower, you can head to Cascade Locks. Otherwise, stick around the central Gorge, where we'll have temps in the low 50's this morning and low 60's this afternoon. Sprinkles may fall at any point today, and models suggest we'll see a bit of a deluge tonight after 5pm. Moderate wind becomes strong mid-afternoon. 14% chance of rainbows.
Tomorrow may start off with some heavy rain, but will switch to showers by mid-morning. Temps will be right around 50 early and in the low 60's in the afternoon. Moderate wind. 96% chance of rainbows. Wednesday looks very similar to Tuesday: temps will be right around 50 early and in the mid 60's in the afternoon. Less showers, more rainbows: 98% chance. Moderate wind.

White Sprinter Van of the Day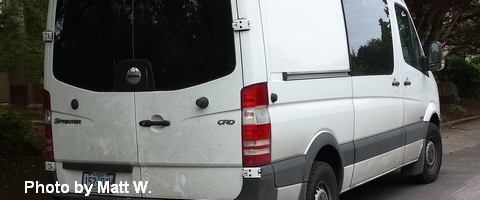 Road and Mountain Biking
You'll be wanting to get yourself some Post Canyon right now, first thing this morning, because there's a very good chance we'll get walloped with rain tonight. Lots of rain. Or maybe the deformation band will miss us. Either way, it's better safe than sorry. Ride this morning, just in case. In other trail news, I have a report that Gunsight has 15 downed trees and quite a bit of snow still, requiring lots of hiking. So, no Gunsight for you, yet. In road biking news, this morning looks okay, if you don't mind sprinkles, but the wind will ramp way up this afternoon.


The Clymb: free membership. Cheap gear.
Temira approves. Click to join.

I love road biking, and if you're reading this, you do too. The Mt. Adams Country Bike Tour is the best. You'll ride beautiful, remote, quiet, traffic-free roads. And you'll do it with support, a nice touch for 50+ mile loops through the woods or farm country. Combine the loops to make a century route that gets most of the climbing done early. Get signed up before the 1st of June, and it's only $55. There's also a short 11-mile Family Fun Ride. All proceeds support the Trout Lake schools, grange, and fire department. Click the headline above to go to the website and register.
Upcoming Events
If you like to play outside in the Mt. Hood or Gifford Pinchot National Forests, you'll want to be at the USFS listening meeting at the Columbia Gorge tonight to make your case for more trails or more access. That meeting runs from 6 to 8.
In other events today, there's free Tai Chi at the Mt. Hood Town Hall at 2pm, and there are two community yoga classes at 6:30, one at the Mt. Hood Town Hall, and one at Yoga Samadhi. There's another community yoga class (power Vinyasa style) at Flow Yoga at 8am tomorrow. And tomorrow night you can meditate with the monks from Pacific Hermitage at Yoga Samadhi at 6:30.
Coming up next weekend on Saturday, it's the Gotta Regatta at Horsethief State Park. If you are handy with cardboard, build yourself a boat and bring it down to race. Next Saturday also brings… the Color Dash 5k in The Dalles, Maupin Daze and Riverfest, the Mt. Adams Equestrian endurance race, and the Stevenson to Carson 16k ridge run. Finally, a reminder: It's National Bike to Work week, so if you have a bike and have the time, give it a shot this week!
Have an awesome day today!
Temira