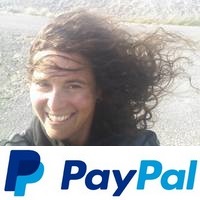 Thank you for using this forecast. Like it? Find it useful? Support it (and me!) by sending some cash my way. What's it cost to support me and get the email version? Not $99 a year. Nope. Not $49. Just $19.99 or more gets you a year. Click below to contribute. Thank you!!
Credit card payments use this button
Click here to use your PayPal
Venmo: @theGorgeismyGym
Snail Mail: PO Box 841, Hood River, Oregon 97031
(note: I am not a non-profit entity. The only way to accept credit cards with a user-defined amount is to use the 'donate' button. Thanks for understanding!)

Auto-renewing subscription. New! Awesome!
The Forecast
Today's Gorge Wind – these are ranges for the average speed, not a predicted wind range. =)

Your favorite beach
Dawn
Patrol
9am-
11:30a
11:30a-
3pm
3pm-
dusk
Rooster Rock
OPEN!
naked
buns
rejoice!
Steven's Locks
10-13
16-19
18-21
21-24
Swell-Hood River
17-20
17-20
21-24
21-24
Lyle to Doug's
10-13
15-18
21-24
21-24
Rufus, etc.
11-14
11-14
13-16
13-16
Roosevelt & Arlington
10-13
10-13
10-13
10-13
Gorge Wind Forecast
The overall weather picture is just good enough to keep the westerlies moving through the Gorge this week. Tuesday looks like the lightest wind day of the next four, and Thursday's going to require driving to go to the best conditions.
Looking at Monday, we have a trough over the Northwest with high pressure well offshore. Just enough clouds made it into the west half of the state this morning to give the desert a jump on the heating. We'll see morning wind at 17-20 from Viento to Arlington with 11-14 at Stevenson and near Rowena. It appears the eastern Gorge wind will back off this afternoon. No need to fill your gas tank. Instead, stay in the western Gorge for 21-24 from Stevenson to Doug's. Rufus will likely be in the 12-15 range this afternoon. East of there? Light wind. River flow is 123kcfs and temp is 69 degrees. High temp today: 83.
Gradients decrease on Tuesday as upper flow turns more northerly. The day starts with 8-12 from Stevenson to Swell with 5-8 from Hood River to Mosier and light conditions east of there. The wind stays relatively light through early afternoon. Thanks to afternoon desert heating, the westerlies pick up to 13-16 from Stevenson to Mosier after 2pm. High temp: 88.
Wednesday sees a weather system approaching the offshore waters. It'll take it's time, not making landfall until Thursday. Still, it'll be close enough to affect our wind. The day starts with 20-23 from Stevenson to Hood River with 10-13 at Stevenson and east from Mosier to Arlington. We'll see a quick build to gusty 25-29 from Stevenson to Rufus. Given the setup, it's likely that Swell and Hood River will quickly drop back into the gusty 18-23 range. Stevenson, Viento, Rowena, Avery, and Rufus are better bets. Try Arlington late in the day for 24-27. High temp: 85.
A cold front moves in on Thursday and fills the western Gorge with clouds. You'll need to head east for the wind, because rain might be falling in the west. Expect westerlies at 27-31 east of the clouds, which likely means east of Mosier. Hood River's high temp drops to 73.
Coast, Jones, Sauvie'st
Coast (north/central/south – swell forecast provided by NWS. Wind northerly except as noted). Monday: NW5/NW10/N25, W swell 4′ at 9 seconds. Tuesday: 20-25/15-20/30-35, W 3′ @ 9. Wednesday: LTW/LTW/N30-35, W 3′ @ 9. Jones Monday: 10-13. Tuesday: 20-23. Wednesday: 22-25. Sauvie's Monday: 10-13 > 5pm. Tuesday: 16-19. Wednesday: 12-15.
Open/Closed Launch Site List – Porta-potties only.
Washington:
Skamania County
Stevenson East Point, Bob's Beach, Boat ramp: all open
Home Valley: Open
Swell City: Open
Spring Creek Hatchery: Open
Klickitat County
Wunderbar: high water
Bingen Point: Open
Lyle: Police and tickets, oh my! Closed.
Doug's Beach: Open
Avery: Open
Maryhill: Open for day use only..
The Wall: Open.
Roosevelt: Still CLOSED due to windstorm damage. (7/15)
Oregon
Rooster Rock: Open
Viento: Open
The Hook: Open
Waterfront Park: Open
Event Site: Open. Parking limited on weekends.
The Spit: Open
The Marina: No more kiting here
Boat ramp: open
Mosier: Only open for residents of 97040. Gate closed.
Rowena: Open
Celilo: Open
Rufus: Open
Arlington: Open
Threemile: Open

Mt. Hood Weather Forecast
Mt. Hood Meadows is now allowing uphill travel within the permit area. However, you will need to park outside their parking lots. Timberline is open for lift-serve skiing with exemplary guidelines for protecting guests and staff from the transmission of novel coronavirus. Please
read their guidelines and rules
here. Well done, T-Line! The Mt. Hood weather forecast will be on vacation unless something interesting happens in the weather up there. Some of you will be tempted to go out backcountry skiing. Please don't – accidents do happen, and you may put others at risk. Timberline is allowing uphill access outside the permit area on the climbers' trail only.
Hood River Weather Forecast
Clear sky Monday morning stays that way. Temps will be in the mid 60's early and mid 80's later. Moderate westerlies. No rainbows. Tuesday looks sunny all day. Temps will be in the upper 50's early and upper 80's later. Light westerlies becoming moderate in the afternoon. No rainbows. Wednesday starts clear and ends with high clouds. Temps will be near 60 early and in the mid 80's later. Moderate to strong westerlies. No rainbows. Thursday looks cloudy and cooler.
Looking for a complete Columbia Gorge forecast? Looking for more humor in your weather? Obscenities? You're looking for my TATAS: Temira's Awesome Travel Advisory Service on Facebook.
Cycling
Motorized report: as of 8/1, Post Canyon is closed to motorized use due to fire danger. Other Post news: Eldorado is closed about 100 yards before the Mixed Tape intersection due to timber harvesting. HRATS will be putting in a short hike-a-bike to Uptrack to allow for riding up to the top of Bad Motor Scooter. The Rowena Curves are freshly chip-sealed, and so is Snowden Road. The new Whoopdee trail is being constructed. Contact HRATS if you would like to be part of some small and socially distanced work parties.
Sprinter Van of the Week!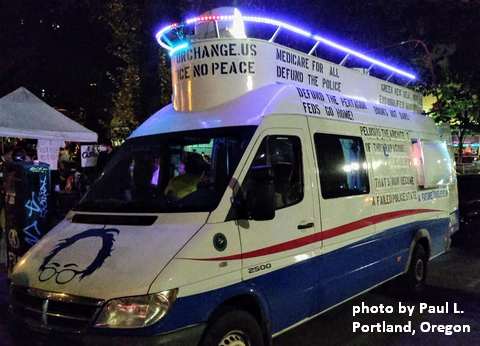 Click here for the Sprinter Van map of the world!!!
Local Events
There are sailboat races at the Hood River Marina every Wednesday evening. Dirty Fingers has a group mountain bike ride Thursday nights at 5:30pm. Cheno has a free outdoor HIIT workout at Columbia High School in White Salmon at 6pm on Wednesday nights. That's pretty much it for outdoor sports. There is a BLM rally every Tuesday evening at 5:30 at the Salmon Fountain in Hood River, and there's a White Coats for BLM rally every Wednesday evening at 6pm at 12th and May.
Click here
for the full events calendar.
Have an awesome day!
Temira