The best snow forecast for Mt. Hood. The best wind forecast for the Gorge.
Support it with a contribution!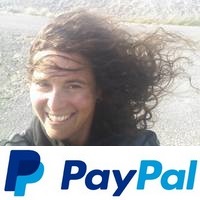 Thank you for using this forecast. Writing it takes 60-120 minutes a day; I can only keep it going with your generous financial support. Make a contribution or subscribe and get it in your inbox with bonus material. What's that cost? Not $99 a year. Nope. Not $49. Contribute $19.99 or more, and you're on the list for a year. People are added to this list on Thursday and Sunday. Thanks for your patience! Click below to contribute and keep the forecast going for everyone, nearly every day.
Credit card payments use this button
Click here to use your PayPal
Venmo: @theGorgeismyGym
Snail Mail: Temira Lital, PO Box 841, Hood River, Oregon 97031
(note: I am not a non-profit entity. The only way to accept credit cards with a user-defined amount is to use the 'donate' button. Thanks for understanding!)

Auto-renewing subscription. New! Awesome!
The Forecast
Today's Gorge Wind – these are ranges for the average speed, not a predicted wind range. =)

Your favorite beach
Dawn
Patrol
9am-
11:30a
11:30a-
3pm
3pm-
dusk
Rooster Rock
chilly
morning
for bun
warming
Steven's Locks
15-18
G22-26
G22-26
G15-28
Viento
G19-23
G19-23
G22-26
G22-26
Swell-Hood River
G19-23
G19-23
G22-26
G22-26
Lyle to Doug's
G19-23
G19-23
G22-26
G22-26
Rufus, etc.
G19-23
G19-23
G22-26
G22-26
Roosevelt & Arlington
11-14
11-14
15-18
15-18
Gorge Wind Forecast
Yesterday's wind decided to hold off until later than expected. That won't be the case today – it's still dark out as I write this, and it's already windy. That doesn't mean we'll have high quality wind, but we will have something. Easterlies are forecast on Tuesday followed by light westerlies on Wednesday.
Looking at Monday… high pressure is building over the area with a low out in the desert. Gradients of .09 (pdx-dls) and .05 (dls-psc) started the day. Westerlies were generally in the 20-23mph range with 10ish in the far eastern desert and near Rowena. We'll see the wind fill in to gusty 21-26 from Stevenson to Rufus today, strongest near Rowena and Avery most likely. Arlington rises to 15-18. River flow is 71,000cfs, river temp is 58F, and high temp forecast is 59F.
A very strong offshore low on Tuesday sets up easterlies. The day starts with 10-15 at Stevenson and 25-20 at Rooster. This isn't a typical easterly setup, and the wind will bounce around a bit. Models suggest Stevenson will climb to 20-25 midday while Rooster fades. The speeds switch in the afternoon with Rooster at 20-25, Stevenson and Viento at 15-20, and areas east of Viento climbing to 10-15. High temp: 65F.
Wednesday starts light and variable. The western Gorge rises to 8-11mph and stays there. Areas east of The Dalles are expecting 14-17mph from mid-morning on. High temp: 60F. Thursday brings another round of widespread moderate easterlies as another deep low swings northward through the Pacific.
Mt. Hood Weather forecast
The first half of this week starts mellow on Mt. Hood. Models suggest snowfall will start in the middle of the week and accumulate, mostly at higher elevations, on through the weekend. Details aren't yet clear, but we're moving closer to winter.
Monday will be partly cloudy to start on the mountain and sunny later. The free air freezing level (FAF) will be 6500′ early and will rise to 10,000′ by midnight. No precip. Wind: NW 10-15 in the morning, W 10 in the afternoon, and SSE 15 overnight.
Tuesday will be clear during the day. Rain starts after midnight and transitions to mixed precip or wet snow by Wednesday morning. The snow level will be 10,000′ in the morning, 9000′ when the precip hits, and 5500′ by 5am on Wednesday. About 0.2" water equivalent (WE) is expected overnight. That's mostly rain with a trace of wet snow. Wind: SSE 15 early, SSE 25-30 in the afternoon, S in the evening, and SSW 20-40 overnight. Wednesday will be cloudy to start with wet snow falling from the sky. The snow level will be 5500′ in the morning, 4500′ midday, and back to 5500′ overnight. Just a trace of snow is predicted. Wind: SW 25-40 in the morning fading to SW 10-20 in the afternoon. Thursday looks dry during the day. We then transition into a wetter period. The weather looks a bit warm for snow initially, but temps are forecast to drop. We'll keep watching it!
Coast, Jones, Coast
Done until spring, unless there's an obvious Coast or Sauvie's or Jones day.
Hood River Weather Forecast
Partly cloudy sky this morning turns clear later. Temps will be near 50 early and near 60 later. Moderately strong westerlies. No rainbows. Tuesday will be sunny all day. Clouds move in after sunset, and rain falls after midnight. Temps will be in the upper 30's early and mid 60's later. Light wind early. Light to moderate easterlies in the afternoon. No rainbows. Wednesday starts showery and quickly turns dry. Temps will be in the mid 40's early and near 60 later. Light westerlies. 94% chance of rainbows.
Looking for a complete Columbia Gorge forecast? Looking for more humor in your weather? Obscenities? You're looking for my TATAS: Temira's Awesome Travel Advisory Service on Facebook.
Cycling
SDS, Kreps, and DNR lands have all reopened. Regulated use closure has ended and motorized use is allowed on moto trails. Be aware of recent snowfall about 4500′ or so and plan your rides accordingly.
Local Events
The Columbia Gorge Marathon is October 24th. The HRATS have trail work parties on October 23rd. On October 30th, the Hood River Watershed Group has a work party on Whiskey Creek.
Sprinter Van of the Week!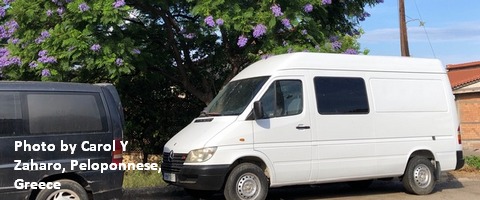 Click here for the Sprinter Van map of the world!!! Have an awesome day!