Mt. Hood Snow Forecast – 5000′

4a-8a
8a-12p
12p-4p
4p-8p
8p-4a
Monday
1000′->5000′
Tuesday
5000′->11000′
Wednesday
11,000′
---
Mt. Hood Snow Forecast

The snow we have now is all the snow we will have for at least the next week or so. For Monday, the mountain will see sunshine. The free air freezing level (FAF) will be 1000′ in the morning, 3000′ in the afternoon, and 5000′ after midnight. Wind will become N 15 after mid-morning. Tuesday will be sunny. The FAF will be 5000′ in the morning and 10,000′ in the afternoon with 5000′ temps maxing out around 35 degrees. Wind will be N 10 early, E 10 in the afternoon, and E 25 after midnight.
Wednesday will be sunny with an FAF of 11,000′. 5000′ temps will be in the mid-30's in the morning and right around 40 after midnight. Wind will be E 25 early, SE 20 in the afternoon, and S 20 after midnight. Looking ahead to Friday, 5000′ temps will creep into the low 50's! For the very long range forecast, the ECMWF model is hinting at some very light precip 10 days out. However, these high pressure ridges often last (much) longer than the models predict at the start of the pattern.

>
Does this forecast save you time, gas money, or help you have more fun in your life? Make a donation to support continued forecasting, and get the forecast in your inbox each day. Click on the button to donate. The email subscription isn't $99/year. Not $50/year. No, just $12.34 or more gets you on the list for 12 months. Don't PayPal? Send a check to Temira @ PO Box 841 in Hood River. Thank you for your support and thank you for trusting my forecast.
Random Morning Thoughts
Today's going to be a long and busy day for me, so I'll keep it brief. Let's start the week off right with three cheers for sunshine. Sure, many of us would like snow on the mountain this time of year. It's fine to hope for it, but we can also celebrate and fully immerse ourselves in an unexpected break in the weather. Enjoy the sun, and have an awesome day!

Disclaimer required by my grad school program: I am not your therapist, but I am seeing clients at this time. In the meantime, I am your weather forecaster. Take everything I say with a grain of salt, and consult with your actual therapist about your mental health issues. One other thing: I plan to keep doing this forecast indefinitely, even when I am a therapist.

Gorge Wind Forecast
For Monday, we'll start with west wind at 10-13 everywhere. The wind will quickly drop back to W 5mph or so for the daylight hours. Tuesday starts with E 30 near Rooster and picks up to E 40+ near Rooster. Stevenson will be slightly less windy, and even less wind (but still plenty) will be present at Viento. Wednesday looks like E 50 at Rooster, E 40 at Stevenson, and E 30 at Viento. The wind will back off just a touch on Thursday. Temps will be in the upper 30's, at best, for this windy spell, so be prepared for cold conditions. Water temp is 47 degrees.

Gorge Weather Forecast
It's a partly cloudy start to the day, and that means it's going to be a sunny one! Expect temps in the low 40's all day. Light west wind. .05% chance of rainbows. Tuesday starts with a Nothing and ends up sunny. Temps will be in the upper 20's early and upper 30's in the afternoon. East wind. No rainbows. Wednesday looks just like Tuesday and so does the rest of the week.
For weather specifically directed at travel through the Gorge, please visit Temira's Awesome Travel Advisory Service on Facebook.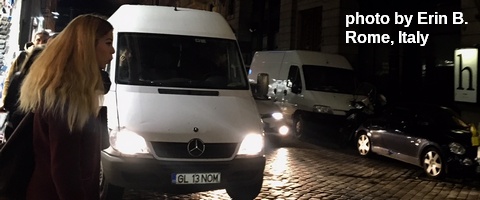 Road and Mountain Biking
It's not sub-freezing this morning and wasn't sub-freezing last night, which means this is probably your last chance to ride Syncline before it goes into a freeze-thaw cycle, rendering it unrideable. If you want to contribute to your local trails organization, the HRATS have a fundraiser on Saturday evening at Kickstand Coffee and another one next week at Double Mountain.

Upcoming Events
Coming up today, there's meditation at noon at Trinity Natural Medicine. There's $5 Tai Chi at the Hood River Adult Center at 2:30. This evening at 6pm, there's community yoga at Samadhi in White Salmon. At 6:30, there's community yoga at the Mt. Hood Town Hall and community Zumba at St. Francis House in Odell. There's YogaFaith (Christ-centered yoga) in The Dalles at 6:45pm. There's community meditation at Bethel Congregational Church in White Salmon – Bingen at 7pm.
In other news, the Meadows Avalanche Dog Fundraiser is on Thursday at Double Mountain. The HRATS have a fundraiser to build a badass pumptrack on Saturday evening at Kickstand Coffee and Yummy Restaurant.

Click here for the full events calendar.
Have an awesome day today!
Temira