Mt. Hood Snow Forecast – 5000′

4a-8a
8a-12p
12p-4p
4p-8p
8p-4a
Monday
5000′->2500′
Tuesday
2500′->4500′
Wednesday
5500′->2000′
---
Mt. Hood Snow Forecast

It's Monday, and it's a snowy start to the day on Mt. Hood, as temps drop from overnight highs in the mid 30's. A strong weather system moving through today will add to the early-season snowpack. The exact track of this system is going to have a big impact on how much snow falls – as of right now, it looks like Mt. Adams is going to see a lot more snow than Mt. Hood. That said, I'll add some extra spread to the Monday forecast in order to account for that. On the plus side, very strong SW wind on Mt. Hood could add to the totals.
The snow level Monday will drop from 5500′ early to 3500′ in the afternoon and 2500′ after midnight. We'll see .3-.7" water value WV between 4am and 4pm, for 3-7" of new snow. Another .5" falls tonight, for 5-6"+ of additional snow. Wind Monday will be SW 30 early, SW 45 in the afternoon, and SW 20 overnight. If the weather system comes in further south than expected, those snowfall totals could double!
Tuesday also suffers from some uncertainty – the GFS has heavy precipitation about 30 miles north of the Columbia and dry weather on Mt. Hood. If that holds, we'll see just an inch or so of new snow during the day Tuesday with nothing overnight. The snow level will be 2500′ early, 4500′ in the afternoon, and 5500′ for a brief period on Wednesday morning. Wind Tuesday will be SW 20 in the morning, SW 25 in the afternoon, and SW 35-40 overnight.
Mt. Hood is right in the precipitation bullseye for Wednesday if nothing changes in the forecast. The snow level will be 5500′ ealry, 4500′ at sunrsie, and 2500′ in the afternoon. The mountain is set to receive 1.5"-2" WV between 4am and 4pm, for 18-24" of new snow. Another .5" WV is in the forecast overnight, for another 5-6" of snow. Wind Wednesday will be SW 40 early, slowly dropping to WSW 15 in the afternoon and W 30 after midnight. Thursday's forecast currently contains snow flurries and partly cloudy sky.

>
Does this forecast save you time, gas money, or help you have more fun in your life? Make a donation to support continued forecasting, and get the forecast in your inbox each day. Click on the button to donate. The email subscription isn't $99/year. Not $50/year. No, just $12.34 or more gets you on the list for 12 months. Don't PayPal? Send a check to Temira @ PO Box 841 in Hood River. Thank you for your support and thank you for trusting my forecast.
Random Morning Thoughts
My choice right now is between coming up with a reflection and taking a shower. I think my coworkers, classmates, and my therapist would all appreciate me choosing the latter option! Have an awesome day!

Disclaimer required by my grad school program: I am not your therapist, but I am seeing clients at this time. In the meantime, I am your weather forecaster. Take everything I say with a grain of salt, and consult with your actual therapist about your mental health issues. One other thing: I plan to keep doing this forecast indefinitely, even when I am a therapist.

Gorge Wind Forecast
It's Monday, and there's some very interesting weather stuff happening. A strong cold front will move through the Gorge and a strong upper level low will move onto Vancouver Island and then into BC. This will make for a short period of very strong west wind this afternoon. By "short", I mean a couple of hours, so you'll need to be in place before the wind hits. After noon, we'll see gusty west wind at 25-29 east of The Dalles with gusty 22-27 between Stevenson and The Dalles. Around 2pm, there will likely be a burst of very strong west wind that moves quickly through the Gorge – first near Hood River, then eastward. River temp is 51 degrees. Air temp will be in the low 50's. Dress accordingly.
Tuesday sees yet another complicated series of weather systems impacting the area. The wind will be light easterly in the morning and E 10-15 for a brief period in the afternoon. Wednesday looks very, very rainy. We'll have light westerlies early and W 7-10 in the afternoon through the whole Gorge. The current forecast for Thursday is to have another low pressure system move inland. That would result in west wind at 23-26 or so. It's pretty hard to trust models that far out when the weather is this active…

Gorge Weather Forecast
It's very rainy out there to start Monday, but the rain will decrease after sunrise, picking up again after 4pm. Temps will be in the mid 40's early and low 50's later. West wind, potentially strong late afternoon, 99% chance of rainbows. Tuesday's weather depends on the location of a weather system. It looks very rainy just to the north of us and cloudy until 8pm or so in the Gorge. Temps will be near 40 early and near 50 in the afternoon. Light easterlies. No rainbows. Wednesday looks very rainy through sunset with showers later. Temps will be near 40 early and in the mid 40's in the afternoon. Light westerlies. 18% chance of rainbows.
For weather specifically directed at travel through the Gorge, please visit Temira's Awesome Travel Advisory Service on Facebook.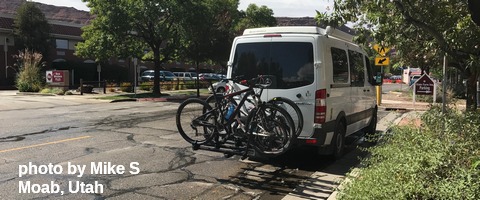 Road and Mountain Biking
It's much too wet to be riding without doing damage to the trails. The best thing you can do right now is ride gravel roads or your road bike or trainer. And show up for work parties! There's one this Saturday at Family Man at 9:30.

Upcoming Events
Coming up today, there's meditation at noon at Trinity Natural Medicine. There's $5 Tai Chi at the Hood River Adult Center at 2:30. This evening at 6pm, there's community yoga at Samadhi in White Salmon. At 6:30, there's community yoga at the Mt. Hood Town Hall and community Zumba at St. Francis House in Odell. There's YogaFaith (Christ-centered yoga) in The Dalles at 6:45pm. There's community meditation at Bethel Congregational Church in White Salmon – Bingen at 7pm. Tuesday night there's pickup touch rugby at the Hood River Marina at 5:45 and meditation with the monks from Pacific Hermitage at Yoga Samadhi at 6:30.

Click here for the full events calendar.
Have an awesome day today!
Temira