Random Morning Thoughts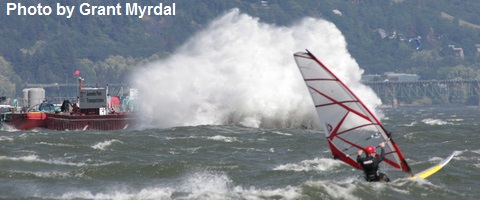 My friend Viggers and I drove up to Odell yesterday to pick up our pig, Timon. He's cute. He came in two cardboard boxes, packaged up into meal-sized pieces labeled "not for sale". But our piggie is not the point of this story. Viggers never bought a local piggie before, and when I offered, he jumped on the chance, just to try it out. I asked him why on the drive. He replied, "You know, I've regretted a lot more things I've not done than things I've done, so when I find myself asking whether I should do something or not, I just do it so I have no regrets." That of course assumes you're a good human like Viggers, and have enough empathy for others to only do things that won't hurt other people. But I agree with Mr. Viggers: if there's something I think I might regret not doing, I do it so I have no regrets. Carpe diem, people. Carpe diem.

Thank you for using this forecast! Please donate to support it!
Thank you to everyone for using this forecast. Does it save you time, gas money, or help you find more wind, powder, or just plain fun stuff to do? Please consider making a donation to keep it going! Use it here for free or make a donation and get on the mailing list for wind for the summer and Mt. Hood snow in the winter. It's not $99/year. Not $50/year. No, just $12.34 or more gets you on the list for 12 months. Do it via PayPal/CC by clicking on my happy photo below. Don't PayPal? You can send a check to Temira @ PO Box 841 in Hood River. Thank you for your support, and thank you for trusting my forecast. You guys mean the world to me.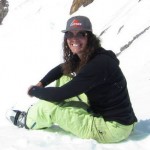 ---
Gorge Wind
We're definitely not in an ideal setup for wind – I probably should have taken the opportunity to take today off too. With an east gradient at .03 this morning, expect a midday bump to E 10-13 at Stevenson and Rooster with light wind everywhere else. The wind will switch to westerly overnight as a weather system moves through.
Tomorrow starts with light west wind, picking up to gusty 13-16 mid afternoon, and then possibly picking up to very gusty mid-twenties (with lightning and thunder) as a low moves eastward.
Wednesday starts with west wind at 13-15. A compact upper level low moves across the state at some point during the day, leaving us with gusty, thundery, lightningy 26-30.
Today's Gorge Wind – these are ranges for the average speed, not a predicted wind range. =)

Your favorite beach
Dawn
Patrol
9am-
11:30a
11:30a-
3pm
3pm-
dusk
Rooster's Rocks
light
E 5-10
E 10-15
light
Steven's Locks
light
E 5-10
E 10-15
light
Hatchery/White Salmon Sandbar (minus a few for Hood River)
light
light
light
light
Doug's, etc.
light
light
light
light
Rufus, etc.
light
light
light
light
Roosevelt, etc.
light
light
light
light
Temira's sail: 35-40: 2.9 / 30-35: 3.2 / 26-30: 3.5
23-26: 4.0 / 20-23: 4.5 less than 20: something bigger!
Tonia's kite: 35-40: 4m / 30-35: 4-6m / 26-30: 5-7m
23-26: 7-9m / 20-23: 8-10 / 15-20: 10-12 / 10-15: 13-15.
Advertising Worth Reading
Camp 1805 Distillery on the Hood River Waterfront

Here's a sad story: In 1805, Lewis and Clark were camping in Gorge. Unfortunately they'd run out of whiskey upriver, and hadn't had a drop in months. Well, that won't happen again. The Gorge has a distillery now: Camp 1805, on the waterfront. Camp 1805 makes Whiskey, Rum and Vodka on site in a handmade copper still. Enjoy handcrafted cocktails in a laid back setting (no minors please) and watch the whiskey and rum flow from the still. Bottle sales on site too. Food coming soon. Let no flask go unfilled, let no life go timidly by. Camp 1805.
Gorge Weather
We're starting off the day partly cloudy with some convective clouds to the east and south of us. Upper flow is southerly, and we're expecting a trough of low pressure to move east over the region today. Models suggest very high instability this afternoon. Very high. That's going to give us an increasingly cloudy day with a chance of thunder and rain later, for a 38% chance of rainbows and a 79% chance of a colorful sunset. Temps will start in the mid 60's and climb into the 90's – the exact high temp depends on how quickly the clouds block out the sun. Later = hotter. Earlier = cooler.
We'll be left cloudy overnight, setting us up for a colorful sunrise on Tuesday. Temps Tuesday will be in the mid 60's (and muggy) early, rising to the low 80's (and muggy) in the afternoon with a chance for continuing thunderstorms. 15% chance of rainbows. 93% chance of colorful sunrise and sunset. If it's cloudy overnight, we'll lose the opportunity to view the Perseid meteor shower, so cross your fingers for clear sky.
Wednesday sees an upper level low move across the PNW, and that will do several things: drop temps, bring back the wind, make it rain, creating rainbows, give us thunderstorms, and bring color to the sky in the evening. 93% chance of colorful sunrise/sunset. 52% chance of rainbows. Temps will be in the low 60's early and mid 70's (brr) in the afternoon.

White Sprinter Van of the day with White Supermoon of the Day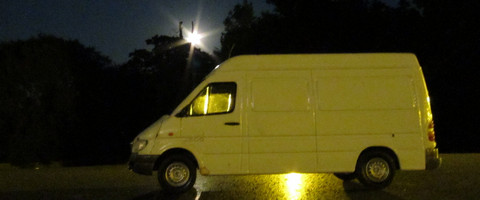 Road and Mountain Biking
All trails except Hospital Hill and Whoopdee are open. Those two are closed due to extreme fire danger. Highway 30 has reopened between Mosier and Mayer Park, but a section will be closed between Rowena and The Dalles today for the removing of hazard trees.


The Clymb: free membership. Cheap gear.
Temira approves. Click to join.
River Levels / Cheezburger update
The John Day Dam is reading 110kcfs. The Dalles Dam is putting out 98-121kcfs. The White Salmon is around 2.2′. If you plan on running the White Salmon yourself, remember that there is a riverwide log about 150 yards below Cave Wave. The Columbia River is 70 degrees.
Events – email me if I've missed any outdoor-related events
Coming up tomorrow night, there are a bunch of events, but there's something much cooler happening after midnight. First, tho, there's free outdoor music at the Ruins at Springhouse if you arrive before 7. There's a downriver kayaking race on the White Salmon River, meeting at 6:30 at Husum. Triathlon Practice happens at Mayer Park at 6:15, and there's pickup rugby at the Hood River Marina at 5:30.
Later tomorrow night, best after Midnight, it's the Perseid Meteor Shower. Unfortunately, the moons' going to be pretty full, but you'll still see plenty of meteors if you keep your eyes on the northeast sky.
Coming up on Friday evening, it's Movies in the Park at Cascade Locks, showing The Lego Movie, then on Saturday evening, Movies in the Park Hood River shows Wall-E. During the day Saturday, there's an uphill race at Meadows – I think it runs to the top of Stadium, and then they give you a chairlift ride down.
Most importantly next Saturday, there's the first work party on the Kleeway, the new Seven Streams Down trail. Meet at Family Man at 8:30am for a couple hours of work. We need all hands on deck to help us toss sticks and clear the trail corridor, so please make plans to give back to your trail system Saturday morning.
Have an awesome day today!
Temira