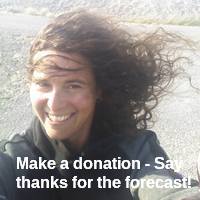 Get the email free through the end of April – try it out! Click here.

Thank you for using this forecast. I offer it freely so you can have more fun and plan your life. It does take significant time and energy to produce. If you find yourself using it often, or if you feel your life is enhanced by this information, please make a donation. Click right here to donate. I count on your support to pay my bills, and am deeply grateful to you for choosing to help support me. You can get this forecast via email by donation. The email subscription isn't $99/year. Not $50/year. Donating $12.34 or more gets you on the list for 12 months. Don't PayPal? Send a check to Temira @ PO Box 841 in Hood River. Thank you for your support and thank you for trusting my forecast.
Mt. Hood Snow Forecast – 5000′

4a-8a
8a-12p
12p-4p
4p-8p
8p-4a
Monday
2000′->3000′->1000′
Tuesday
1000′->3000′->1500′
Wednesday
1500′->4500′
---
Mt. Hood Snow Forecast

It's snowing up on Mt. Hood this morning, and that trend will continue through Wednesday morning. After that, we'll see a few days of spring skiing. A chance of snow on Saturday gives way to warm and sunny mountain weather on Sunday.
For Monday, expect a snowy, blustery day. The snow level will be about 2000′ early, 3000′ in the afternoon, and 1000′ or so under clear sky overnight. About .5" water value (WV) falls during the day, for 5-6" of fluffy snow. Another .7" falls overnight, for 7-8" fluffy snow. Wind will be WSW 30 in the morning, W 45 in the afternoon, and WNW 40 Tuesday morning.
Tuesday starts off with orographic snowfall and sunbreaks and transitions to light, steady snowfall overnight. The snow level will be 1000′ or so early, 3000′ in the afternoon, and 1500′ after midnight. About .2" WV falls during the day, for 2-3" of dry snow. Another .2" falls overnight, for another 2-3". Wind will be WNW 40 in the morning, W 20 in the afternoon, and SW 10-15 overnight.
Wednesday sees a few scattered flurries in the morning and overnight under overcast sky. The snow level will be about 1500′ early, 4500′ in the afternoon, and 4000′ overnight. Wind will be SW 10 in the morning, E 10 in the afternoon, and N 10 overnight.
Thursday looks sunny. The free air freezing level will be 4000′ in the morning and 6000′ in the afternoon and evening. Wind will be N 10 early, NW 10 in the afternoon, and WSW 10 overnight. Friday looks sunny transitioning to high clouds with a max freezing level of 8000′. We may see a few flurries Saturday morning followed by clear sky, and Sunday lives up to its name with sunshine.

Random Morning Thoughts
I slept in this morning, which is awesome. Nothing like starting a 15 hour day well-rested. Yay! But that means I feel pressured to get stuff done and get on with my day. And this feels reasonable, as I need to be at my internship right soon. May your week be wonderful. Have an awesome day!

Disclaimer required by my grad school program: I am not your therapist, but I am seeing clients at this time at Comprehensive Healthcare in White Salmon. In the meantime, I am your weather forecaster. Take everything I say with a grain of salt, and consult with your actual therapist about your mental health issues. One other thing: I plan to keep doing this forecast indefinitely. Forecasting and counseling are both deeply meaningful and nourishing to me.

Gorge Wind Forecast
A weather system moving inland on Monday combines with strong high pressure building off the southern Oregon coast for strong and gusty and punchy west wind. The day starts with 10-13 out of the west through the entire Gorge. Rain and clouds from Stevenson to Mosier or so will limit the wind in that stretch to gusty 18-25 all day. Farther east, after 10am, the wind will pick up to gusty 24-28. 28-32 is possible from Avery to Arlington between 2pm and 5pm; you'll want to do some pre-emptive driving to get that.
A weak front moves through Tuesday morning and combines with weakening offshore high pressure (and an approaching upper level low) for strong, fading westerlies. Early morning wind will be in the 16-19 range from Stevenson to Mosier with gusty 25-29 from Lyle to Arlington. As the day goes on, the wind will fade, bottoming out at 10-13 in the western Gorge and 18-22 east of Mosier. Wednesday looks like east wind at 10-15 near Stevenson and Rooster Rock with calm wind in the rest of the Gorge.

Gorge Weather Forecast
It's showery and mostly cloudy this morning, and it'll be that way all day. Temps will be near 40 early and near 50 in the afternoon. Light westerlies early. Moderate to strong westerlies after 10am. 99% chance of rainbows. Tuesday looks on-and-off sprinkly. Temps will be near 40 early and near 50 in the afternoon. Strong westerlies fade to moderate by afternoon. 99% chance of rainbows. Wednesday looks mostly sunny with just a few scattered sprinkles early and late. Temps will be in the upper 30's early and the upper 50's in the afternoon. Light east wind. 18% chance of rainbows.
For weather specifically directed at travel through the Gorge, please visit Temira's Awesome Travel Advisory Service on Facebook.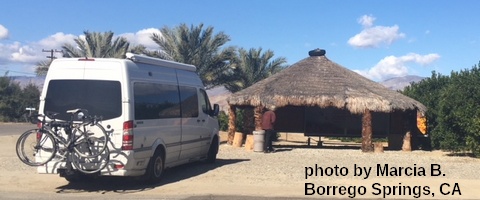 Click here for the White Sprinter Van map of the world!!!
Road and Mountain Biking
It's too wet to ride anywhere this morning without damaging the trails. The cows are out on Hospital Hill, and that means NO DOGS. Even your dog! If you want to ride road bike or grind some gravel, you're going to get wet.

Upcoming Events
Coming up today, there's meditation at noon at Trinity Natural Medicine. There's $5 Tai Chi at the Hood River Adult Center at 2:30. This evening at 6pm, there's community yoga at Samadhi in White Salmon. At 6:30, there's community yoga at the Mt. Hood Town Hall and community Zumba at St. Francis House in Odell. There's YogaFaith (Christ-centered yoga) in The Dalles at 6:45pm.
Coming up this weekend, there's a trail work party in Post Canyon at 9am on Saturday: meet at Post Flats staging area. There's a swap meet at Luhr Jensen beach on Sunday. The Kona Bikes Demo Tour will be at Family Man from 12-5 Saturday and Sunday, giving you a chance to try out new bikes for free.

Click here for the full events calendar.
Have an awesome day today!
Temira