Random Morning Thoughts
I was riding my bike up Dog River yesterday with my friend Mike, and a woman blew by us. Now, Mike and I are not exactly slow, so this woman was an animal. But that's not the point. We caught up with this gal at the top, and it turns out she was a) riding a singlespeed and b) had broken her back and neck 12 weeks earlier. I was impressed.
Getting back on the bike that soon after a major injury took major courage. Getting back to any sport after an injury takes time and courage. So, this morning's random thought goes out to all of you who are injured or who have been injured. May you heal quickly. May you be gentle, kind and compassionate to the parts of you that are scared to get back on the horse, rather than beating yourself up for being scared. Your courage and love of your sport will return with time. It's okay to be scared and tentative for a while. You got hurt! Heal up well, heal up fast, and we'll see you when you're ready to shred again!

Do you find this forecast useful? Hooray!
It's pledge drive month!
Thanks for coming here for your forecast. It's time for the annual pledge drive! "WHAT?", you say, "I thought this was free!" It is, but it takes lots of time. It's my job, and you're my employers! Here's the deal: Every day someone has to pledge. If not, no website forecast the next day: only the people on the email list get their forecast. Want on that list? Make a donation. Do I save you gas? Find you more fun? Entertain you? The email list is not $99/year. Not $50/year. No, just $12.34 or more gets you on the list for the next year. Anything over the minimum feeds my coffee and bicycle addictions and makes me feel loved, and god knows we all need to feel loved. Do it via PayPal/CC by clicking on my photo. And thank you so much for your support. Don't PayPal? You can send a check to PO Box 841 in Hood River. Thank you for your support. It means the world to me.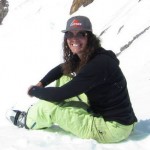 Tomorrow's forecast status:


Thank you Eric S. and Daniel D. for tomorrow's forecast!
and thank you all for using this forecast!
Have a wonderful day!



---
Gorge Wind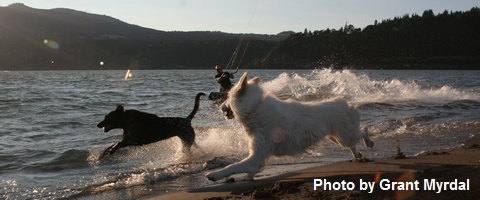 Once again, we are starting out with light wind, but there is a .06 gradient driving that light wind, and that's a good sign. The models (they are mostly brunettes, you know) say that we'll see a slow build to 16-19 by 2pm and then 22-25 later, strongest near Hood River early, from Stevenson to Doug's by mid-afternoon, and likely filling in at Rufus (so say the models – I was surprised to see that) with 20-23 late in the afternoon.
Tomorrow sees a lot of factors come into play: the offshore high strengthens a bit, the low off BC moves a bit further north, and a weak weather disturbance moves in during the afternoon. We'll start with 21-24 from Swell to Mosier, picking up to 24-28, maybe a touch more at times, from Stevenson to Rufus in the afternoon. Arlington will join the party late. However, this weather disturbance will likely cause the wind to drop and get gusty from Swell to Doug's early in the afternoon. Add in the possibility of thunderstorms over the Cascade crest in the afternoon and evening, and the forecast gets difficult. In other words, it'll be windy, but it's not an ideal setup. Be prepared with your camera for a gorgeous sunset session with lots of color in the sky.
Wednesday starts with 10-15 near Hood River, picking up to 21-24 in the afternoon.
Out on the coast, we will wee the following wind (north/central/south). Today: 15-20/20-25/25, W 5@7. Tomorrow: 10-15/15-20/30, W4@7. Wednesday: 15-20/20-25/30+, W 4@11.
If you are looking for photos of yourself windsurfing or kiting, I don't think Grant was out yesterday. However, he shot Mitchell Ridge and the KiteSandbarPlace on Saturday and Mitchell Ridge on Sunday.

Today's Gorge Wind – these are ranges for the average speed, not a predicted wind range. =)

Your favorite beach
Dawn
Patrol
9am-
11:30a
11:30a-
3pm
3pm-
dusk
Rooster's Rocks
If you
were a
nudist
you'd be
there
today
Steven's Locks
light
8-11
13-16
20-23
Hatchery/White Salmon Sandbar (minus a few for Hood River)
light
10-13
17-20
20-23
Doug's, etc.
drainage
wind
8-11
17-20
22-25
Rufus, etc.
light
8-11
17-20
20-23
Roosevelt, etc.
light
8-11
11-14
11-14
Temira's sail: 35-40: 2.9 / 30-35: 3.2 / 26-30: 3.5
23-26: 4.0 / 20-23: 4.5 less than 20: something bigger!
Tonia's kite: 35-40: 4m / 30-35: 4-6m / 26-30: 5-7m
23-26: 7-9m / 20-23: 8-10 / 15-20: 10-12 / 10-15: 13-15.
White Sprinter Vans flirting while the owners hang out in downtown Hood River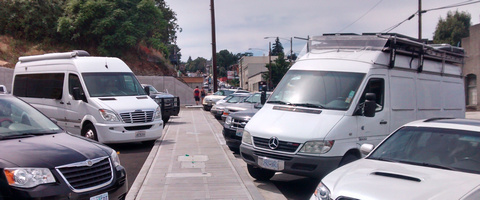 Gorge Weather
Today looks like a sunny day, as nothing much happens in weather world. Temps will be in the low 60's early (open up your house and cool it off and air it out) and in the low 90's later (strip down to a bikini and work on your tan).
Tuesday starts with temps in the mid 60's, rising to the mid 90's in the afternoon, assuming it doesn't get too cloudy. I wouldn't be surprised if we only see low to mid 80's and mugginess tomorrow. It should be sunny early, but a weather disturbance moving through in the afternoon will give us high clouds along the Cascade crest along with the potential for a few dry thunderstorms. Chance of a colorful sunset on Tuesday is 79.38%.
Wednesday may start off with high clouds and scattered thunderstorms along with a gorgeous sunrise (5:44am), but it should be sunny by the afternoon. Temps will be in the mid 60's early and low 90's in the afternoon.

Road and Mountain Biking
My friend Mike and I went up to Dog River, Surveyor's and Oak Ridge yesterday and inspected the trails. There's still some moisture left over up there from last week's rain. Amazing. I have come to the conclusion that Dog-Surveyor's-Oak is better than Oak-Surveyor's-Dog. I also heard saw on Strava, according to Nelson Snyder, that there were one bazillion people in Post Canyon yesterday. If Grant's website is right, he was out shooting photos on Mitchell Ridge both Saturday and Sunday.
In road biking news, this morning is where it's at. Light wind. Cool temps. No school buses. Get some before the mercury climbs to 90 this afternoon.

The Clymb: free membership. Cheap gear.
Temira approves. Click to join.
River Levels / Cheezburger update
The White Salmon is at 2.25′. In just 7 days, Cheezburger will be eating sushi with me. The Klickitat is at 941cfs. The John Day dam is putting out 144-180kcfs and The Dalles dam is reading 159kcfs. Columbia river temp is 68.9 degrees at The Dalles Dam.
Events – email me if I've missed any outdoor-related events
In events tonight, there are some folks headed to PIR in Portland for the last night of short track and road bike racing. OceanFrog Heather Pola crushed it in her goggles and flat pedals on her Enduro bike last night, even though she'd ridden zero miles the day before. I can't remember if she's going tonight, but if she is, cheer for her!
Here in the Gorge tonight, there's the Ride Around the Gorge mellow road bike ride, meeting at HRVHS for either a mellow ride around the west side or a brutal climb to Kingsley. So I guess you're taking your chances if you show up for that one tonight. Are you a gambler? I'm not. I see a nice book in my future this evening. For something definitely more mellow, check out free community yoga at Yoga Samadhi in White Salmon at 6:30.
Coming up later this week, it's First Friday in Hood River, the 49th annual Trout Lake Fair, and more sailboat racing in Cascade Locks.
Have an awesome day today!
Temira