Random Morning Thoughts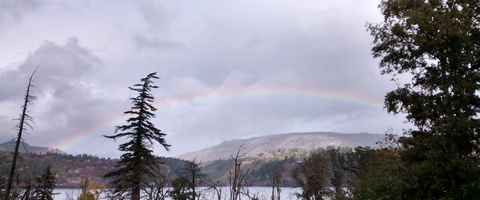 I just want to say that you people are amazing. You mountain biker people. You trail runners. You equestrians, if you were part of this too. You helped the Hood River Area Trail Stewards raise $30,000 to build you the Kleeway. If you haven't had a chance to bank some karma by donating, you can still do it at the HRATS website. Donate $50 or more and the HRATS will send you an awesome pair of Kleeway socks (specify your size, please). Donate $109 or more, and they'll carve your name into a board in a Family Man feature (specify your name, please). Donate $159 or more, and you get both. You can also purchase HRATS hats and t-shirts at Dirty Fingers (all proceeds go to your local trails organization). Thank you to all of you for your support of your trails. Matt Klee would be so blown away to see the community rallying like this. Yay, Kleeway!

Thank you for using this forecast!
Please donate to support it!
Thank you to everyone for using this forecast. Does it save you time, gas money, or help you find more wind, powder, or just plain fun stuff to do? Please consider making a donation to keep it going! Use it here for free or make a donation and get on the mailing list for wind for the summer and Mt. Hood snow in the winter. It's not $99/year. Not $50/year. No, just $12.34 or more gets you on the list for 12 months. Do it via PayPal/CC by clicking on my happy photo below. Don't PayPal? You can send a check to Temira @ PO Box 841 in Hood River. Thank you for your support, and thank you for trusting my forecast. You guys mean the world to me.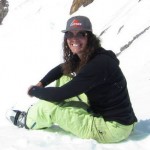 ---
Mt. Hood Snow Forecast – 5000′

4a-8a
8a-12p
12p-4p
4p-8p
8p-4a
Today
Tomorrow
the next day
Mt. Hood Snow
The past couple of days turned out well for our ski resorts. It's hard to tell from looking at the telemetry, but it appears that Meadow and T-Line ended up with close to a foot of snow out of this system. If you want to play in it, go right now, because it's going away. The free air freezing level (FAF) will be around 4500′ this morning, rising to 6000′ midday and nearly 10,000′ tonight. We'll see some light mixed precip today starting around 2pm for no accumulation. Wind today will be W 10 early and SW 20-25 this evening and overnight.
Tomorrow starts with the snow level around 9000′, and it'll stay there until the wee hours of Wednesday. We'll see .3-.4" rain during the day, followed by another .2-.4" of rain overnight. Wind will be SW 25-30 early and SW 35-45 overnight.
The snow level drops to 6500′ early Wednesday morning as the weather system moves through, leaving Mt. Hood under mostly clear sky until the afternoon, when clouds move in. The next weather system moves in Wednesday evening, raising the snow level up to 9000'+ and dropping a to-be-determined amount of rain. Wind on Wednesday will be W 25-35 early and SW 20-25 in the afternoon.
Thursday looks warm and rainy. It looks like the snow level will drop briefly to 5000′ or less on Friday for a bit of snow, before rising to the "too high" range over the weekend. But that's a long ways out to be forecasting. It's almost as silly to forecast 5 days in advance as it is to issue a month-by-month forecast for the entire winter.
Gorge Wind
We have a light east gradient this morning, very light, actually. As light as it can get: .01. Expect a little more gradient later on for E 10-13 at Steven's Locks and Rooster Rocks midday. Tomorrow starts with easterlies at 15-18 and switches to gusty west wind at 13-16 or a touch more after 2pm from Steven's Locks to The Dalles. Expect easterlies at 10-13 on Wednesday.
Gorge Weather
It's very dark outside my window, and that means we must be getting close to the time when it's going to suddenly get very dark in the evenings. Yep. I just checked. Daylight Savings Time ends this weekend. So sad. We will all be playing in the woods while wearing headlamps starting next week. Speaking of headlamps, I saw at least 10 rainbows yesterday (total nonsequitur), and that made me smile.
Anyway, today brings low clouds in the morning. If we are lucky, we will have some sunbreaks midday before the next weather system brings high and mid level clouds and maybe some sprinkles. If we see sprinkles, it'll be after 2pm. Expect temps in the mid 40's this morning and upper 50's this afternoon. Rainbow chances are just 11% today.
Tomorrow starts out mostly cloudy with rain showers. Temps will be in the upper 40's early and mid 50's in the afternoon. Rainbow chances are 88%. Wednesday starts out with the low inversion cloud. We might get lucky with some sunbreaks midday and we might not. Temps will be in the low 50's early and near 60 in the afternoon. No rainbows on Wednesday, but rain Wednesday night into Thursday will give us a better chance of rainbows later this week.

White Sprinter Van of the Day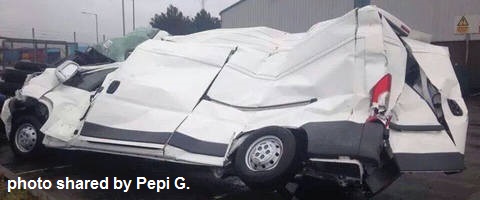 Road and Mountain Biking
Since the trails haven't been as I expected them to be lately, I thought I'd go check out Post Canyon again yesterday. I went after the huge yellow, orange and red radar image blob cleared the Gorge. I found wet trails and big puddles. It still wasn't muddy enough that we were doing damage, but it was getting closer to that point. Today looks dry, so the trails should have a chance to dry out even more. Give it 'til the afternoon, and then go shred. I heard that Syncline was perfect yesterday. No report on Whoopdee. I believe you can consider Boulder Lakes and Gunsight and High Prairie no-go due to snow right now, as T-Line and Meadows got close to a foot at 5000′.
The road biking should be good today and tomorrow morning as well as on Wednesday. Those are your light wind periods.


The Clymb: free membership. Cheap gear.
Temira approves. Click to join.
Events – email me if I've missed any outdoor-related events
Tonight is Monday, and that means there's community yoga, free or by donation, at Yoga Samadhi in White Salmon. Tomorrow night is pickup touch rugby at the Hood River Marina at 5:30, followed by $12 Prime Rib at Cebu Lounge from 5-9. Coming up Thursday evening, 2nd Wind (and some other folks) bring you the ski movie "Pretty Faces" about girls shredding pow-pow.
Have an awesome day today!
Temira