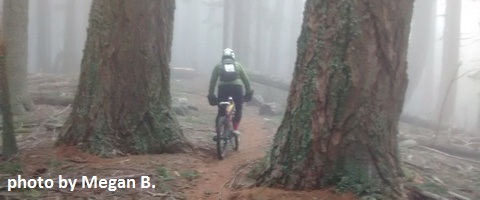 Random Morning Thoughts
I was over at some friends' house for dinner last night, and we got to talking about boundaries. The subject of turning people down came up. When we turn someone down, we may disappoint them. They might get sad or angry or feel rejected (the NVC folks would argue that's not a feeling, but that's a subject for a different day) or they might even feel relieved. It hit me last night as we were talking that the other party's feelings aren't my responsibility. I can (and should) honor those feelings, but I'm not going to feel guilty for "creating" them. Cuz guess what? I didn't. And when you say "no", you don't create the other person's feelings either. They do, through their perception of the situation.
That was a real "duh" moment for me. You're probably shaking your head and saying, "Well duh, T." Yeah, well, T is learning a lot of stuff this year. Anyway, I think that as long as we act with integrity and aren't lashing out at people out of a need for power or revenge or some other impure motive, we can feel secure in protecting our boundaries by saying "no" or even "(potty word) off!". And we can let go of the guilt for someone else's unhappy response. But I still think Mother Nature should feel really guilty right now to saying "no" to everyone's snow prayers. I'm not letting her off the hook.

Thank you for using this forecast!
Click on my photo to support it with a donation.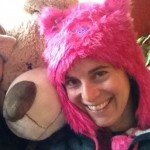 Thank you for using this forecast. Does it save you time, gas money, or help you find more wind, powder, or just plain fun stuff to do? Please make a donation to keep it going! Use it here for free or get on the mailing list for wind for the summer and Mt. Hood snow in the winter. Just click on my photo to donate. The email isn't $99/year. Not $50/year. No, just $12.34 or more gets you on the list for 12 months, and sometimes there are cool prizes. Donate via PayPal/CC by clicking on my happy photo below. Don't PayPal? You can send a check to Temira @ PO Box 841 in Hood River. Thank you for your support, and thank you for trusting my forecast. You guys mean the world to me.
---
Mt. Hood Snow Forecast – 5000′

4a-8a
8a-12p
12p-4p
4p-8p
8p-4a
Today
Tomorrow
The day after
I like forecasting weather. I like sitting down and puzzling over models and turning the pretty colors into words. Lately, though, I've had a sinking feeling in my tummy when I sit down to write this section. It's not my fault, I know, but I just don't have good news to share.
Expect a cloudy day on Mt. Hood today. The snow level will be around 2000′ all day with light flurries possible all day. Total precip will be .1-.3" water value (WV) for 1-3" of new snow between this morning and tomorrow morning. Wind will be S 10-20.
Tuesday looks cloudy with occasional flurries – more flurries in the morning and evening and less midday. The snow level will be 4000′ early and 5000′ in the afternoon. No measurable accumulation. Wind will be SW 15, swinging to S 10.
Expect a partly cloudy or possibly clear day on Wednesday with the free air freezing level (FAF) around 3000 or 4000′. Wind will be S 15 early and SE 10 in the afternoon.
Thursday looks clear in the morning with precip moving in during the evening. At this point, temps look borderline, at 0-4 degrees C. At best, we may see 3-5" of snow at 5000′, but it's really too far out to make that call. Things are a little up in the air for the weekend and beginning of next week, but models are hinting at a stronger, wetter, warmer weather system Sunday into Monday.
In other news, I've seen people from Meadows out riding bikes, out drinking coffee, out skiing on wheeled XC skis, working on computers in coffee shops, and replying to emails. And they all have one thing to say to me: "When's it gonna snow, T? When's it gonna snow?" I don't care about the answer, but I sure wish I had the ability to make it snow so all these people could go to work.

Gorge Wind
With winds at Rooster Rock this morning at 48mph according to iWindsurf/iKitesurf, it's officially nuking again. The wind will stay right there in the 40-50 range today with 30ish at Steven's Locks. Tomorrow looks like 35-45 at Rooster with 25-30 at Steven's Locks. The easterlies back off a little more on Wednesday to 30-35 at Rooster in the morning and 25-30 in the afternoon with 20-25 at Steven's Locks.

Gorge Weather
If you enjoy having weather in the Gorge, I'd like to encourage you to make a donation to Larry'sHood River weather website. Without that website, there would be no weather. Or at least there wouldn't be a centralized location to observe the weather all over the Gorge, or a chat room to talk about the weather. Nor would there be a place to look at a bunch of webcams to determine where you can go to escape the Inversion. Click through and scroll below the chat box to the PayPal button.
Looks like we're going to dodge a bullet today, with temps a lot warmer than yesterday's predictions. There is, however, a dusting of snow at 2000′ south of Mosier this morning. So, we're just going to see a cloudy day with light rain sprinkles. How boring. Temps will be in the upper 30's early and the low 40's this afternoon. Parkdale and Odell might see snow fall from the sky, but the snow won't stick. Rainbow chances are 11%.
Tomorrow looks cloudy with occasional light sprinkles. Temps will be in the mid 30's early and low 40's in the afternoon with a few flurries possible at higher Gorge elevations. Rainbow chances are 9%.
Wednesday looks like an inversion cloud kind of day. Temps will be in the mid 30's early and the low 40's in the afternoon with no precip and no rainbows. Looks like we'll have a dry day Thursday with rain on Friday.

White Sprinter Van of the Day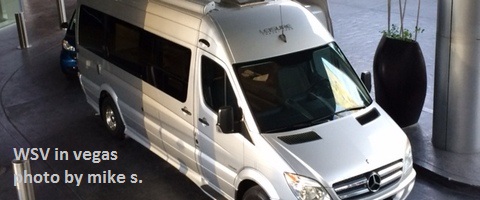 Road and Mountain Biking
My friend Megan and I went and inspected Nestor Peak (Buck Creek Trail System) for you yesterday. There's quite a bit of blowdown (sticks and branches) on the upper portion of the trail, but all-in-all, it's in great shape. It's still 2800′ of climbing to get to the top, and it hasn't gotten any easier. The fog in the old-growth section was gorgeous. So, it sounds like we have lots of good options right now: Nestor, Syncline, Whoopdee, Knebal, Surveyor's, Dog River, Oakridge, and Kitchen Sink. Since there's no snow anywhere low, I suspect Falls Creek and Lewis River are available too, but you'll have to go check that out for me. =) For you roadies, expect easterlies on your rides today and tomorrow.


The Clymb: free membership. Cheap gear.
Temira approves. Click to join.
Freshies Bagels and Juice
Hi. I'm Matt. I'm the new owner of the bagel store, now known as Freshies Bagels and Juice. I wake up at 4am every morning to boil and bake the best bagels west of the Mississippi. I was raised in Boston so I know good bagels. I use flour from wheat grown in Washington and Oregon. Local apples and veggies for the juice and smoothies. Freshies is the perfect stop before heading to the mountain or any outdoor adventure. So come on in and say hello at 13 Oak Street, 6:30am to 3pm.
Upcoming Events
Today is Monday. There's community yoga, free or by donation, at 6:30pm at Yoga Samadhi in White Salmon. Coming up tomorrow night, there's pickup touch rugby at the May Street baseball fields at 5pm. There's also $12 Prime Rib at Cebu from 5pm to 9pm. The HRATS have a BOD meeting at the fire station at 5:30, and there's a headlamp trail run at Post Canyon at 6:15. Coming up Saturday, join the folks at Dirty Fingers for their annual KringleCrawl – dress up in a Santa outfit and ride your bike to a bunch of pubs. And last but not least, Chanukah starts tomorrow night.
Have an awesome day today!
Temira