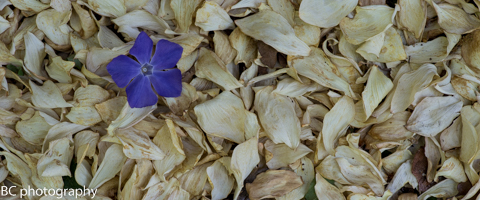 If only the ski resorts were a couple thousand feet higher, if only tree line were a couple thousand feet higher, if only the Cascades were a taller mountain range… if only… It's raining at 5000′ this morning and snowing at 6500′, and the wet weather will continue through the afternoon. The snow level will be about 6000′ early, rising to 7500′ mid-morning and dropping to 6500′ in the afternoon. Expect 1" of rain on Mt. Hood today, with the bulk of that coming before 4pm. After 4pm expect a few sprinkles and partly cloudy sky. And rainbows. Wind today will be SW 20 early rising to WSW 40 by mid-morning and W 45 in the afternoon. Continued below the chart…
Mt. Hood Snow Forecast – 5000′

4a-8a
8a-12p
12p-4p
4p-8p
8p-4a
Today
6000'–>7500
Tomorrow
4000'
The day after
5000'–>7000'
Tomorrow starts off cloudy. Flurries start around 7am, and heavier snow moves in around 10am. The snow level will be 4000′ early, 2500′ mid-morning, and 4000′ in the afternoon and evening. We'll see around .3" water value (WV) for 2-4" of snow during the day, followed by a few flurries overnight. Wind will be light and variable early and NW 15 in the afternoon.
Wednesday looks cloudy with a few sprinles or flurries, becoming dry in the afternoon. The snow level will be 5000′ early, rising to 7000′ by 4pm. Wind will be SW 25 early and SW 40 in the afternoon.
Things get ugly starting Thursday morning, as models show a 4-day Pineapple Express hitting the West Coast. The precip bullseye is still up in the air, and could be anywhere between northern Cali and the Olympics, so we'll have to wait and see. As of right now, it looks like we'll see 3-5" of rain between Thursday morning and Friday morning, followed by additional periods of heavy rain through Sunday.

Thank you for using this forecast!
Click on my photo to support it with a donation.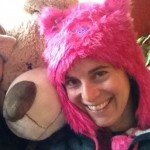 Thank you for using this forecast. Does it save you time, gas money, or help you find more wind, powder, or just plain fun stuff to do? Please make a donation to keep it going! Use it here for free or get on the mailing list for wind for the summer and Mt. Hood snow in the winter. Just click on my photo to donate. The email isn't $99/year. Not $50/year. No, just $12.34 or more gets you on the list for 12 months, and sometimes there are cool prizes. Donate via PayPal/CC by clicking on my happy photo below. Don't PayPal? You can send a check to Temira @ PO Box 841 in Hood River. Thank you for your support, and thank you for trusting my forecast. You guys mean the world to me.
---
Gorge Wind
East wind at 30-40 at Rooster this morning will die quickly, turning to west wind after 1pm. Expect a quick burst of gusty 22-25+ to slide through the Gorge, first at Swell, then Mosier, then Lyle… you get the picture. The strong wind won't last long, and will back off to 13-16 from Swell eastward. Expect light and variable wind on Tuesday. Wednesday brings east wind at 25-30+ at Rooster.

Random Morning Thoughts
I went to my friend Matt's house yesterday to watch the game, and on the way I stopped at I-84 exit 16 for gas. What is that, Wood Village? Anyway, gas was $1.89/gallon. I was both horrified and delighted; horrified because I feel that $1.89 doesn't reflect externalities (damage to climate, for example, and the fact that there really is a limited amount of oil available on the planet), and delighted because I feel free to visit my distant friends more often.
And then I started thinking about the price elasticity of demand for gasoline. It's relatively inelastic as prices rise, meaning people purchase approximately the same quantity of gasoline as prices rise. I started wondering if the elasticity is inelastic as prices fall. Do we drive approximately the same amount as prices fall, or do we start driving more? I know the price of gas affects the cars we purchase (more SUVs and pickups are sold when gas is cheap, and more high-MPG cars when gas is expensive). But what about our driving habits?
That's my project for this morning over coffee. Research elasticity of demand of gasoline. I'm also wondering if people delay purchasing gas when we're in a deflationary period with regards to gas, like people delay purchases in general deflationary periods. I bet average purchase size (not cost) goes up as people run the tank dry waiting to buy the cheapest gas possible. You can join me if Googling these things if you're curious. Or just go fill up your gas tank.

Gorge Weather
It's raining right now in the Gorge, less hard than it was raining earlier, but still raining. Expect the rain to back off as the day goes on, with dry weather this afternoon. Temps will be in the upper 30's this morning and the upper 40's this afternoon. Rainbow chances are 84%.
Tomorrow looks cloudy with a few rain showers between 10am and 4pm. Temps will be in the upper 30's early and the mid 40's in the afternoon. Rainbow chances are 17%. Expect Nothing combined with high clouds and a few sprinkles on Wednesday with temps in the mid 30's early and low 40's in the afternoon. No rainbows. Thursday and Friday look rather wet.

White Sprinter Van of the Day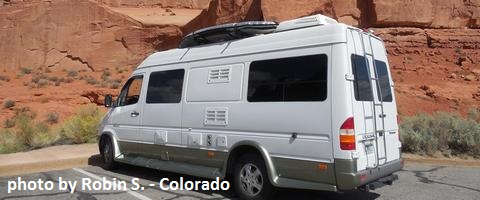 Road and Mountain Biking
There are plenty of trainer bikes at the gym. There might even be one in your living room. Perhaps you could ride that bike today? The trails are going to be too muddy to ride today, but road biking is possible this afternoon after the rain backs off. Do be prepared for moderate west winds after 1pm if you hit the pavement.


The Clymb: free membership. Cheap gear.
Temira approves. Click to join.
Upcoming Events
Coming up this evening, there's Aikido at Trinity Natural Medicine in Hood River at 5:30pm. Then there are two community yoga classes: 6pm at the Mt. Hood Town Hall and 6:30pm at Yoga Samadhi in White Salmon.
On Tuesday evening, there's pickup touch rugby at 5pm at the May Street ballfields. There's community yoga at the Mosier Senior Center at 5pm, and the tri club has a headlamp trail run in Post Canyon at 6:15pm. For food, there's $12 Prime Rib at Cebu, 241 pastas at Riverside and 241 burgers at Sixth Street.
Also tomorrow night, there's the GO Solar Launch party. Head to Full Sail to find out about getting solar installed at your home or business. As an added incentive, there's free beer and free food. 6pm-8pm.
Have an awesome day today!
Temira