The best snow forecast for Mt. Hood. The best wind forecast for the Gorge.
Support it with a contribution!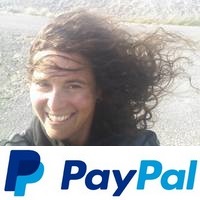 Thank you for using this forecast. Writing it takes 60-120 minutes a day; I can only keep it going with your generous financial support. Make a contribution or subscribe and get it in your inbox with bonus material. What's that cost? Not $99 a year. Nope. Not $49. Contribute $19.99 or more, and you're on the list for a year. People are added to this list on Thursday and Sunday. Thanks for your patience! Click below to contribute and keep the forecast going for everyone, nearly every day.
Credit card payments use this button
Click here to use your PayPal
Venmo: @theGorgeismyGym
Snail Mail: Temira Lital, PO Box 841, Hood River, Oregon 97031
(note: I am not a non-profit entity. The only way to accept credit cards with a user-defined amount is to use the 'donate' button. Thanks for understanding!)

Auto-renewing subscription. New! Awesome!
The Forecast
Mt. Hood Snow Forecast – 5000′

4a-8a
8a-12p
12p-4p
4p-8p
8p-4a
Monday
10000′->6000′->9000′
Tuesday
9000′->12000′
Wednesday
12000′
Mt. Hood Weather Forecast
Too-warm weather continues through the end of this week. Colder weather moves in this weekend. After that, there's quite a lot of spread in the ensembles of both models. Translate that to English, and we have this: there's no guarantee temps will fall enough for significant snowfall in the next two weeks. Looking at the probability maps for total snowfall by December 11th (about two weeks from now), we see (ECMWF/GFS)) 24" at 15%/0%, 18" at 25%/0%, and 12" at 55%/25%. In other words, the start of ski season still looks pretty far out into the future.
Monday starts with rain on the mountain, transitions to sprinkles midday, turns clear in the afternoon, and adds high clouds overnight. The snow level will be 10,000′ in the morning, 6000′-7000′ midday, and 9000′ overnight. About 0.4-0.5" rain is forecast early in the morning with just a trace after that. Wind: NW 20 in the morning, SW 10-20 in the afternoon, and W 20 overnight.
Tuesday will be high overcast early with increasing clouds. A wee bit of drizzle is possible mid morning through early afternoon. The sky will turn clear overnight. Just a trace of rain will fall. Snow level: 9000′ in the morning 11,000′ in the afternoon, and 12,000′ overnight. Wind: W 20 in the morning, WNW 35-40 in the afternoon, and W 25 after midnight.
Wednesday looks sunny and warm as 850mb temps rise to 10-11C (50F) and the freezing level shoots up to 12,000′. No precip. Wind: W 25 all day. Thursday also looks dry, but temps will start to drop as a cold front approaches from the NW. Keep doing those snow dances, and keep doing your low-elevation outdoor activities while the weather is so unseasonably warm!
Gorge Wind Forecast
The gusty and unpredictable westerlies continue Monday through Wednesday. Models suggest a better chance of consistent wind on Thursday. Monday starts with up/down 0-15 all through the Gorge with the strongest early results at Arlington. Don't chase it. The best chance is late morning to early afternoon from Stevenson to Mosier when 11-14mph is possible. River flow is 102kcfs, river temp is 49F, and high temp forecast is 56F. Tuesday brings gusty 15-20 to the far western Gorge and possibly Cascade Locks. The rest of the Gorge will be light. High temp: 53F. Wednesday starts with light westerlies. Late in the day, possibly too late, the wind picks up to gusty 11-14 from Stevenson to Mosier. High temp: 60F. No details yet on Thursday, but models suggest wind is possible as a cold front approaches from the NW.
Coast, Jones, Coast
Done until spring, unless there's an obvious Coast or Sauvie's or Jones day.
Hood River Weather Forecast
Drizzle this morning gives way to partly to mostly cloudy sky this afternoon. Temps will be in the low 50's early and mid 50's later. Light westerlies. 99% chance of rainbows. Tuesday will be partial Nothing in the morning, cloudy in the afternoon, and mostly clear overnight. Temps will be in the upper 30's early and low 50's later. Light westerlies. No rainbows. Wednesday looks sunny. Temps will be in the mid 40's early and near 60 in the afternoon. Light westerlies. No rainbows.
Looking for a complete Columbia Gorge forecast? Looking for more humor in your weather? Obscenities? You're looking for my TATAS: Temira's Awesome Travel Advisory Service on Facebook.
Cycling
FREEZE-THAW ALERT: if you notice that temps were below freezing last night and will be above freezing today, don't ride any trail that's not under a tree canopy. If you do so, you WILL do significant damage. DON'T DO IT! Plentiful rain recently means most tree-covered trails are muddy. Please don't ride them either. If you do, you'll be doing significant and possibly permanent damage. No really, please don't. There are lots of gravel roads and lots of pavement you can ride instead. Enjoy!
Local Events
Please let me know about events. I often only hear about them if you folx let me know!
Sprinter Van of the Week!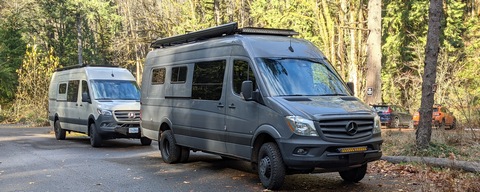 Click here for the Sprinter Van map of the world!!! Have an awesome day!