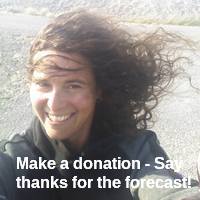 Get the email free through the end of January – try it out! Click here.

Thank you for using this forecast. I offer it freely so you can have more fun and plan your life. It does take significant time and energy to produce. If you find yourself using it often, or if you feel your life is enhanced by this information, please make a donation. I count on your support to pay my bills, and am deeply grateful to you for choosing to help support me. You can get this forecast via email by donation. The email subscription isn't $99/year. Not $50/year. Donating $12.34 or more gets you on the list for 12 months. Click on my photo to donate. Don't PayPal? Send a check to Temira @ PO Box 841 in Hood River. Thank you for your support and thank you for trusting my forecast.
Mt. Hood Snow Forecast – 5000′

4a-8a
8a-12p
12p-4p
4p-8p
8p-4a
Monday
8000′->1500′
Tuesday
1500′
Wednesday
1000′->2000′
---
Mt. Hood Snow Forecast

It's Monday, and the general picture for the week is partly cloudy today with heavy snow tonight. Tuesday and Wednesday bring additional light to moderate snowfall. Thursday starts as snow but switches to heavy rain. No agreement in the models for the weekend.
The sky will be partly cloudy today with precip moving in between 4pm and 7pm. Mountain temps will drop as the precip approaches. There may be a period of rain before the switch to snow, which complicates the forecast a bit. The snow level will be 8000′ for much of the day, 3500′ with this incoming system, and 1500′ after midnight. About 1.2-1.8" water value (WV) falls with this system, depending on how fast it moves through. My best guess is that the mountain will see 10-14" of snow tonight, possibly following 1/3" rain, and possibly not. Wind today will be SW 30 this morning building to SW 50 this this afternoon. As the weather system hits, the wind will turn to WSW 30 in the evening and WSW 40 after midnight.
Tuesday looks pretty awesome on the mountain as light to moderate orographic snowfall continues. The snow level will be 1500′ all day, making for light and fluffy snow and excellent groom. About .4" WV falls during the day, for 4-5" of snow. Another .2-.3" falls overnight, for 2-4" more. Widn will be WSW 40 during the day, W 35 in the afternoon, and W 30 overnight.
Wednesday bring slight snowfall. The snow level will be 1000′ early and 2000′ in the afternoon and evening. An inch or two falls during the day, and another inch or two of snow falls overnight. Widn will be W 30 in the morning, W 15 in the afternoon, and W 25 after midnight. Come to think of it, with the wind that light during the day, we may see sunbreaks.
Thursday's weather depends on the exact track of an incoming pineapple-fueled system. The Euro takes it more north, and the GFS takes it a bit farther south. Either way, it doesn't appear we'll be in the bullseye. That said, the current forecast contains and inch or two of rain for Mt. Hood in the 24 hour period starting Thursday morning. We'll have to wait and see how this shakes out. After that, there's disagreement in the models, so no forecast is possible.

Random Morning Thoughts
Counseling, especially long-term counseling, trauma work, and personality change, is complicated. The process involves changing how people exists in relationship with others, as well as changing how neural networks function. There are about a zillion ideas on how to do this.
One thing we seem to agree on is that we're trying to change how the brain works. We want it to automatically choose wiser, less painful courses of action. Encouraging this is a matter of wiring in new experiences. One way to approach this is by creating new experiences ourselves.
This is part of why visualization and emotion-based meditations work. They allow us to create new experiences in real time, without the need to control things we can't control (our environment, other people, etc.) You can try this yourself.
Next time you catch your mind being unpleasant, toss something nice at it. Spend a minute or two immersed in a visualization of a place where you feel safe and happy. Think about someone or something you love with all your heart (you can think about my rad cat, if you want – everyone loves her!), and let that be your world for a few moments. Do this every day, a few times a day, and your brain will start to do this automatically. It won't fix everything, but it'll give you a bit more peace and love in your life. Have an awesome day!

Disclaimer required by my grad school program: I am not your therapist, but I am seeing clients at this time at Comprehensive Healthcare in White Salmon. In the meantime, I am your weather forecaster. Take everything I say with a grain of salt, and consult with your actual therapist about your mental health issues. One other thing: I plan to keep doing this forecast indefinitely. Forecasting and counseling are both deeply meaningful and nourishing to me.

Gorge Wind Forecast
For Monday, we'll have E 15-20 near Rooster Rock until midday. The wind will then switch to westerly and pick up to gusty 18-23 everywhere (10-15 near Hood River) late afternoon. Tuesday brings W 5-10 in the western Gorge and W 12-15 east of The Dalles all day. Wednesday starts with W 0-5 in the western Gorge and W 10-13 east of The Dalles. Late in the afternoon, the wind will turn to light E.

Gorge Weather Forecast
The arrival of the Nothing on Sunday afternoon was nothing short of impressive. It's still out there today, and likely won't go away until the wind switches to westerly mid-afternoon. Temps will be in the low 40's early and low 50's this afternoon. Rain after 3pm. East wind early. West wind after 2pm. 37% chance of rainbows. Tuesday looks showery with flurries above 1500′. Temps will be in the upper 30's early and mid 40's in the afternoon. Light west wind. 99.99% chance of rainbows. Watch for icy roads Tuesday night. Wednesday looks mostly clear to start with icy roads likely. There will be sprinkles during the day and mist in the late afternoon with flurries above 2000′. Temps will be in the mid 30's early and mid 40's in the afternoon. Light west wind switches to light east in the afternoon. 87% chance of rainbows.
For weather specifically directed at travel through the Gorge, please visit Temira's Awesome Travel Advisory Service on Facebook.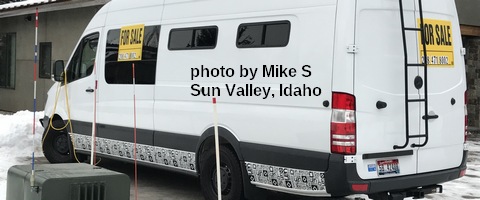 Road and Mountain Biking
Post Canyon is currently closed to all users to protect the trails from damage. Whoopdee is closed to bikes and horses for the same reason. Syncline remains mobbed. I'm not sure about the upper half of Nestor, but the Horse Camp section is in good shape with one tree down.

Upcoming Events
Coming up today, there's meditation at noon at Trinity Natural Medicine. There's $5 Tai Chi at the Hood River Adult Center at 2:30. This evening at 6pm, there's community yoga at Samadhi in White Salmon. At 6:30, there's community yoga at the Mt. Hood Town Hall and community Zumba at St. Francis House in Odell. There's YogaFaith (Christ-centered yoga) in The Dalles at 6:45pm.

Click here for the full events calendar.
Have an awesome day today!
Temira