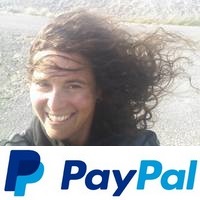 Click on the image above to make a donation. Or, try it out! Get the email version free through the end of June – try it out! Click here.

Thank you for using this forecast. I offer it freely so you can have more fun and plan your life. It does take significant time and energy to produce. If you find yourself using it often, or if you feel your life is enhanced by this information, please make a donation. Click right here to donate. I count on your support to pay my bills, and am deeply grateful to you for choosing to help support me. You can get this forecast via email by donation. The email subscription isn't $99/year. Not $50/year. Donating $12.34 or more gets you on the list for 12 months. Don't PayPal? Send a check to Temira @ PO Box 841 in Hood River. Thank you for your support and thank you for trusting my forecast.
Today's Gorge Wind – these are ranges for the average speed, not a predicted wind range. =)

Your favorite beach
Dawn
Patrol
9am-
11:30a
11:30a-
3pm
3pm-
dusk
Rooster Rock
don't
forget
bun-
screen!
Steven's Locks
5-10
5-10
10-13
10-13
Hatchery/Wunderbar
5-10
5-10
10-13
10-13
Doug's, Lyle, Rowena
5-10
5-10
5-10
5-10
Rufus, etc.
10-13
5-10
light
light
Roosevelt, etc.
10-13
5-10
light
light
Gorge Wind Forecast
I'm thinking it would be so super-awesome if we could just get ourselves into that Classic Gorge Setup. You know, steady high pressure offshore. Marine clouds in Portland. Heat low in the desert. But no, no, alas, that is not to be. It's so not to be that I went to Big Winds yesterday to do some SUP shopping. You may want to do the same.
So, for Monday, we have .04 (pdx-dls) and .05 (dls-psc) to start the day and wind in the single digits to low teens through the whole Gorge. River temp is 59 degrees. Flow is 309kcfs. High pressure builds inland this afternoon, minimizing the cross-Cascade gradients. With desert temps predicted to be lower than Portland temps, we're not going to get much heat assist today. I think we'll hold on to 9-13 from Stevenson to Mosier today, but that's about it.
Tuesday starts with east wind at 20-25 from Rooster to Home Valley with 10-15 at Viento and 0-5 east of there. The wind fades to nothing by noon and then picks up out of the west. By early evening, we'll have W 10-13 from Stevenson to Mosier ahead of an approaching frontal system. The wind will continue to increase into the dark hours, so please do bring your garbage cans inside.
A weak cold front intrudes upon the Gorge Wednesday morning along with a trough of low pressure. Showers and clouds start the day west of Mosier. We'll have W 5-10 in the west and W 14-17 east of Mosier to start the day. If the GFS is correct (and the ECMWF also agrees), offshore high pressure in the afternoon with combine with low pressure in the desert for 25-29+ from Lyle to Arlington, likely strongest near Doug's and Avery, perhaps also at Rufus.
Looking long-range, models are all over the place on wind speeds, but the general picture seems to be increasing heat. Offshore high pressure and hot weather in the desert combined with northerly flow will likely give us some sort of westerlies through the weekend. Fingers crossed.
BONUS: Jones Monday: 13-16. Tuesday: 24-27. Wednesday: 5-10. Sauvie's Monday: 12-15 late. Tuesday: 7-10 late. Wednesday: X. Coast (north/central/south). Monday: 20-25/25-30/25-30, W 4′ @ 9. Tuesday: W5/NW5/25-20, W 4′ @ 10. Wednesday: NW5/NW5/N 20-25+, W 5′ @ 11.

Random Morning Thoughts
The random morning thoughts are currently on vacation!

Mt. Hood Mountain Weather Forecast
Mt. Adams looks very pretty this morning with a dusting of new snow. The weather on Mt. Hood will be clear today. Free air freezing level (FAF) 5500′ early, 8000′ this afternoon, 12,000′ overnight. Wind: NW 20 early, W 5 this afternoon, light and variable overnight. Tuesday looks clear and dry. FAF: 12,000′. Wind: light and variable early, SW 15 in the afternoon, SW 30 overnight. Wednesday starts partly cloudy and turns increasingly cloudy with light rain during the day and flurries after midnight. The snow level will be 13,000′ early, plummeting to 4000′ after midnight. Up to 1/4" moisture falls, mostly as rain. Wind will be SW 30 in the morning, W 30 in the afternoon, and NW 20 overnight.

Gorge Weather Forecast
Monday looks sunny. Temps will be in the mid 40's early and low 70's later. Light westerlies. No rainbows. Tuesday looks sunny. Temps will be in the low 40's early and low 80's in the afternoon. East wind in the morning. West wind in the afternoon. No rainbows. Wednesday starts partly cloudy and turns sprinkly. Temps will be in the low 50's early and low 70's later. Moderate westerlies. 68% chance of rainbows. Looking long-range, models have us in the 80's this weekend. The Euro has temps soaring to 100 by the middle of next week.
For weather specifically directed at travel through the Gorge, please visit Temira's Awesome Travel Advisory Service on Facebook.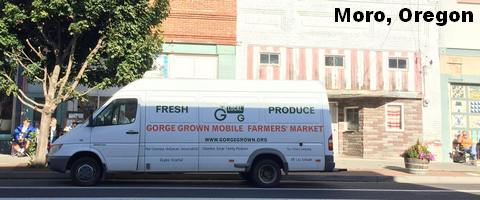 Click here for the White Sprinter Van map of the world!!!
Road and Mountain Biking
I took a short lap in Post last night, and it's tackier than it was. Reports are that the higher up you go, the more rain fell, and therefore the better the conditions. Get it right now before it dries out again! In other news, remaining not open or unknown trails are: Huffman, Gunsight, Boulder Lakes, Plains of Abraham and High Prairie (450 is open with one tree down). In road bike news, Tuesday looks epic: light wind and sunshine.

Upcoming Events
Today's events include meditation at Trinity Natural medicine at noon and $5 Tai Chi at the Hood River Adult Center at 2:30. HAVEN has a weekly stress-reduction class at 5:30, there's free yoga at Samadhi in White Salmon at 6, pickup kickball in Bingen at Daubenspeck Park at 6, and Zumba at Mid-Valley elementary at 6:30.
This weekend is full of events. Trailkeepers of Oregon has work parties on Wygant Peak on Saturday and Sunday. They need as many volunteers as possible. Trailkeepers also runs parties in the Eagle Creek burn area – sign up for their mailing list to get access.
Other events Saturday include the annual White Salmon Backyard Half Marathon – as always, a big thanks goes out to the Kreps Family for the use of their land. Saturday's the A-Town Throwdown Kite, windsurf, and SUP competition in Arlington and the Gorge Ride from the Discovery Center in The Dalles. That last one is a road bike ride benefiting the Historic Columbia River Highway Trail.

Click here for the full events calendar.
Have an awesome day today!
Temira