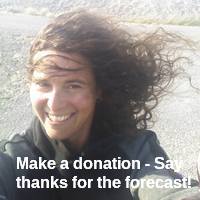 Get the email free through the end of January – try it out! Click here.

Thank you for using this forecast. I offer it freely so you can have more fun and plan your life. It does take significant time and energy to produce. If you find yourself using it often, or if you feel your life is enhanced by this information, please make a donation. I count on your support to pay my bills, and am deeply grateful to you for choosing to help support me. You can get this forecast via email by donation. The email subscription isn't $99/year. Not $50/year. Donating $12.34 or more gets you on the list for 12 months. Click on my photo to donate. Don't PayPal? Send a check to Temira @ PO Box 841 in Hood River. Thank you for your support and thank you for trusting my forecast.
Mt. Hood Snow Forecast – 5000′

4a-8a
8a-12p
12p-4p
4p-8p
8p-4a
Monday
500′->6000′
Tuesday
8000′->500′
Wednesday
500′->1500′->1000′
---
Mt. Hood Snow Forecast

A few snowflakes are falling on Mt. Hood this morning (it happens to be Monday). The sky will clear today and be sunny on Tuesday. Snowfall starts up early Wednesday morning and continues through Thursday. Light snowfall, but snowfall! Things get interesting for both the mountain and the lowlands next week, should the long-range forecast hold.
For Monday, expect a few clouds and flurries early with sunshine by late morning. The snow level will be about 1000′. No accumulation. Wind will be NE 20-25 all day and N 10 overnight.
Tuesday starts off clear. High clouds in the afternoon lead to a pretty sunset. Light snowfall starts up about 1am. The free air freezing level will be 6000-8000′ during the day and the snow level will be around 500-1000′ when the precip arrives around 1am. About 1" of snow will fall overnight. Widn will be N 10 early, W 15 in the afternoon, and W 40-45 after midnight.
Wednesday looks snowy. The snow level will be 500-1000′ early, 1500′ in the afternoon, and 1000′ after midnight. Models disagree on snow amounts. Somewhere between 3-9" is possible by Thursday morning. I'd lean toward the lower end of that. Wind will be W 40-45 during the day, and NW 25-30 in the afternoon and evening.
Light snowfall continues on Thursday. The snow level will be 1000′ early, 1500′ in the afternoon, and 1000′ overnight. Another inch or so falls during the day with light flurries overnight. Wind will be NW 30 in the morning, NW 20 in the afternoon, and NW 25 after midnight.
Looking long-range (into the inaccurate forecast zone), we have very strong wind on Saturday. We'll also have moderate to heavy snowfall both Saturday and Sunday. Models agree on this, and also on a descent into a frigid spell for the lowlands next week.

Random Morning Thoughts
Over the weekend I replaced a wheelbarrow arm, changed a rotor on my bike, and installed a thermostat. I felt very productive, and I also felt very competent. As I was reflecting on all this, I starting thinking about how often we don't tackle things because they are outside our comfort zone or far from our past experiences. Sometimes we just assume that we have to hire someone else to do the task for us!
Can you notice when you automatically make an assumption that a task is beyond your ability? Just notice. Your assumption might be true (pouring a new foundation for your house) or it might be false (changing the oil on your car). You don't have to do the task. Just see if you can use wisdom to determine whether you could.
Next, see if you can actually do one of those tasks. Fix some holes in the wall. Hook up a new printer to your network. Change your oil. Clean out the dryer vent hose. Wire in some aftermarket seat heaters (I swear I am going to do that next summer!). After you do this new task, notice your sense of competence and confidence. Has it changed? Now think about what else might be possible… May you be skillful and happy. Have an awesome day.

Disclaimer required by my grad school program: I am not your therapist, but I am seeing clients at this time at Comprehensive Healthcare in White Salmon. In the meantime, I am your weather forecaster. Take everything I say with a grain of salt, and consult with your actual therapist about your mental health issues. One other thing: I plan to keep doing this forecast indefinitely. Forecasting and counseling are both deeply meaningful and nourishing to me.

Gorge Wind Forecast
For Monday, we'll have east wind at 20-25 near Rooster and Stevenson in the morning and E 10-15 in the afternoon. Tuesday starts with E 20-25. A weak afternoon weather system turns the wind around to W 10-13. Wednesday starts with W 7-10 and picks up to gusty W 24-28 from Stevenson to Maryhill. The cause of the Wednesday afternoon wind is the exiting of Tuesday's front combined with offshore high pressure at 1035mb.

Gorge Weather Forecast
It seems to be partly to mostly cloudy out there. We should have sunshine later. Temps will be in the mid 30's early and mid 40's in the afternoon. East wind. No rainbows. Tuesday looks clear in the morning with high clouds and a lovely sunset in the afternoon. Temps will be in the mid 20's early and near 50 in the afternoon. East wind in the morning. West wind in the afternoon. Sprinkles after midnight. No rainbows. Wednesday sees light rain, possibly mixed with snow. Snow level 500′ early and 1500′ in the afternoon. Temps will be just above freezing early and in the upper 40's in the afternoon. Light westerlies early, strong westerlies in the afternoon. 99% chance of rainbows.
For weather specifically directed at travel through the Gorge, please visit Temira's Awesome Travel Advisory Service on Facebook.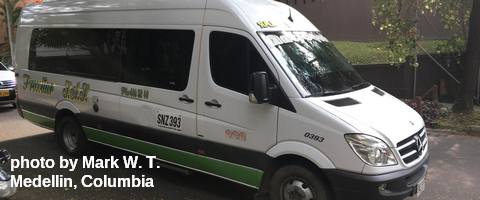 White Sprinter Van map of the world!!!
Road and Mountain Biking
Post Canyon was amazing yesterday. Get it today, because freeze-thaw conditions Monday night and Tuesday night mean you should stay off any trails that pass through areas not under the canopy. Basically, that means you should only ride Buck Creek or Nestor Peak until we are out of the freeze-thaw cycle. Another option is to ride up the road and come down Mitchell Ridge. If you ride Syncline or other areas exposed to open air on Tuesday, you will find your bike covered in sticky mud and you will regret your actions, as well as cause massive damage to the trails!

Upcoming Events
Coming up today, there's meditation at noon at Trinity Natural Medicine. There's $5 Tai Chi at the Hood River Adult Center at 2:30. This evening at 6pm, there's community yoga at Samadhi in White Salmon. At 6:30, there's community yoga at the Mt. Hood Town Hall and community Zumba at St. Francis House in Odell. There's YogaFaith (Christ-centered yoga) in The Dalles at 6:45pm.

Click here for the full events calendar.
Have an awesome day today!
Temira