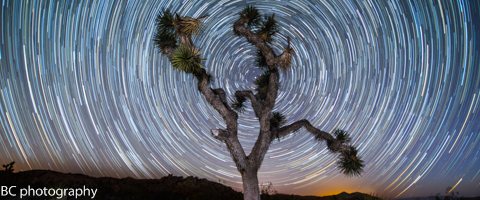 See what I mean about the forecast models being difficult to interpret this time of year? I thought we'd see a couple inches of snow last night. Instead, we saw 5". That's a big difference. It's enough new snow, and it was cold enough last night (in the teens and low 20's), that the riding should be pretty darn good today. Lucky Washington spring breakers… Continued after the chart…
Mt. Hood Snow Forecast – 5000′

4a-8a
8a-12p
12p-4p
4p-8p
8p-4a
Today
1500'–>3500'
Tomorrow
3000'–>5500'
The day after
5500'
Expect a partly cloudy day today, with plenty of sun in the morning and increasing clouds in the afternoon with snow flurries possible after 2pm and likely after midnight. The snow level will be 1500′ early and 3500′ this afternoon. We'll see .1-.2" water value tonight, for 1-2" of new snow. Wind today will be W 20 early, fading to light and variable in the afternoon and becoming SW 25 after midnight.
Tomorrow starts off cloudy with light snowfall. The snow should end by 5pm. The snow level will be 3000′ early and 5500′ in the afternoon. We'll see .1-.2" water value, giving us another 1-2" of new snow. Wind will be S 25 early and light E in the afternoon.
Wednesday looks partly cloudy at daybreak and clear by mid-morning. The free air freezing level (FAF) will be 5500′ 'all day. Wind on Wednesday will be NW 10-15. Thursday looks sunny with the FAF at 5000′ early and 6500' in the afternoon. The next snowstorm is scheduled for late Friday night or Saturday during the day.

Donate and keep the forecast going!
(contribute to Temira's grad school, bike repair and coffee fund)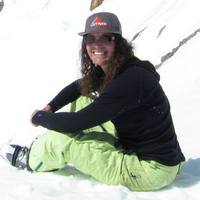 Thank you for using this forecast. Does it save you time, gas money, or help you have more fun in your life? Make a donation! Get your forecast here for free or donate and get on the mailing list for year-round wind forecasts and ski season snow forecasts. Just click on my photo to donate via PayPal or credit card. The email isn't $99/year. Not $50/year. No, just $12.34 or more gets you on the list for 12 months, and sometimes there are cool prizes. Don't PayPal? Send a check to Temira @ PO Box 841 in Hood River. Thank you for your support, and thank you for trusting my forecast.
---
Gorge Wind
It's a light and variable (LTV) start to the day on the Columbia River. Expect that for much of the day with W 10-13 in the afternoon from Steven's Locks to Mosier. Tomorrow starts with E 15-18 at Rooster, with less at Stevenson and no wind at all near Hood River. By afternoon, we'll see light and variable conditions through the whole Gorge. Wednesday starts with W 13-16 from Hood River to The Dalles and picks up to W 20-23 from Steven's Locks to The Dalles in the afternoon. Expect LTV wind on Thursday.

Random Morning Thoughts
I just got off the phone with my best friend. She lives in Michigan, and she's driving through Kansas with her boyfriend right now. We've been friends since the late '80's. That's a long time. And we got into a short chat about what makes friendships last. I told her I wasn't going to talk about it, because I didn't have a clue. But I think I do have an idea about something similar.
Our brains (the brain in our head and the neurons in our bodies), have a certain level of integration (connection between parts). That level depends on what we've been through in our lives, our early relationship with our parents, and the work we've done on ourselves. I suspect that the closest relationships in our lives reflect our level of integration. We tend to be around people who are integrated to the same level we are.
By this theory, if you want to have friends who are more capable of intimacy, more capable of empathy, more capable of connection, and more capable of insight, the best way to do that is to work to understand and be more connected with yourself If you do, you'll be drawn to people with the same level of integration you have. That's my theory. I'm sticking with it. Now go meditate.

Gorge Weather Forecast
It's high overcast and partly cloudy outside my house today. You can expect a partly cloudy day with sun midday and increasing clouds in the afternoon with a very slight chance of showers after 2pm. Temps will be in the low 40's this morning and upper 50's this afternoon. Light W wind, 1% chance of rainbows.
Tomorrow starts off mostly cloudy with a chance of a few sprinkles. The clouds will stick around all day. Temps will be in the low 40's early and the low 60's in the afternoon. Light wind. No rainbows. Wednesday looks mostly clear. Temps will be in the low 40's early and the low 60's in the afternoon. Moderate W wind. No rainbows.

White Sprinter Van of the Day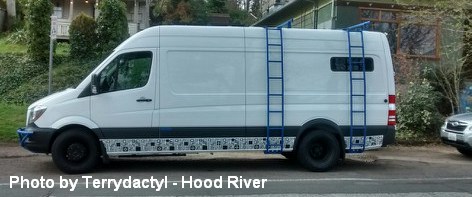 Road and Mountain Biking
There's a lot of good dirt out there right now: Syncline, Post, Hospital, Kitchen Sink, and Columbia Hills. With the snow level down around 2000′ last night, I wonder about Falls Creek, 8 Mile, Knebal, Sioxon, Lewis River, and the other higher-elevation trails. Guess you'll have to go check them out or ride down here at sea level where you know it's good! In road biking news, you'll want to ride the valley and check out the blossoms ASAP, because the leaves are growing and ruining the sea-of-white effect. Today and tomorrow both look great for road riding with light wind and highs in the upper 50's.


The Clymb: free membership. Cheap gear.
Temira approves. Click to join.
Upcoming Events
Coming up today, there's Tai Chi at the Mt. Hood Town Hall at 1pm. There's Aikido at Trinity at 5:30pm, there's community yoga at the Mt. Hood Town Hall at 6, and there's community yoga at Yoga Samadhi at 6:30.
Coming up tomorrow, there's community yoga at Flow at 8am. There's pickup touch rugby at the May Street ball fields at 5pm, and there's a trail run at Post Canyon at 6:15pm. Following all that, you can eat Prime Rib at Cebu for $12 from 5pm-9pm.
Have an awesome day today!
Temira