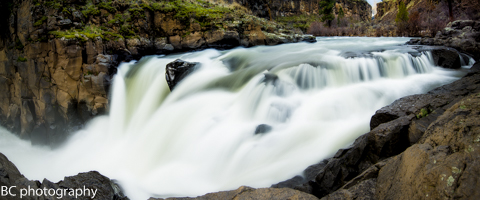 There is a bit of gradient across the Cascades this morning, but the unstable atmosphere is keeping the air movement from coalescing at river level. Instead, that .05 (pdx-dls) is scattered all over the place, leaving us with light and variable wind on the water. It looks like we'll see light and variable wind, maybe 5-10 for much of the day, picking up to unreliable 10-13 from Stevenson to The Dalles this afternoon. It's probably best to not make wind-related plans today, as afternoon thunderstorms could affect the wind in unpredictable ways. River water temp is currently 57 degrees. Continued after the chart.
Today's Gorge Wind – these are ranges for the average speed, not a predicted wind range. =)

Your favorite beach
Dawn
Patrol
9am-
11:30a
11:30a-
3pm
3pm-
dusk
Rooster's Rocks
tan in
the bare
if you
dare
Steven's Locks
LTV
LTV
10-13
thunder n'
rain
Hatchery/White Salmon Sandbar (minus a few for Hood River)
LTV
LTV
10-13
thunder n'
rain
Doug's, Lyle, Rowena
LTV
LTV
10-13
thunder n'
rain
Rufus, etc.
LTV
LTV
LTV
LTV
Roosevelt, etc.
LTV
LTV
LTV
LTV
Gorge Wind forecast, continued…
Tomorrow brings a better chance for you to get on the water as offshore high pressure combines with a coastal trough and a desert heat low to create a solid marine layer in Portland and synoptic-scale (big picture) westerly gradients. The cloud line tomorrow, of course, will determine the exact location of the wind. My best guess is 14-17 early from Swell to Mosier, 17-21 midday from Stevenson to Mosier, and gusty 24-28 mid-afternoon on from Swell (dying to 18-22 late afternoon, as usual) to Doug's or maybe even as far as Avery.
Wednesday currently looks like a stronger start, with Dawn Patrol at 23-26 from Hood River to Mosier. Wednesday afternoon looks like 24-28. And in a bright piece of forecasting news, this weather setup looks to last all the way through next Sunday. That's a long ways out to be making predictions, but as of now, it looks like a windy week in the Gorge.

Support the forecast!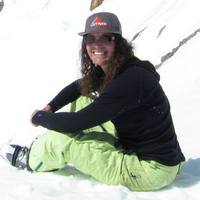 Thank you for using this forecast. Does it save you time, gas money, or help you have more fun in your life? Make a donation! Get your forecast here for free or donate and get on the mailing list for year-round wind forecasts and ski season snow forecasts. Just click on my photo to donate via PayPal or credit card. The email isn't $99/year. Not $50/year. No, just $12.34 or more gets you on the list for 12 months, and sometimes there are cool prizes. Don't PayPal? Send a check to Temira @ PO Box 841 in Hood River. Thank you for your support, and thank you for trusting my forecast.
---
Mt. Hood Snow Forecast
Nothing to say here today.

Random Morning Thoughts
I'm still thinking a lot about the training I took this weekend. It had a profound effect on me. Here's the interesting thing: the topic of this training (Hakomi) had come up in many circumstances over the last couple of months, but, generally speaking, people were speaking of it dismissively or with a hint of derision and fear.
Had I listened to the opinions or unspoken feelings of these folks, I wouldn't have attended the training. Instead, I read a little more on my own and realized that I felt drawn to the teachings. I made the decision to sign up. Hakomi feels like home to me; it speaks to my entire soul and way of living.
This is a good reminder to me that our social circle, even those closest to us, may not be drawn to the same things we are. It's so important to live with untainted curiosity and the motivation to explore the world. Our friends' passions may be the same as ours. They may not. And the things our friends shy away from may be that way for us, or those same things may end up being our life's calling. Keep an open mind, follow your curiosity, and explore your world. You never know what you'll find…

Gorge Weather Forecast
It's partly cloudy and muggy this morning due to SE flow wrapping around offshore low pressure. Lots of factors today will combine for a very good chance of afternoon thunderstorms and possible periods of heavy rain and/or hail. Temps will be in the low 50's early and the upper 70's this afternoon. Light wind. 38% chance of rainbows. 100% chance of mugginess.
Tomorrow sees a marine layer push in for a very different feel to the day. Temps will be in the mid 50's early and the low 70's in the afternoon under mostly sunny sky. Moderate wind, no rainbows. Wednesday looks a lot like Tuesday: Temps in the low 50's early, mid 70's in the afternoon with moderate to strong wind and no rainbows.

White Sprinter Van of the Day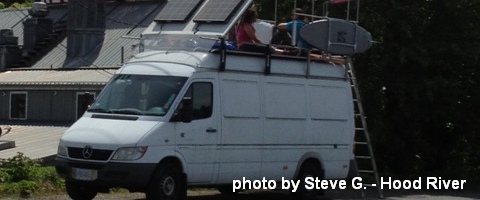 Road and Mountain Biking
I swear someone gave me some trail information yesterday, but I can't remember what it was. So we'll just have a recap: Everything except Gunsight is open. Not sure about Boulder Lakes. In road biking news, McKenzie Pass is currently open to bikes-not-cars, so get that before all the snow is gone. And in more important trail news, you really do not want to be in the mountains this afternoon, because it's almost certain you'll get 1) drenched 2) have a close-up experience with a thunderstorm.


The Clymb: free membership. Cheap gear.
Temira approves. Click to join.
Upcoming Events
Today's events include Tai Chi at the Mt. Hood Town Hall at 1pm. There are two community yoga classes tonight at 6:30. They are free or by donation. One's at the Mt. Hood Town Hall and the other is at Yoga Samadhi.
Coming up tomorrow, there's pickup rugby at 5pm at the Hood River Marina, triathlon practice at 6:15 at Mayer Park in Rowena, and there's community yoga at the Mosier Senior Center at 7pm. There's also meditation with the monks from Pacific Hermitage at Yoga Samadhi at 6:30pm.
Coming up this weekend, our local girls mountain bike team, the Dirty Harlots, have a car wash at Dirty Fingers on Saturday. There's a kiteboarding swap meet at Windance on Saturday evening.
Have an awesome day today!
Temira