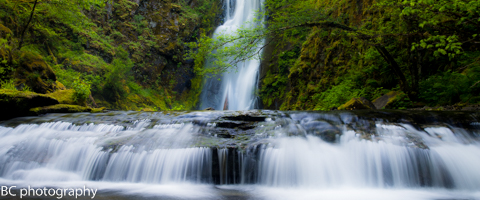 Random Morning Thoughts
I sat here for ten or fifteen minutes this morning trying to figure out what to say. I've got nothing. Nothing deep. Nothing jovial. Not even anything nonsensical. I suspect that means I need a day off. Or maybe it has something to do with the two hours I spend last night writing essays about myself for scholarship applications. Blech. Anyway. I got nothing. Maybe that just means I'd better spend some time in the sun recharging today, instead of spending so much time in front of the computer screen. Let's all agree to get some sun today, okay?

Thank you for using this forecast!
Click on my photo to support it with a donation.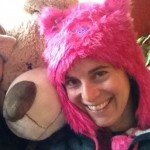 Thank you for using this forecast. Does it save you time, gas money, or help you find more wind, powder, or just plain fun stuff to do? Please make a donation to keep it going! Use it here for free or get on the mailing list for wind for the summer and Mt. Hood snow in the winter. Just click on my photo to donate. The email isn't $99/year. Not $50/year. No, just $12.34 or more gets you on the list for 12 months, and sometimes there are cool prizes. Donate via PayPal/CC by clicking on my happy photo below. Don't PayPal? You can send a check to Temira @ PO Box 841 in Hood River. Thank you for your support, and thank you for trusting my forecast. You guys mean the world to me.
---
Mt. Hood Snow Forecast – 5000′

4a-8a
8a-12p
12p-4p
4p-8p
8p-4a
Today
Tomorrow
The day after
Mt. Hood Snow
Writing this snow forecast is making me want to add a shot of whisky to my coffee, except I'm not much of a drinker, and I'd just end up feeling queasy and depressed, instead of simply depressed. Anyway, today, at least, looks beautiful on Mt. Hood. That's something to smile about! Looks like a great day to put on the least amount of clothes you can stand in 50 degrees and get some sunshine and vitamin D.
It'll be a clear day on Mt. Hood. The free air freezing level (FAF) will be above 10,000′. Wind will be SW 15-20 all day. Temps at 5000′ will be right around 50 degrees all day long.
Tuesday will start off with wispy high clouds, probably leading to a pretty sunrise. More clouds move in during the day, and a little bit of precip falls after 4pm, continuing through Wednesday morning. The freezing level will be 10,000′ early, dropping to 8000′ in the afternoon and falling to 5500′ by Wednesday morning. We'll probably see no more than .1" water value (WV), which will fall as sprinkles, switching to wet snowflakes late. Wind will be SW 20 all day, swinging to WSW 20 after 4pm.
Wednesday looks cloudy with a few snowflakes or sprinkles. The snow level will be 6000′ in the morning, rising to 6500′ after 4pm, when the sky will clear. Total precip will be .1-.2" WV or less, for an inch of snow if we're really, really lucky. More likely we'll just see sprinkles. Wind will be light and variable on Wednesday.
Looks like we'll go back to sunny weather on Thursday. The next weather system is forecast for Sunday, and at this point, it looks warm and wet.

Gorge Wind
I'm so sorry, but it's NOT nuking in the Gorge this morning. iWind/iKite is reporting a measly 37mph at Rooster and 17 at Steven's Locks with an E .13 gradient. That east wind will fade quickly today, with light east wind at less than 10mph this afternoon. Expect west wind at 10-13 tomorrow morning from Swell to The Dalles, picking up to 13-16 from Steven's Locks to Mosier in the afternoon and 19-23 at the Lyle-Doug's stretch of river. We'll see light and variable wind on Wednesday becoming E 5-10 in the afternoon.

Gorge Weather
This is the part of the forecast where I get up and go outside. I just did that, and when I looked up, I saw Nothing. So, expect Nothing this morning and sunshine this afternoon. Temps will be in the low 40's early and the low 50's in the afternoon. Tomorrow starts with Nothing, but the nothing should break up quickly as a weak weather system spreads high clouds into the PNW. We may (or may not) see just a few sprinkles after 4pm. Temps will be in the low 40's early and the low 50's in the afternoon. Wednesday looks cloudy with a few sprinkles possible. Temps will be in the low 40's early and the low 50's in the afternoon. Rainbow chances are 4%.

White Sprinter Van of the Day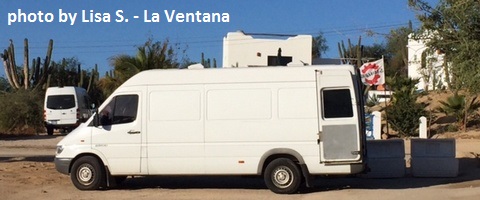 Road and Mountain Biking
I had another report yesterday that the upper half of Post was full-on tack alert. Same goes for Syncline. The Gorge 400 is a little bit wet. No report from Whoopdee yesterday. Anyone? The road biking, I am sure, was epic yesterday, and should be good today with the afternoon sunshine and light wind.


The Clymb: free membership. Cheap gear.
Temira approves. Click to join.
Upcoming Events
Coming up tonight, there's Aikido at Trinity Natural Medicine in Hood River at 5:30. There are also two community yoga classes on Monday night: 6pm at the Mt. Hood Town Hall and 6:30pm at Yoga Samadhi in White Salmon. If you need something to do on Tuesday night, there's $12 Prime Rib at Cebu, Two-for-Tuesday at Sixth Street, a trail run at 6:15pm at Post (bring a headlamp), and community yoga at 5pm at the Mosier Senior Center. If you would like to go to Paco's memorial service (I wonder what percentage of the cars will be Toyotas and Subarus?), it's at Anderson's Tribute Center at 6pm on Wednesday.
Have an awesome day today!
Temira