Random Morning Thoughts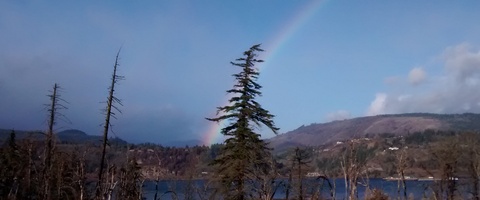 I told you yesterday about my Friday drenching on Emerson Loop Road. Yesterday I went out to The Dalles again to ride with my friend Megan. We reached the halfway point in the loop and stopped to look at the radar image. "Oh s**t," I said, seeing a massive yellow and orange blob headed our way. We cut the ride short, and the blob never moved further south or east.
We stayed dry. We stayed so dry that we ended up taking an extra lap up Emerson and playing with tumbleweeds. Actually, I played with the tumbleweeds, tossing the biggest I could find into the road to tumble away in the whipping wind. Megan just laughed at my silliness. Anyway, here are today's story morals: 1) the weather forecast doesn't know s**t. 2) When you see a huge storm coming on the horizon, stop and toss tumbleweeds into the wind, because laughter in the face of adversity will make you feel just a little better.

Thank you for using this forecast!
Please donate to support it!
Thank you to everyone for using this forecast. Does it save you time, gas money, or help you find more wind, powder, or just plain fun stuff to do? Please consider making a donation to keep it going! Use it here for free or make a donation and get on the mailing list for wind for the summer and Mt. Hood snow in the winter. It's not $99/year. Not $50/year. No, just $12.34 or more gets you on the list for 12 months. Do it via PayPal/CC by clicking on my happy photo below. Don't PayPal? You can send a check to Temira @ PO Box 841 in Hood River. Thank you for your support, and thank you for trusting my forecast. You guys mean the world to me.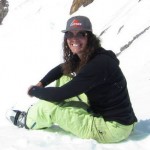 ---
Mt. Hood Snow Forecast – 5000′

4a-8a
8a-12p
12p-4p
4p-8p
8p-4a
Today
Tomorrow
The next day
Mt. Hood Snow
Just a quick heads up that Meadows is not allowing hiking in the resort starting today. But you can shred some of their lifts. Or you can hike on the paths outside their boundary.
As of 7am, it was snowing lightly on Mt. Hood. The snow level, around 4500′ early, will rise to 5000′ this afternoon. Expect flurries this morning, followed by heavier snow after noon, for .5" water value (WV) today and 3-5" of new snow. The wind will pick up as the day goes on, hitting W 40 by mid-morning, WSW 35-45 midday and WNW 40-50 in the afternoon.
Tomorrow looks clear or partly cloudy in the morning with clouds in the afternoon and a few showers overnight. The snow level will be 3500′ early, 5000′ midday and 7500′ overnight. Expect .2" WV to fall as rain sprinkles between 7pm Monday and 4am Tuesday. Wind will be WNW 20 in the morning, SW 15 midday and W 40 overnight.
A ridge of high pressure builds off the coast on Tuesday and an upper level low swings across BC, much further north than in predictions from a few days ago. That's a good thing, because we'll be spared the drenching rain and pounding wind that the north WA Cascades and BC are going to receive. Expect the snow level to be 10,000′-12,000′ on Tuesday with a few sprinkles, perhaps up to .3" WV. The wind will still be strong, but not as bad as it will be at Mt. Baker. Watch their telemetry for entertainment. We'll get W 40 in the morning and WNW 50 in the afternoon. Wednesday looks clear and warm.
Models are having some disagreements about the latter half of the week. It currently looks quite warm, with temps near 40 degrees at 5000′ on Thursday and Friday, with showers likely Thursday and significant rainfall possible on Friday. Stay tuned as we get closer for more details.

Gorge Wind
We did start our Sunday with a bit of west gradient: .04 (pdx-dls) and .04 (dls-psc). We'll see the westerlies pick up after 1pm as a cold front moves into our area. Expect gusty 26-30 east of The Dalles this afternoon. Tomorrow brings light and variable wind to the Gorge. On Tuesday, a low pressure system moves into BC. That combines with high pressure off the Oregon Coast for west wind at 26-30, hopefully. Location is still TBD. River water temp is 48 degrees. That happens to be the same as the air temp in Hood River this morning, FYI.

Gorge Weather
I definitely underestimated the chance of rainbows yesterday. I saw lots of them, meaning that the chance of rainbows was well over 100%. Thank you to all of you who sent me rainbow photos and photos of Sprinter Vans with rainbows. You have no idea how much that means to me!
On to today's forecast: it was a cloudy start with a few showers. That's the forecast for this morning, with a few sunbreaks possible. The next weather system moves in from the north this afternoon, for heavier rain after 1pm. Temps will be in the upper 40's all day. Rainbow chances are 88%.
Tomorrow starts with low clouds. We may see the clouds break up, and we may not, so expect sunbreaks at best with a few showers late in the day and overnight. Temps will be in the upper 30's early and the upper 40's in the afternoon. Rainbows are unlikely due to lack of rain.
Tuesday sees a ridge of high pressure holding over Oregon. With west wind on the river, a partly cloudy day is likely, and so are a few sprinkles. Temps will be in the upper 30's early and low 50's in the afternoon. Rainbow chances are 68%. Wednesday looks dry. Long-range models suggest rain on Thursday and Friday and the possibility of another Arctic blast for the Gorge on the weekend. I'm hoping that disappears from the models before next weekend arrives!

White Sprinter Van of the Day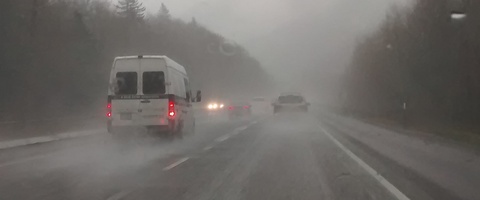 Road and Mountain Biking
I'm finding myself wondering what the Kitchen Sink looks like right now. Probably muddy and snowy, but there's something appealing about that. I'm going to stop thinking about that and think about going for a trail jog or a road ride in The Dalles. Maybe. Maybe I'll keep thinking about the Sink.


The Clymb: free membership. Cheap gear.
Temira approves. Click to join.
Riverside / Cebu Thanksgiving Dinner!!! Yummy!!!
Enjoy Thanksgiving dinner at Riverside so you can play hard on Thanksgiving Day! Delicious plated dinners served from 11:30 am to 9 pm. Menu includes Thanksgiving Turkey dinner with all the trimmings, Prime Rib, Columbia King Salmon or Vegetarian Thanksgiving, with appropriate side dishes. (Gluten-free or other dietary restrictions always happily accommodated!) Reservations are recommended. Call 541-386-4410 or visit www.riversidehoodriver.com for the complete menu. Happy Thanksgiving!
Upcoming Events
It is Sunday, and that means you can shred Buttercup and EZ and a jib park at Meadows from 11-4. Or you can go tubing at Skibowl. You could also go to community yoga in White Salmon at Yoga Samadhi at 9am. Or you could join the Tri Club folks for a 3 mile jog in White Salmon, followed by cinnamon rolls, a hot tub, and wine tasting in WA. Not sure why they're tasting wine and not 420, that being what WA folks do, but you'll have to ask them. If you survive all that, head to the Hood River Armory at 3pm for ping pong or to Mosier at 3pm for pickup touch rugby.
Have an awesome day today!
Temira