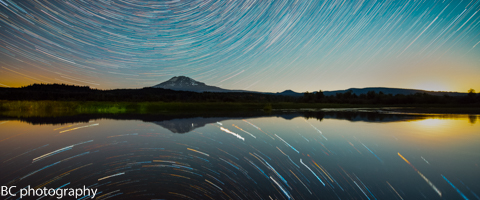 The only thing falling from the sky on Mt. Hood in the next couple of days will be sunbeams. Sunbeams, photons, and a little bit of manmade snow falling on the slopes at Skibowl and Meadows. Ah well. If we can't have fresh snow, we might as well have beautiful weather. Spring skiing is fun too! Continued below the chart…
Mt. Hood Snow Forecast – 5000′

4a-8a
8a-12p
12p-4p
4p-8p
8p-4a
Today
10,000'+
Tomorrow
12,000'
The day after
11,000'–>6500'
Expect a sunny day on Mt. Hood today. The free air freezing level (FAF) will be 10,000'+, perhaps as high as 12,000′ in the afternoon. 5000′ temps will max out around 40 degrees today, for a fantastic day of spring skiing. Wind today will be N 20, probably dropping a bit in the afternoon.
Tuesday looks clear with very low relative humidity on Mt. Hood. The free air freezing level will be 12,000′, with afternoon high temps at 5000′ in the mid 40's. Wind will be N 15 early and NW 5-10 in the afternoon.
Wednesday starts out clear, but some clouds move in during the afternoon and a few sprinkles or flurries are possible, although unlikely, overnight. The FAF will be 11,000′ early, 10,000′ in the afternoon, and will fall to 6500′ by Thursday morning. Wind on Wednesday will be W 20 early and WNW 30 in the afternoon.
Models are in disagreement after Wednesday, but the most likely scenario is continued high pressure and sunny, dry, warm weather.

Thank you for using this forecast!
Click on my photo to support it with a donation.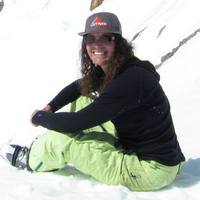 Thank you for using this forecast. Does it save you time, gas money, or help you find more wind, powder, or just plain fun stuff to do? Please make a donation to keep it going! Use it here for free or get on the mailing list for wind for the summer and Mt. Hood snow in the winter. Just click on my photo to donate. The email isn't $99/year. Not $50/year. No, just $12.34 or more gets you on the list for 12 months, and sometimes there are cool prizes. Donate via PayPal/CC by clicking on my happy photo below. Don't PayPal? You can send a check to Temira @ PO Box 841 in Hood River. Thank you for your support, and thank you for trusting my forecast. You guys mean the world to me.
---
Gorge Wind
The easterlies are back this morning and will be available for your kiting and windsurfing pleasure all day in the 40-50 range at Rooster and 25-30 range at Steven's Locks. Expect slightly weaker, but still strong, easterlies tomorrow.
Wednesday is starting to look very interesting as offshore high pressure combines with a weather system passing to the north, an ideal setup for Gorge westerlies. As of this morning, it looks like we'll see 28-32+ from Swell all the way to Arlington. With the water temp at 41 and the air temp predicted to hit 55, it's not exactly going to be warm, but it'll still be a great day on the water.

Random Morning Thoughts
So, I went to my workshop in Vancouver yesterday, and it was good. Really good. I learned a lot about both myself and other people. As an added bonus, I got to be in Vancouver on a record-setting temperature day. It was in the mid 60's. During lunch, I was hanging out in the sun in my (The Gorge is my Gym) sportsbra, looking at a blooming cherry tree.
Psychodrama is weird stuff. Other people represent parts of you. It's eerie how well they are able to channel those parts, allowing you to talk to them. It's powerful. And bizarre. I've only done it a couple of times, but I do stuff like this to know myself better. To understand my motivations. Have you ever had a total ah-hah moment that completely changed how you interact with yourself and the world around you? Those are pretty easy to come by in the psychodrama venue.
Those moments are cool. They allow us to be more… well, us. They allow you to be more you. They allow me to be more me. They allow us to connect with each other on a level that is more genuine. There are lots of ways to achieve those moments; meditation, conversation, talk therapy, inspiration, divination and hallucination, to name a few. How you get there isn't important. The intention to understand yourself is important. Understanding leads to growth, change, and a better, happier, more peaceful life. I encourage you to take a step down that road. It's a fascinating journey. Don't know where to start? The Headspace app is a good place. That is all. Enjoy today's record-setting warmth.

Gorge Weather Forecast
First off, let's talk about general weather around the region. It's really f'ing warm. You can read about it here. Lots of record highs yesterday, and several more records predicted to fall today and tomorrow. Here in the Gorge, our temps are moderated by the cold pool to the east, but still… it's warm for this time of year. Also, in an interesting note, we're only about .5" behind in rainfall this year. It's just falling as rain at all elevations, not snow.
Expect a sunny day today. Temps will be in the low 30's early and the mid 50's this afternoon with a bit of an easterly breeze. Ditto for tomorrow, with even lower humidity. Wednesday starts off sunny. Clouds move in during the day. Temps will be in the upper 30's early and the mid 50's in the afternoon. We may even see a few sprinkles Wednesday night. The big news Wednesday is the strong west wind in the forecast. Beyond Wednesday, models disagree, but the likeliest scenario is more dry weather.

White Sprinter Van of the Day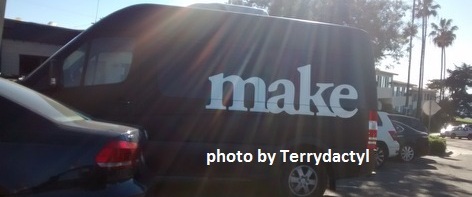 Road and Mountain Biking
It's quite chilly out there this morning. I'm hoping that doesn't mean Syncline frozen, because freeze-thaw is worse than mud! You'll have to go look for me today. Other than that, the tack alert is still on for all trails that are open, which is pretty much every freakin' trail around. Fat bikes for winter… who needs 'em? We've got snow-free dirt!


The Clymb: free membership. Cheap gear.
Temira approves. Click to join.
Upcoming Events
Tonight is Monday. There's Aikido at Trinity in Hood River at 5:30. On Wednesday, Aikido class will be taught by the head honcho of this branch of Aikido, so if you're an Aikido person who's been hiding in the wings, come play. There's community yoga at the Mt. Hood town hall at 6pm and community yoga at Yoga Samadhi at 6:30. Coming up tomorrow night, there are 241 pastas at Riverside (that's actually M-Th), two-fer-Tuesday at Sixth Street, and $12 Prime Rib night at Cebu.
Looking ahead to Friday, Helping Hands has the Porkopalyspe, an all-bacon festival featuring dishes by many restaurants. $20 gets you in the door, and all proceeds benefit our local women's shelter. Friday night is also an HRATS fundraiser at the Lumberyard in Portland.
Have an awesome day today!
Temira
nter size-full wp-image-6460″ />