The best snow forecast for Mt. Hood. The best wind forecast for the Gorge.
Support it with a contribution!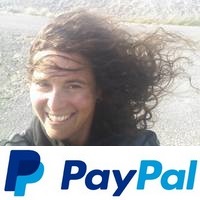 Thank you for using this forecast. Writing it takes 60-120 minutes a day; I can only keep it going with your generous financial support. Make a contribution or subscribe and get it in your inbox with bonus material. What's that cost? Not $99 a year. Nope. Not $49. Contribute $19.99 or more, and you're on the list for a year. People are added to this list on Thursday and Sunday. Thanks for your patience! Click below to contribute and keep the forecast going for everyone, nearly every day.
Credit card payments use this button
Click here to use your PayPal
Venmo: @theGorgeismyGym
Snail Mail: Temira Lital, PO Box 841, Hood River, Oregon 97031
(note: I am not a non-profit entity. The only way to accept credit cards with a user-defined amount is to use the 'donate' button. Thanks for understanding!)

Auto-renewing subscription. New! Awesome!
The Forecast
Mt. Hood Snow Forecast – 5000′

4a-8a
8a-12p
12p-4p
4p-8p
8p-4a
Monday
5000′->6500′
Tuesday
6000′->2500′
Wednesday
2500′->1500′
Mt. Hood Weather Forecast
It's another good news forecast for Mt. Hood. A lot hinges on the outcome of Saturday's system – it has the potential to be a big snow builder, but it could also drag in some mixed precip. We'll keep an eye on it. Between now and then, with the exception of rain today and drizzle tomorrow, it's all snow, all the time. A foot of accumulation or a bit more is easily within reach by Friday morning. Two week forecast (GFS/ECMWF): 12": 100%; 24": 90/100%; 36": 50/80%; 48": 20/40%.
It's early Monday morning, and it's currently snowing at the base of both Timberline and Meadows. Hard to say at Skibowl, but I'd guess snow as well thanks to the pooling of cold air at low elevations (it's snowing in BZ in the Gorge at 800′). Unfortunately, the morning snow will switch over to rain. The snow level starts at 5000′ and rises to 6500′ midday before falling to 5000-5500′ overnight. About 0.5" water equivalent (WE) is forecast during the day. That'll be mixed precip for an inch or two of snow followed by rain. Overnight, we see another 0.2" WE that falls as drizzle. Wind today: W 30-35 all day becoming WSW 25-30 after midnight.
Tuesday starts with clouds below 5000′ and sunshine above. The snow level will be 6000′ during the day, 4500′ in the evening, and 2500′ after midnight as a cold front pushes in. About 0.1" WE falls as intermittent drizzle during the day. Overnight, models suggest about 0.3" WE as snow, for 2-3" of new. Wind will be WSW 25-35 during the day, SW 20-35 in the evening, and W 40 overnight. If the saturated air were deeper, I'd suggest adding 30% to that snowfall total, but the saturated layer isn't all that deep.
Moving on to Wednesday: we have the continuation of the Tuesday night system and a reinforcing cold front in the afternoon. This takes the snow level from 2500′ Wednesday morning down to 1500′ overnight. About 0.4" WE is forecast during the day, for 4-5" powder. Another 0.2" is predicted overnight, for 2-3" dry powder. Add in orographic effects due to moderate/strong WNW wind, and you can add perhaps 30% to 50% to that. This 24 hour period has the potential for 11-14" new snow if everything works out right. Wind: W 40 early, WNW 35 in the afternoon and evening, and W 30 overnight.
Snowfall continues on Thursday with 850mb temps at -5C and the snow level at 1000′-1500′. About 6" of new is forecast for that 24 hour period. Skipping Friday (mostly dry), we look at the system coming in on Saturday. It has a tropical tap, and temps are marginal with it. Models give us a 60-80% chance that 850mb temps (5000′ or so) will remain at 0C or below. Cross your fingers – there is significant moisture associated with this system, and if it can stay cold enough, it should get the resorts to a place where they can open more terrain. Have a great week!
Gorge Wind Forecast
Light wind Monday and Tuesday gives way to a stronger round of gusty westerlies on Wednesday. For Monday, we starts with Rooster at 10-15, but it, and the rest of the Gorge, will all turn calm by late morning. River flow is 136kcfs, river temp is 49F, and high temp forecast is 43F. Tuesday starts with light west flow, hardly enough to be called wind. Westerlies pick up to 10-13 from Stevenson to Mosier in the afternoon under drizzly sky. High temp: 48F. Wednesday will be rainy all day, but it'll also be windy all day. As usual with these frontal systems, it's hard to be accurate or precise. That said, the wind starts at gusty 18-23 all through the Gorge with exceptions: 25-30 at Viento and 10-15 in the central Gorge. As a cold front swings through and offshore high pressure rebounds, the wind builds to gusty 22-27 from Stevenson (rainy) to Boardman (possibly sunny). In the afternoon, the wind drops to gusty 14-17 in the west and gusty 18-23 out east. High temp: 47F. Lighter westerlies are in the picture for Thursday and Friday, mostly worth noting because they'll influence the local snow level!
Coast, Jones, Coast
Done until spring, unless there's an obvious Coast or Sauvie's or Jones day.
Hood River Weather Forecast
Drizzly sticks around all day. Temps will be in the mid 30's early and low 40's later. Calm wind. 10% chance of rainbows. Tuesday starts drizzly, will be mostly dry early afternoon, and turns drizzly overnight. Temps will be in the low 40's early and upper 40's later. Light westerlies. 99% chance of rainbows. Wednesday starts with rain and turns intermittently drizzly but mostly wet. Temps will be in the low 40's early and mid 40's later. Moderate to strong westerlies. 99% chance of rainbows and doubles.
Looking for a complete Columbia Gorge forecast? Looking for more humor in your weather? Obscenities? You're looking for my TATAS: Temira's Awesome Travel Advisory Service on Facebook.
Cycling
FREEZE-THAW ALERT: if you notice that temps were below freezing last night and will be above freezing today, don't ride any trail that's not under a tree canopy. If you do so, you WILL do significant damage. DON'T DO IT! Plentiful rain recently means most tree-covered trails are muddy. Please don't ride them either. If you do, you'll be doing significant and possibly permanent damage. No really, please don't. There are lots of gravel roads and lots of pavement you can ride instead. Enjoy!
Local Events
Please let me know about events. I often only hear about them if you folx let me know!
Sprinter Van of the Week!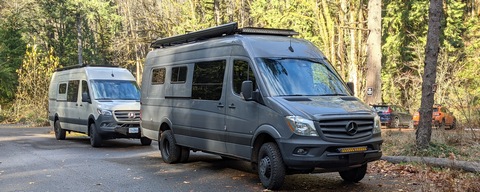 Click here for the Sprinter Van map of the world!!! Have an awesome day!