Random Morning Thoughts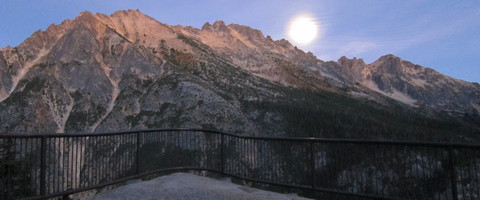 One of my favorite things is the website couchsurfing.com. I love the idea of random people providing random strangers a place to crash for a night. Last night I met a random gal from Astoria, cooked her and a friend dinner using random chanterelles I'd found earlier in the day, and then let her sleep at my office (which has a bathroom and shower). I was just paying into the karma pool after sleeping in my car in a random gal's yard in Winthrop last week. You can learn a lot about yourself and others from letting random people into your life – they may not be "your kind" of people, but you'll widen your perspective by letting them in. And you'll increase the overall level of kindness and trust in the world. Join Couchsurfing and start meeting new folks today.

Thank you for using this forecast!
Please donate to support it!
Thank you to everyone for using this forecast. Does it save you time, gas money, or help you find more wind, powder, or just plain fun stuff to do? Please consider making a donation to keep it going! Use it here for free or make a donation and get on the mailing list for wind for the summer and Mt. Hood snow in the winter. It's not $99/year. Not $50/year. No, just $12.34 or more gets you on the list for 12 months. Do it via PayPal/CC by clicking on my happy photo below. Don't PayPal? You can send a check to Temira @ PO Box 841 in Hood River. Thank you for your support, and thank you for trusting my forecast. You guys mean the world to me.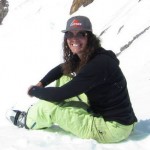 ---
Gorge Wind
Today is a lesson to me to remember to check the 4/3k model before I do a forecast. The larger-scale 12k model is showing no wind today, but the fine-tooth-comb of the 4/3k is showing a morning bump of 26-30+ at Rooster, fading before noon. And guess what? Iwind said it was 37 at Rooster and 20 at Stevenson at 7:30am. If you want these easterlies, get them really early, as all the models are predicting a switch to west wind at up-and-down, gusty 8-13 this afternoon.
As a rainy weather system stalls over us tomorrow, we'll see light and variable wind here in the Gorge. On Wednesday, this weather system heads east, leaving us in gusty westerly flow. It's hard to nail down the exact wind speed at this point, but I suspect we're looking at up-and-down 21-24. I'll have a better idea tomorrow, when the 4/3k model will show Wednesday.
As the PNW sits in the path of the jet stream over the next week or so, we'll be stuck in this pattern of east – west – light and variable – gusty – up-and-down. But on a brighter note, at least we'll get some badly-needed rain!
Out on the coast today, expect light wind this morning picking up to (north/central/south) S 30/S 30/S 15 this afternoon with a W swell at 13 seconds. Tomorrow afternoon: light/light/S 20-25 late, W 9@12. Wednesday: S 20-25 everywhere, stormy combined seas 9@14.

Today's Gorge Wind – these are ranges for the average speed, not a predicted wind range. =)

Your favorite beach
Dawn
Patrol
9am-
11:30a
11:30a-
3pm
3pm-
dusk
Rooster's Rocks
E 30-35
E 20-25
LTV
light W
Steven's Locks
E 20-25
E 10-15
LTV
W 8-13
Hatchery/White Salmon Sandbar (minus a few for Hood River)
light E
glassy
W 8-13
W 8-13
Doug's, Lyle, Rowena
light E
glassy
W 8-13
W 8-13
Rufus, etc.
LTV
LTV
LTV
LTV
Roosevelt, etc.
LTV
LTV
LTV
LTV
Temira's sail: 35-40: 2.9 / 30-35: 3.2 / 26-30: 3.5
23-26: 4.0 / 20-23: 4.5 less than 20: something bigger!
Tonia's kite: 35-40: 4m / 30-35: 4-6m / 26-30: 5-7m
23-26: 7-9m / 20-23: 8-10 / 15-20: 10-12 / 10-15: 13-15.
Gorge Weather
Yesterday was a weird one. It ended up being cloudy and cold all day. I was surprised. So surprised that I was too cold to get on my bike (and maybe just too demoralized after watching the Seahawks). Anyway, today will start off with some high clouds ahead of an offshore weather system. If you want sun, your best bet is this morning, as more clouds will arrive this afternoon. Temps will be in the mid 40's early and the low 70's this afternoon. Expect rain tonight.
Tomorrow starts off cloudy and showery as the cold front weather system thing stalls over the Northwest. Temps will be in the low 50's early and the mid 60's in the afternoon. I suspect it'll be too cloudy for rainbows, but let's call it a 23% chance. The snow level will drop from 8000′ on Tuesday morning to 6000′ Tuesday night. Best chance for dry weather will be morning to midday, as rain increases after 2pm.
Wednesday looks showery and cool. Temps will be in the mid 40's early and the low 60's in the afternoon with the snow level between 5500′ and 6500′. There is a 99% chance of rainbows on Wednesday, all day long, as showers fall on and off all day long. Next chance for a dry-all-day kind of day is Thursday.

White Sprinter Van of the Day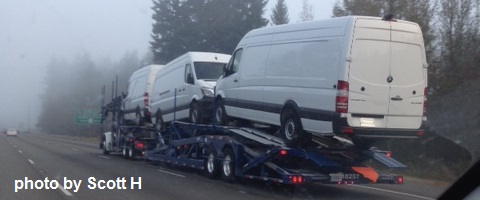 Road and Mountain Biking
It's still dusty out there, but I imagine it won't be after the Tuesday/Wednesday rainy system. In the meantime, your best bet for good dirt is outside Hood River and to the west: Plains of Abraham, Lewis River, Falls Creek, Dry Creek and maybe Buck Creek and the trails near Trout Lake. And remember: the more rain that's fallen where you're riding, the more likely you'll be to find chanterelles, lobsters and matsutake.
Don't forget that we have the FREE IMBA trailbuilding school next Saturday, a must-do for anyone who shows up for work parties. If you don't have all day, just show up for the classroom portion at the Hood River Fire Station in the morning. Sign up now so HRATS knows how many lunches to provide. Then next Sunday, there's a fundraiser for trails happening at the Whoopdee (all day) with music, food, and Trek demos. On the following Saturday, the 25th, there's a Kleeway fundraiser at Dirty Fingers. Costumes, karaoke, and fundraising for what's going to be the most awesome (and most safety-promoting) trail in Post Canyon!


The Clymb: free membership. Cheap gear.
Temira approves. Click to join.
River Levels / Fish Counts/Cheezburger Update
The John Day Dam is reading 56-65kcfs. The Dalles Dam is putting out 85kcfs. There are two river-wide logs on the White Salmon: 1 just below Cave Rapid on the Middle and one below Cave Wave on the Lower. The White Salmon is around 1.7′. Yesterday's fish counts: Chinook, 1351. Coho, 2221. Steelhead, 305.

Events – email me if I've missed any outdoor-related events
Tonight is community yoga, free or by donation, at yoga Samadhi in White Salmon. Coming up tomorrow night, there's $12 Prime Rib at Cebu from 5-9pm and there's pickup touch rugby at the Hood River Marina at 5:30pm. I imagine those two go quite well together.
Next weekend is the big mountain bike festival, BikeToberFest, with the IMBA Trail Care Crew in town on Saturday for the free trailbuilding school (see biking section) and a fundraiser for HRATS at the Whoopdee on Sunday with free Trek demos.
Have an awesome day today!
Temira