Random Morning Thoughts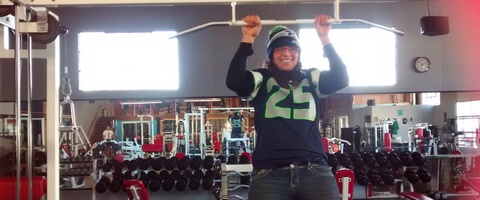 Just a reminder that all the waterfalls are frozen. If you'd like to see pretty things, head to the waterfalls along the Gorge. Hold your arm out and have a friend take a photo of you cupping a frozen waterfall in your hand. Use it for your holiday card.
In other exciting news in my world, I filled my bird feeder yesterday after leaving it empty for a few years. The birds found it within 20 minutes. Those little bird brains are very good at finding free food. Almost as good at finding free food as I used to be when I was in my 20's. In other random news, I went to the Power Station gym yesterday and did situps and pushups. It's really warm in there. That made me happy. Warm air is a good enough reason for me to say, "The Gym is my Gym" for a while!

Thank you for using this forecast!
Please donate to support it!
Thank you to everyone for using this forecast. Does it save you time, gas money, or help you find more wind, powder, or just plain fun stuff to do? Please consider making a donation to keep it going! Use it here for free or make a donation and get on the mailing list for wind for the summer and Mt. Hood snow in the winter. It's not $99/year. Not $50/year. No, just $12.34 or more gets you on the list for 12 months. Do it via PayPal/CC by clicking on my happy photo below. Don't PayPal? You can send a check to Temira @ PO Box 841 in Hood River. Thank you for your support, and thank you for trusting my forecast. You guys mean the world to me.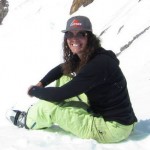 ---
Mt. Hood Snow Forecast – 5000′

4a-8a
8a-12p
12p-4p
4p-8p
8p-4a
Today
Tomorrow
The next day
Mt. Hood Snow
In interesting Mt. Hood news this morning, it is 24 degrees warmer at the top of MHX than it is in the Hood River Valley. It is 31 degrees warmer at the top of MHX than it is in Parkdale. And what's truly crazy is that the relative humidity at the top of MHX is 6%. That's insane. Just to put that in perspective, relative humidity in the Atacama and Sahara deserts (two of the driest places on Earth) is often in the 25% range, but is also often in the 4-5% range. 6% in Oregon is insanely dry.
Anyway, it will be sunny on Mt. Hood today. The free air freezing level (FAF) will rise to 10,000' with temps at 5000' climbing to the mid to high 40's. Wind will be light and variable.
Expect sunshine on Tuesday with the FAF around 12,000. Temps will be in the mid to upper 40's at 5000' with SW wind at 5-10mph.
Things change on Wednesday. Expect clouds in the morning. The snow level will be 9000' early, dropping to 6500' in the afternoon, with sprinkles starting around 1pm. We'll see .1"-.2" water value (WV) before 4pm, and that will fall as rain. A wetter system moves in around 10pm, bringing .8" WV by 4am Thursday, after which the precip will quickly end.
The bulk of the moisture will hit with the snow level around 6500', so expect mostly rain with some snow toward the end, as the snow level drops to 5000' by Thursday morning. I think we'll see 1-2" at 5000', at best. Wind on Wednesday will be S 10-15 early, rising to SW 20 in the afternoon and SW 335 overnight, becoming WSW 40 by Thursday morning.
A very wet system is slated to hit on Saturday. At this point, it's very difficult to tell what will happen, because the snow/rain line depends on how far north the system goes. We're right on the edge. It's the kind of system that could open a ski resort for the season or wash away a hopeful ski resort's current base. Lots of moisture coming our way. Think cold thoughts.

Gorge Wind
If you head to Rooster today, you will find wind in the 40-50 range. The wind chill there this morning is 12 degrees. At Steven's Locks, you will find wind in the 35-45 range. The wind chill there is 9 degrees. Expect east wind at 40-50 at Rooster and 30-40 at Steven's Locks tomorrow. The easterlies back off a bit on Thursday, for 30-35 at Rooster, slowly dropping to light-and-variable by Thursday morning.

Gorge Weather
It was 9 degrees at Larry's house when I woke up this morning. That's COLD. I'm starting to suspect this whole early snowstorm was conjured up by Larry to drive traffic to his website. I can just see him sitting there planning this out… "Snowpocalypse 2014 II, brought to you by Hood River Weather dot info". Next time, Larry, can I get in on the planning so I can benefit too?
Anyway, expect the inversion cloud this morning to hang around a little longer than it did yesterday, as the inversion is bigger and badder (it's 9 down here and 33 at 6400'). Expect sun this afternoon and east wind. Temps will be in the single digits early and low 30's in the afternoon.
Tomorrow supposedly starts off warmer: temps will be in the teens, according to NOAA. Expect an inversion cloud early with sunshine and temps in the mid 30's in the afternoon along with easterlies.
Wednesday starts with temps in the teens under inversion clouds and high clouds. We'll see a few freezing rain sprinkles between 1pm and 7pm, which means I'd better change my appointment with my therapist. Expect heavy rain after 10pm. Models are showing east wind and temps right at freezing overnight, so it's a tough call whether we'll see rain or freezing rain Wednesday night. My concern is how cold the ground is right now. Even if the air temp is above freezing, it's going to take a while for the freeway to warm up. To be safe, don't make plans that involve driving to the metro area or back between 1pm Wednesday and 7am Thursday. There's a 75% chance of rainbows on Thursday morning.

White Sprinter Van of the Day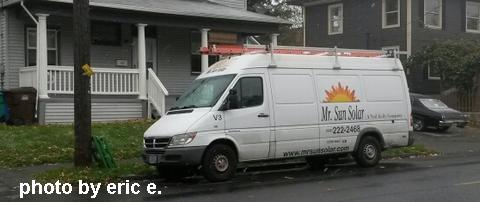 Road and Mountain Biking
I had a great bike ride yesterday. It was warm and sunny and there was no gravel where I was riding. Do you want to know where I went? It's pretty awesome: my living room. Yeah. My Living Room is my Gym. I'd recommend you ride in Portland or Vancouver, but I heard that the entire state set record lows the night before last, and it's similar out there today. Brr.
For those of you wanting to mountain bike or wanting to send people to ride, do NOT head to / send to Syncline. I got a report from yesterday that it was freeze-thaw and that people were riding. That is the best way to do a lot of damage to a trail in a short period of time. Please respect your trails! If you are desperate, buy a fat bike and ride in the snow. Yay!


The Clymb: free membership. Cheap gear.
Temira approves. Click to join.
It's cold out, and you still want to ride your bike, don't you? Me too. Bikes are fun! But cold weather makes for cold hands. What's a cyclist to do? Get some Bar Mitts! These neoprene handlebar covers keep your hands way, way warmer than the outside air. This isn't hype. This is Temira's personal testimonial. I begged these guys to let me advertise for them, because I have the coldest hands on the planet. Not anymore. Bar Mitts. Making it possible for me (and you) to have happy hands all winter long.

Upcoming Events
There's community yoga tonight, free or by donation, at Yoga Samhadi in White Salmon at 6:30. There's Aikido at Trinity on Belmont in Hood River at 5:30. Coming up Friday, Columbia Center for the Arts hosts the ski movies "Pretty Face" (about girl shredders) and "A Dozen More Turns" (about bad decision-making in the pursuit of… more turns).
Have an awesome day today!
Temira