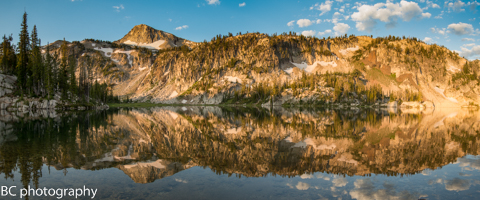 Random Morning Thoughts
I'm one of those people who doesn't much like broaching difficult topics with friends. I have this irrational fear that having these conversations will ruin my friendships. There are specific reasons I react that way, and I have to push through my fear to have these chats. Some of you might find this crazy (that's one version of "normal") and some of you might that what I said speaks to your experience (that's a different kind of "normal").
Anyway, I was sitting on my couch with my teddy bear last night thinking about this conversation I want to have (in direct contrast to what I suggested the other day about not overthinking these things), and I had this realization. When we have these conversations with our friends, especially people we've known forever, it gives us a chance to understand each other better. Having the conversation might suck, but it holds more potential to deepen the friendship than ruin it. (And some of you are sitting there saying, "Well duh," and some of you are saying, "Huh… never thought of it that way.")
I'm trying to hold this concept in my mind cuz there's nothing I like more than deepening my friendships and getting to know people better. Maybe it will reduce my fear level. Maybe not. But it's sure a different perspective, and a healthier one than fear of losing the friendship.

Thank you for using this forecast!
Click on my photo to support it with a donation.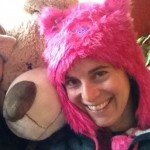 Thank you for using this forecast. Does it save you time, gas money, or help you find more wind, powder, or just plain fun stuff to do? Please make a donation to keep it going! Use it here for free or get on the mailing list for wind for the summer and Mt. Hood snow in the winter. Just click on my photo to donate. The email isn't $99/year. Not $50/year. No, just $12.34 or more gets you on the list for 12 months, and sometimes there are cool prizes. Donate via PayPal/CC by clicking on my happy photo below. Don't PayPal? You can send a check to Temira @ PO Box 841 in Hood River. Thank you for your support, and thank you for trusting my forecast. You guys mean the world to me.
---
Mt. Hood Snow Forecast – 5000′

4a-8a
8a-12p
12p-4p
4p-8p
8p-4a
Today
Tomorrow
The day after
Mt. Hood Snow
I don't think it gets much better on Mt. Hood than it will be today. Dry, light powder, no wind early, and sunshine. Get it early before the east wind picks up. The snow level today will be 1000-1500′ early, dropping to the surface by afternoon, when temps at 5000′ will drop into the low double digits or single digits. We'll see maybe .1-.2" water value (WV) fall as snow this morning, for a couple inches, followed by sunshine this afternoon. Wind will be light early and NE 20 in the afternoon.
Tuesday looks clear and cold with the free air freezing level at the surface. Temps will be in the single digits early and the mid 20's in the afternoon. Expect ENE wind at 30mph in the morning, 40mph midday and NE 30 in the afternoon. That'll give us wind chill temps of -15F in the morning, so bundle up and carry a sleeping bag in the car if you're driving over the passes.
Wednesday looks clear on the hill, or maybe there will be low clouds and freezing fog, depending on the elevation at which the inversion sets up. Expect temps right around freezing at 5000′ with sub-freezing temps at lower elevations. Wind will be N 25+ in the morning and NE 20 in the afternoon. Looks like we'll stay inverted through the weekend with no real chance of snow or rain through next weekend.

Gorge Wind
The wind is truly variable this morning, or at least it was around 6am, with 5-10 coming out of all different directions. The gradient, in case you were wondering, was E .01. Expect that east gradient to build today, giving us easterlies at 40-50 at Rooster Rock this afternoon. Tomorrow will be E 60-80 early and E 40-50 in the afternoon. Expect east wind at 30-40 on Wednesday. Given how freakin' freezing cold it's going to be, you may want to carry a sleeping bag in your car in case anything goes on. You could die of hypothermia if your car breaks down. I'll be driving to Vancouver in my fur coat tomorrow, thank you very much.

Gorge Weather
It's above freezing in Hood River this morning, a good thing for the roads, but a bad thing for the huge vat of chicken stock on my stove. I'm not sure what to do here, so I guess I'll let it keep cooking until the temperature drops. Expect a partly cloudy day today with a few showers early. Temps will be in the upper 30's this morning and the low 30's this afternoon. Yep, you read that right. Expect icy roads tonight. Rainbow chances are 32% this morning.
Tomorrow looks clear and cold (at least I hope it'll be clear – looks like the air mass will be dry enough). Temps will be in the low double digits early and the low 20's in the afternoon. That said, NOAA says this is the coldest air mass of the season, and if that's the case, and if we end up with clear sky Monday night, we could see temps near zero on Tuesday morning. Expect east wind along with the cold temps. Bundle up. No rainbows. The Gorge is your freezer. Speaking of, I might buy some Melona bars at the grocery store in Portland and put them on top of my car to keep them frozen for the drive home…
Wednesday morning again depends on the sky coverage Tuesday night. No clouds = temps near zero. Clouds = temps in the teens. The high on Wednesday will be in the mid 20's. In addition, the air mass above the cold pool will be warmer and moister, meaning there's a pretty good chance the inversion cloud will make an appearance. If that happens, you'll find pretty rime ice in the places where the fog meets the trees.
Models have backed off on the second round of cold air next weekend, but it doesn't look like we'll warm above freezing any time soon.

White Sprinter Van of the Day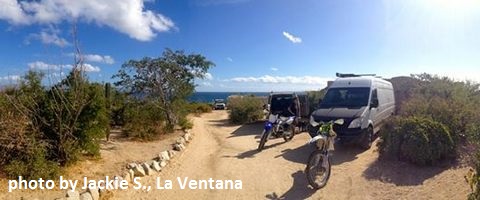 Road and Mountain Biking
Last chance for trails that aren't frozen is today. First chance for trails that are frozen is tomorrow. Last chance for wet roads is today. First chance for icy roads is this afternoon and evening. Trails will be rock-hard by tomorrow morning, so get the BarMitts out and get ready to shred!


The Clymb: free membership. Cheap gear.
Temira approves. Click to join.
Let's face it: sometimes the weather is too cold/wet/grey to use the Gorge as your gym. That's when you head to the Power Station. Good vibe. Lots of friendly coaches. And free 10 Speed Coffee. Plus, it's warm there. Turn off your heat, take off some of that technical clothing, and come hang out in the gym. The gym is your gym, for a little while anyway!
Upcoming Events
It's Monday, and I forget what that means, so I'm going to go look at my Google Calendar. I'll be right back. I know there's normally Aikido at 5:30 at Trinity on Monday, but that's not happening this week. Ah yes. There's community yoga, free or by donation, at 6:30pm at Yoga Samadhi in White Salmon. Don't forget about the last race of the year, a 5k at Stevenson on Wednesday. There's a Polar Bear swim at Maryhill Park on the 1st. Or maybe not, considering it'll be well below freezing that day out there. For those of you who like ice skating, I bet you'll find some in the upper valley later this week.
Have an awesome day today!
Temira