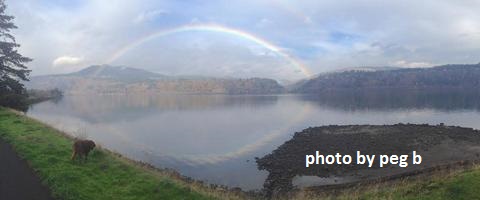 Random Morning Thoughts
Forecasting the weather is really hard, as you might have guessed. We weather dorks can get close to an exact forecast, but hitting the nail dead on the head is tough. Even when you're the National Weather Service. Case in point: I called NOAA this morning after reading their Area Forecast Discussion – interestingly, the title is not in all caps, but the discussion is. It said, "RADAR IS SHOWING SOME WEAK RETURNS AHEAD OF THE MAIN RAIN BAND. THINK THESE RETURNS ARE MOSTLY VIRGA…" (virga is precip that doesn't hit the ground, by the way)
"Good morning, National Weather Service. This is Temira, I'm a weather spotter in Hood River." The gal on the other end was really nice, and very excited about weather. "Hey," I said, "I was just reading the AFD, and it was talking about virga… Well, the precip is hitting the ground here in Hood River. We have a trace of snow, and it's sticking to the roads!"
"Really?!?!?!" exclaimed the NWS. "Thank you so much for calling. I'll have to issue an update!"
So, you see, sometimes you can only now-cast the weather by talking to people on the ground in the areas affected by the weather. We all do our best – me, George, Cap, Stu, Mike, and everyone else – but sometimes there's nothing like looking out the window. So go look out your window if you're in the Gorge. It's white out there. It snowed last night.

Thank you for using this forecast!
Click on my photo to support it with a donation.
Thank you to everyone for using this forecast. Does it save you time, gas money, or help you find more wind, powder, or just plain fun stuff to do? Please consider making a donation to keep it going! Use it here for free or make a donation and get on the mailing list for wind for the summer and Mt. Hood snow in the winter. Just click on the photo below to donate. The email isn't $99/year. Not $50/year. No, just $12.34 or more gets you on the list for 12 months. Do it via PayPal/CC by clicking on my happy photo below. Don't PayPal? You can send a check to Temira @ PO Box 841 in Hood River. Thank you for your support, and thank you for trusting my forecast. You guys mean the world to me.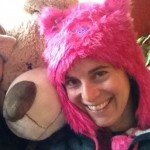 ---
Mt. Hood Snow Forecast – 5000′

4a-8a
8a-12p
12p-4p
4p-8p
8p-4a
Today
Tomorrow
The day after
Mt. Hood Snow – snow at 5000', wind at treeline
After a lot of back and forth this week about long-range models, the long-range day of reckoning has finally arrived. And what's going to happen, after all this hype? Not much, sadly. We'll see a cloudy day on Mt. Hood with the snow level around 5000′, and we'll probably see some sun this afternoon. At best, we'll see .1-.2" of water value (WV) for an inch or two of new snow, but that's probably being overly optimistic. The bulk of the moisture will stay south of us. But that's a good thing, because the bulk of the moisture is too warm to fall as snow. Wind today will be SW 30 early and NW 25 in the afternoon.
Oh, before I forget, Timberline lodge is running a Cyber Monday special of three midweek lift tickets for the price of one.
Tomorrow starts of partly cloudy, becoming sunny with warming temps. The free air freezing level (FAF) will be around 5000′ early, rising to 9000′ in the afternoon. Wind will be NW 15 in the morning and SE 10 in the afternoon.
Expect a partly cloudy morning on Wednesday with a few rain showers in the afternoon or evening. The snow level will be 9000′ early and 8000′ in the afternoon with south wind at 20 early and 10 in the afternoon.
The long-range forecast for Thursday is for more moisture with the snow level around 7000-8000′, and the long-long-range GFS forecast shows S to SW flow and temps above freezing at 5000′ through next weekend.

Gorge Wind
It is, once again, just a wee bit windy in the Gorge. At 4am, the Rooster sensor read 56g67 with a temp of 29 degrees, giving us a wind chill of 9 degrees. That wind was supported by an E .22 gradient. You can expect strong east wind to continue through the morning, fading to 26-30 at Rooster this afternoon with less at Steven's Locks. Easterlies continue at 35-45 on Tuesday and Wednesday.

Gorge Weather
I am so disappointed. I know we all get frustrated when there's a snow and ice storm, but it's disappointing to have one in the long-range models and then have it disappear when the day comes. That said, we are waking up to a dusting of snow this morning (NOAA was very surprised to hear that when I called with a spotter report at 3:30am). And we'll continue to see some light flurries through the day. Because the bulk of the precp and warm air is staying south, we'll see flurries rather than freezing rain. I guess that's a blessing, although it also means we won't see any rainbows. Temps will be int eh low 20's this morning and low to mid 30's this afternoon.
Expect a partly cloudy day tomorrow, or maybe even a sunny day. Temps will be in the mid 20's early and the mid 30's in the afternoon.
Wednesday looks partly cloudy with a few snow or rain or freezing rain showers possible in the afternoon. We'll have to wait and see on this one. Temps will be in the upper 20's early and the upper 30's in the afternoon. Wednesday night and Thursday during the day bring more precip, but it's unclear at this time if we'll be above or below freezing.

White Sprinter Van of the Day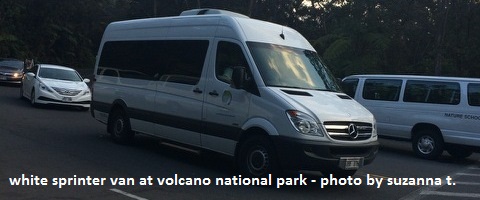 Road and Mountain Biking
I rode the Whoopdee yesterday starting at 11am, and that was probably ½ hour too late, because it was starting to thaw in the sunny spots. The real problem yesterday was the last ¼ mile, which was pretty muddy. When I got back to my car, I realized that it was so cold (26 degrees) that the mud had frozen solid to my bike. When I got home, my hose was frozen solid. Not knowing what else to do, I brought my frozen bike inside, and now there are piles of melted mud in my hallway. I'd recommend you ride early today, if you plan on riding, so you avoid piles of melted mud in your house.


The Clymb: free membership. Cheap gear.
Temira approves. Click to join.
Upcoming Events
It's Monday night, and you can do community yoga (free or by donation) at Yoga Samadhi in White Salmon. There's Aikido tonight at Trinity Natural Medicine in Hood River at 5:30. There's a SUP movie at Andrew's on Wednesday night, and there's a ski movie (Day's of our Youth) on Thursday night. Coming up on Saturday, head to White Salmon for 'I'm Dreaming of White Salmon', a holiday celebration with pancake breakfast and random hot cocoa, fires, s'mores, and cider. Not sure if there are hot toddies. This being the first Friday in December, we will likely see the tree lighting in Hood River too, but it's 4am and I'm too sleepy to Google it. But there will be cider and cocoa at the tree lighting too.
Have an awesome day today!
Temira