Random Morning Thoughts
Once a year I get on my political high horse and remind y'all to vote. I hear so many people complaining about what's going on in government. If you don't vote, you don't have the right to complain. Sorry, but that's the way it is. Get involved in at least this minimal way and secure your right to kvetch and bitch and rant. Remember: if you live in Oregon, it is too late to mail in your ballot. You must drop it off at a ballot collection station (that's 6th and State here in Hood River). If you live in Washington, you can mail your ballot – it just needs to be postmarked by election day.
Thank you for using this forecast!
Please donate to support it!
Thank you to everyone for using this forecast. Does it save you time, gas money, or help you find more wind, powder, or just plain fun stuff to do? Please consider making a donation to keep it going! Use it here for free or make a donation and get on the mailing list for wind for the summer and Mt. Hood snow in the winter. It's not $99/year. Not $50/year. No, just $12.34 or more gets you on the list for 12 months. Do it via PayPal/CC by clicking on my happy photo below. Don't PayPal? You can send a check to Temira @ PO Box 841 in Hood River. Thank you for your support, and thank you for trusting my forecast. You guys mean the world to me.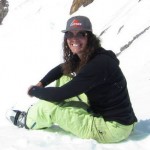 ---
Mt. Hood Snow Forecast – 5000′

4a-8a
8a-12p
12p-4p
4p-8p
8p-4a
Today
Tomorrow
The next day
Mt. Hood Snow
The temps on Mt. Hood at 5000′ this morning are in the mid to upper 30's, and that's a bit high for snow to fall. Expect the snow level to hover around 6500-7000′ today with continued light rain. We'll see .1-.3" water value (WV) during the day, followed by heavy rain after 10pm for another .8-1" WV. Wind today will be W 20-25 early and SW 20-30 in the afternoon and evening.
Tomorrow starts off rainy and becomes showery. The snow level will be 9000′ all day. We'll see a mix of rain and sunbreaks during the day, for .3-.5" WV and plenty of rainbows. Wind on Tuesday will be WSW 35-45 early, and W 30-40 after 7am.
Expect a few lingering showers followed by sunshine on Wednesday. The snow level will be 10,000′ or higher all day. Wind will be WSW 15-20 early and SW 15-20 in the afternoon. Next chance for accumulating snowfall is … not visible in the extended forecast. However, the weekend does look warm and dry, which bodes well for folks headed up for orientation.
Gorge Wind
There's not much gradient this morning, and there won't be much gradient at all today. Expect light west wind or glassy conditions on the river. Tomorrow sees 15-18 for much of the day from Swell east to The Dalles in the morning and 15-18 in the western Gorge with 21-24 east of Mosier out to Maryhill, maybe Arlington, in the afternoon. Expect easterlies at 13-16 on Wednesday.
Gorge Weather
Expect a cloudy, showery day in the Gorge today as a warm front swings through with heavier rain overnight as a cold front hits. Temps will be in the low 50's early and the upper 50's this afternoon. Best chance for dry weather is early this morning, as showers will increase in the afternoon. Light wind. Rainbow chances today are 83%.
Tomorrow sees a weather system swing through in the morning for rain, followed by showers and sunbreaks during the day and another weather system in the evening. Temps will be in the upper 40's early and the upper 50's in the afternoon. Moderate west wind. Rainbow chances on Tuesday are 97%.
Wednesday may see a couple showers in the morning, but most likely it will be cloudy and dry. Temps will be in the upper 40's early and the low 60's in the afternoon. Expect light east wind and a 1% chance of rainbows.
White Sprinter Van of the Day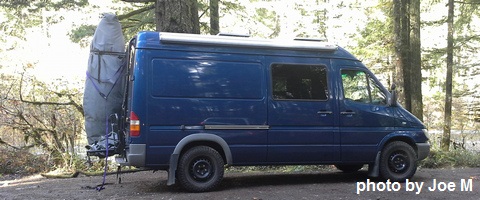 Road and Mountain Biking
I heard that Whoopdee was a little muddy in the woods yesterday and spectacular in the clearcut descent. Post was probably mixed perfection and mud puddle. Syncline and Hospital were nothing short of perfect. It's perfect dirt season, after all, so that's to be expected.
In road biking land, get it now before we end up with gravel on the roads. Your best bet for dry roads will be early this morning, and seeing as how my parking lot is already wet, we may not see dry roads today at all. And we're going to see a lot of rain this week. Friday and Saturday, however, look dry, so prepare your road bike for that.


The Clymb: free membership. Cheap gear.
Temira approves. Click to join.
First, a reminder: if you live in Oregon, it is TOO LATE to mail in your ballot. You must drop it off at a ballot collection station. If you live in Washington, you can mail your ballot. OK. This is a bit of a last-minute endorsement, as I had to do some careful reading to determine the differences between the candidates' positions. They both are quite concerned with development on the waterfront (although they have different visions). They both mentioned workforce housing, an issue high on my list. Both have given time and energy to the community, and I am a huge believer in volunteerism. I am endorsing Paul Blackburn for the following reasons. 1) He mentioned balancing conservation and development and ecology, and that's important to recreationalists. 2) He has served on the City Council, which gives him a solid understanding of the mayor's role. 3) He is an active participant in local recreation, meaning he understands our concerns as watersport folks, skiers, and cyclists. In addition, I know Paul as a thoughtful, intelligent, considerate man who will listen carefully to both sides of an issue without allowing his personal biases to interfere with his final choice. And that, I believe, is the most important characteristic in a politician: the willingness to listen to others' ideas. So. Workforce housing, balancing development and conservation, and open-mindedness. Paul Blackburn for mayor. Now, get out and vote, so your voice is heard on all the issues and candidates!

Events – email me if I've missed any outdoor-related events
There's community yoga, free or by donation, at Yoga Samadhi in White Salmon at 6:30. Tomorrow night brings pickup rugby at the Hood River Marina at 5:30 and $12 Prime Rib at Cebu from 5pm to 9pm.
Coming up later this week: On Thursday, head to Double Mountain for a fundraising party in support of Cascadia Wildlands, working to give rural communities a voice when public lands are used for development and other projects. Friday is the annual Fashion Show, benefiting the Hood River Christmas Project. The Gorge Gear Swap is next weekend at HRVHS (drop off gear on Friday, shop on Saturday). The Mt. Hood Independent Film Festival is next Friday through Sunday, Mt. Hood Meadows employee orientation is next weekend, and so is the Oregon Mediation Association annual conference.
Have an awesome day today!
Temira