Random Morning Thoughts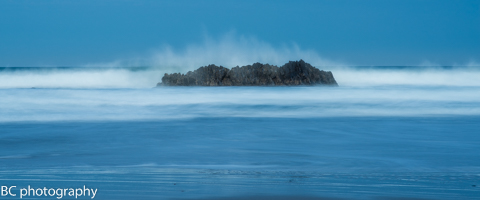 You know you're not perfect when you're the weather girl and you walk past your car at 8pm and say, "Naw, I don't need to shut the window. I said it wasn't going to rain until Monday afternoon." The inside of my car is as wet as the pavement and the trails and the fabled Hood River Snowy Owl. Guess I'm not perfect. When I was a kid, I wanted to be perfect. I wanted a 4.0. I wanted 100% on my exams. I wanted to ace the SAT. I wanted to run faster, jump higher, and never make mistakes.
It's impossible to be perfect. And it's really difficult to not beat ourselves up (the current fad word is 'shame', so I'm not using it) for the mistakes we make in our work and our relationships. There's an upside to mistakes: when we f**k up, we get to repair what we screwed up. And that makes for stronger relationships with other people, and it gives other people trust in us that when we screw up, we'll fix what went wrong. If we can. And if not, if we understand that we can't be perfect, at least we can own our mistakes and embrace our humanity and laugh at ourselves for lacking perfection.
Guess I'm going to go throw a towel and plastic bag over my driver's seat so I can get to my class in The Dalles without soaking my pants.
Thank you for using this forecast!
Please donate to support it!
Thank you to everyone for using this forecast. Does it save you time, gas money, or help you find more wind, powder, or just plain fun stuff to do? Please consider making a donation to keep it going! Use it here for free or make a donation and get on the mailing list for wind for the summer and Mt. Hood snow in the winter. It's not $99/year. Not $50/year. No, just $12.34 or more gets you on the list for 12 months. Do it via PayPal/CC by clicking on my happy photo below. Don't PayPal? You can send a check to Temira @ PO Box 841 in Hood River. Thank you for your support, and thank you for trusting my forecast. You guys mean the world to me.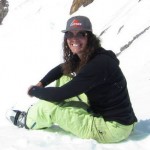 ---
Gorge Wind
This morning is starting with a W .04 gradient and west wind in the 8-11mph range. Expect a slight bump in the wind today, to W 10-13 from Steven's Locks to Mosier, maybe as far east as Doug's, but that's about it for today. We'll see leftover west wind at 13-16 (maybe) or 10-13 (more likely) tomorrow morning, before the westerlies fade by midday.
On Wednesday, as a very, very, very wet weather system hits us, we'll see light wind in the western Gorge with the potential for some stronger SW wind out near Arlington, Threemile and Boardman in the afternoon. No guarantees on that – we're going to have to wait and see. And if it's windy, it will be quite gusty and up-and-down. And likely raining too.
Coast wind continues to come out of the south, and honestly, I'm not sure why I'm bothering to write about it. We'll see S 20-25 today with W 12-15′ swell at 14 seconds. Tomorrow: S 20 rising to S 40-50 with W 10 @ 14. Wednesday: S 30-40 with W 16-20@14ish.

Today's Gorge Wind – these are ranges for the average speed, not a predicted wind range. =)

Your favorite beach
Dawn
Patrol
9am-
11:30a
11:30a-
3pm
3pm-
dusk
Rooster's Rocks
naked
outdoor
rain
shower
Steven's Locks
W 8-11
W 10-13
W 10-13
W 10-13
Hatchery/White Salmon Sandbar (minus a few for Hood River)
W 8-11
W 10-13
W 10-13
W 10-13
Doug's, Lyle, Rowena
W 8-11
W 10-13
W 10-13
W 10-13
Rufus, etc.
LTV
LTV
LTV
LTV
Roosevelt, etc.
LTV
LTV
LTV
LTV
Temira's sail: 35-40: 2.9 / 30-35: 3.2 / 26-30: 3.5
23-26: 4.0 / 20-23: 4.5 less than 20: something bigger!
Tonia's kite: 35-40: 4m / 30-35: 4-6m / 26-30: 5-7m
23-26: 7-9m / 20-23: 8-10 / 15-20: 10-12 / 10-15: 13-15.
Gorge Weather
It's raining this morning, and it shall continue to rain all day today, although it will be more showery than downpoury after noon. Temps will be in the upper 50's this morning and low 60's this afternoon with the snow level at 11,000′ early and 8000′ this evening. Rainbow chances today are 97.418%.
Tomorrow sees a weak high pressure ridge in the morning. Combine that with light west gradients, and we'll likely see a level of marine clouds (not the gloomy inversion) and partly cloudy conditions. A big, wet, tropically-connected, atmospheric river of a weather system heads our way in the afternoon, ending the sun for the day. The rain, however, will likely hold off until late in the night. Temps Tuesday will be in the upper 40's early and low 60's in the afternoon with the snow level around 6500′.
Don't get your panties in a bunch about that low snow level, because it'll rise with the wet, wet, wet system on Wednesday morning. Expect near-torrential rain on Wednesday, starting right off the bat and continuing through Thursday. If you like running in the rain, Wednesday is your day! Temps will be in the upper 40's early and low 60's in the afternoon. The snow level will be at 9000′ or so all day. Rainbow chances in Hood River are just 21%, but are probably closer to 89% out in The Dalles.

White Sprinter Van of the Day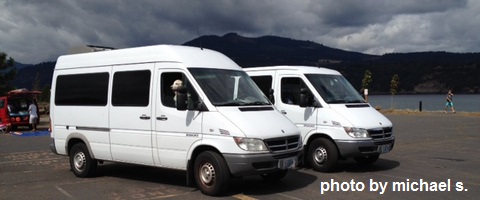 Road and Mountain Biking
Yesterday, apparently, was tacky in Post. It was a little dry at Syncline, and Little Moab has become a lot rockier over the summer. I'm okay with that. I was also okay with the baking sunshine on my body yesterday. It's not sunny like that today. We've had .08" of rain as of 7am, and that means Post is probably still fine, if a little slick, as is Whoopdee, but the longer the day goes on, the wetter it will get, so ride early. Tomorrow looks pretty dry midday, so that's your best chance to ride. The Wednesday/Thursday rain system is going to bring inches, so ride your forest trails now, because they'll be done for a bit after Thursday. Trailbuilding, however, will be great.
Road riders, do not forget the Travel Advisory Process open house at 5:30-7:30 at the Parkdale Ranger Station on Wednesday. If you want Vista Ridge to stay paved, please be there. And if you'd like to help rally the troops to write letters (I won't ask more than 2 hours per week of you), please contact me.


The Clymb: free membership. Cheap gear.
Temira approves. Click to join.
River Levels / Fish Counts/Cheezburger Update
The John Day Dam is reading 67-72kcfs. The Dalles Dam is putting out 101kcfs. There are two river-wide logs on the White Salmon: one just below Cave Rapid on the Middle and one below Cave Wave on the Lower. The White Salmon is around 1.7′. The Hood is at 3.4′, so not high enough yet. Yesterday's fish counts were 518 Chinook, 2837 Coho and 348 Steelhead. I kinda wonder if the fish guys were at Harvest Fest over the weekend. Columbia River temp is 64 degrees. No news on Cheezburger. Maybe he will text me today and I'll have something to tell you tomorrow?

Events – email me if I've missed any outdoor-related events
This week contains Acupuncture and Oriental Medicine Day one day (not sure which), and Cascade Acupuncture has free mini acupuncture sessions all week long to celebrate. You do have to make an appointment. Tuesday is the HRATS BOD meeting at the Hood River Fire Station at 5:30. On Wednesday, it's the Travel Advisory Process meeting at the Parkdale Ranger Station (5:30-7:30) to give input on keeping Vista Ridge paved. Also Wednesday, Columbia Center for the Arts hosts world-renowned mushroom photographer Taylor Lockwood (7:30, $5).
There's community yoga tonight, free or by donation, at Yoga Samadhi in White Salmon at 6:30. Tomorrow night is $12 Prime Rib at Cebu from 5pm-9pm. Tomorrow's also pickup touch rugby at the Hood River Marina at 5:30pm.
Coming up next Saturday, it's the American Meteorological Society's winter weather conference at OMSI (where a bunch of 'experts' do a long-range forecast for the winter – basically, tea leaf reading). The Hood River Saddle Club has a rummage sale next Saturday to raise money for the new equestrian/hiker only trail they are building.
Have an awesome day today!
Temira